John Frusciante stratocaster?

Join date: May 2015
30

IQ
Hey, I have a 1999 Fender American Stratocaster in 3-tone sunbust with a maple neck and I'm thinking about changing the neck because meanwhile the body aged pretty well the neck looks extremely pale compared to it.
I'm thinking between picking up the fender stock-replacement 60's vintage rosewood strat neck, and custom making an ebony fretted strat neck in a local guitar custom shop.
The guitar already sounds nice it's not about sound, not even about feel, I just want to make it look better for my personal taste.
The look I'm after is the main stratocaster of John Frusciante (RHCP) now my problem is I can't tell if it has an ebony fretboard or just a very dark/aged rosewood. I know that Fender used to make a few limited issues of strats with ebony necks but I dunno if they did it back in the 60s. I've seen one 1992 with ebony neck though.
Secondly in an interview he mentioned that he uses 'Seymour Duncan vintage pickups' in almost all his guitars. Would that be the SD california 50's or the antiquities or the SSL-1?
Thanks in advance! Which one should I get?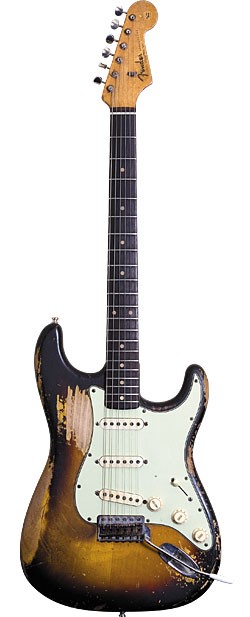 It's rosewood. Fender did not use ebony boards in the 50s or 60s.

SSL1s are the correct pickups.
SSL1s are probably what he is talking about. If you want pickups that look and sound like 60 year old Strat pickups, the Antiquities are the ones.

Join date: Jul 2009
90

IQ
you may want to look at one of the fender road worn strats. they have that beatup look and i believe a thin nitro finish that will age like the older strats. new strats (for the most part) have a poly finish and won't really wear like the old ones. the fretboard is definitely rosewood it just looks dark in the pics.
The Antiquities are supposed to sound and look like old pickups, but depending on the exact goal the SSL1 set may be a more accurate set. In this case the SSL1 set was closer to the sound of the original 62 pickups.