Good 6 string basses?
I'm looking around for a 6 string bass. I've saved quite a hefty sum so I want to spend it on something in the high-end department, but I don't mean some limited edition custom endangered sea-clam bodied gold plated $20k thing. I just want my money's worth for something that feels good and sounds good. Problem is they're not so popular so I don't know where to start looking..my local store's catalog has crappy one $300 and the rest are over $20,000, so I'm struggling to find something in between.

Can anyone suggest some good manufacturers of 6 strings? Or played on particularly awesome 6 string basses? If you could give me a rough idea of the price range it would help too, I'm estimating on spending like $1000-$2000 on it.

Thank you!

Join date: Jun 2009
420

IQ
It would be a good idea to look at custom shops. You can get exactly what you want that way. A lot of people love Carvin, so that's as good of a place to start looking as any.
There's actually a pretty wide range of 6-string basses, and with Carvin you not only have a choice of several models, but you can tack on a whole lot of custom features as well.
I don't know where your "local store" might be, but there are also places like AC Guitars in the UK (Scotland). Alan does some fancy wood guitars, but he can also produce the same guitar with some less fancy but great sounding woods and some really nice preamps. Absolutely worth a look.
http://www.acguitars.co.uk/acg_admin/wordpress/
I'd recommend taking your time to research this carefully, even better if you can actually get your hands on as many 6 strings as you can and try before you buy (though I do realize that isn't always an option).

If you're willing to look into used basses your options really open up. A used Spector Euro 6 or Warwick Corvette 6 would fit nicely into that price range. Same goes for a Yamaha TRB1006.

If you're looking new, Carvin has a variety of 6 string models which are fairly customizable. Ibanez also produces 6 string SR's in just about every price range.

Join date: Oct 2012
70

IQ
All I play is 6.

In my Jazz Performance Studies the Bass Teacher made fun of my Mockingbird and I told him if there was anything different that I wanted I would make it a 6 string,

The following summer he beat John Patatucci to the punch and bought the QM #5 made in the world Ken Smith.

The guy never let me play it after showing up at the Instructor performance in the fall.

22 years later when in Atlanta at the viewing of my late sister's body I went to the Atlanta Bass Gallery and finally played a top of the line Ken Smith.

No Joy.

It lacked the attack that I love out of a Bolt On. So disappointed I could say easily I preferred my Ibanez BTB 456 over it.

It was the lower line bolt on with the top of the line actives that came alive in my hands and sounded and felt as inspiring as the 456.

Much to my excitement for me, disappointment for Mr. Smith, yet the BTB was built upon his shoulders.

Except for playing Flea for which the 405 or 455 offer an extra mm of spacing, the 456 rules.

Good luck finding one, but there are some 406's out there, and the Pups are a bit more powerful than the Bart Mk1's.

Bartolini makes Mk6 replacements for the price of almost half of the basses when they were new.
The best advice I can give you is always try before you buy or find a neck profile that suits you and memorize it. With most basses you can be comfortable with anything but with 6 strings the necks become massive, the string spacing becomes tiny and the radius is all over the place.

What kind of bass do you normally play? Would you want pretty much the same thing with extra strings?
For $2000 you could look into Carvin. A lot of options there as well, short of going fully custom, your quoted price range will net you a great bass.
I can't contribute much which brand you can buy, but with your budget? you can always get boutique custom hand made bass to order with specs you want to have. I don't have the budget and I'm not as skilled but I have a particular brand I like. So buy a bass you like and an awesome bass amp that is both loud, compact and portable, that way you don't need to lug a huge bass amp head + speaker cab (your back will thank you). buy some bass effects too.
This is my 6-string bass, I own the 4-string and 5-string too.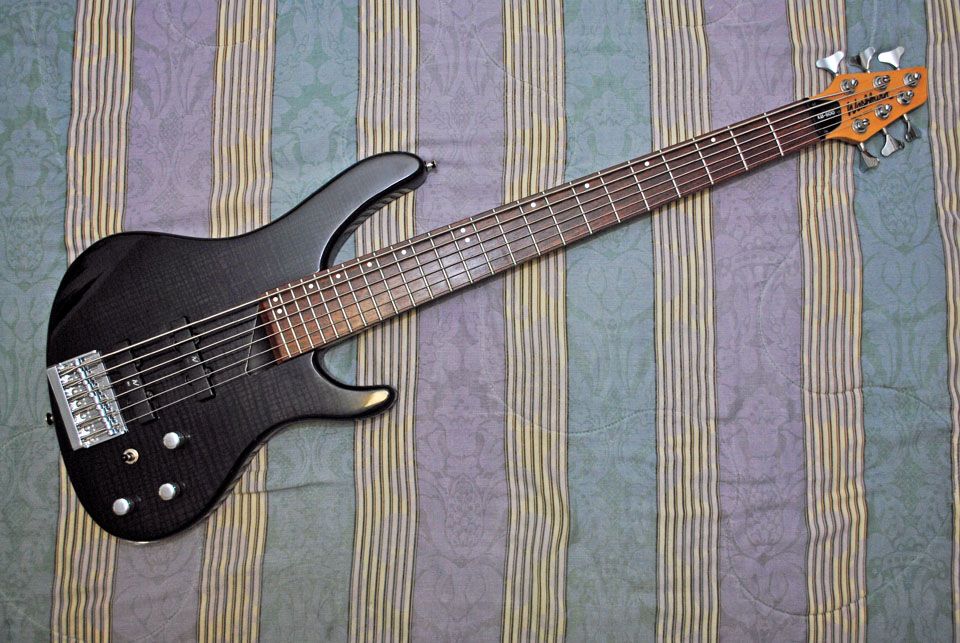 94' Washburn Bantam XB-600 (full)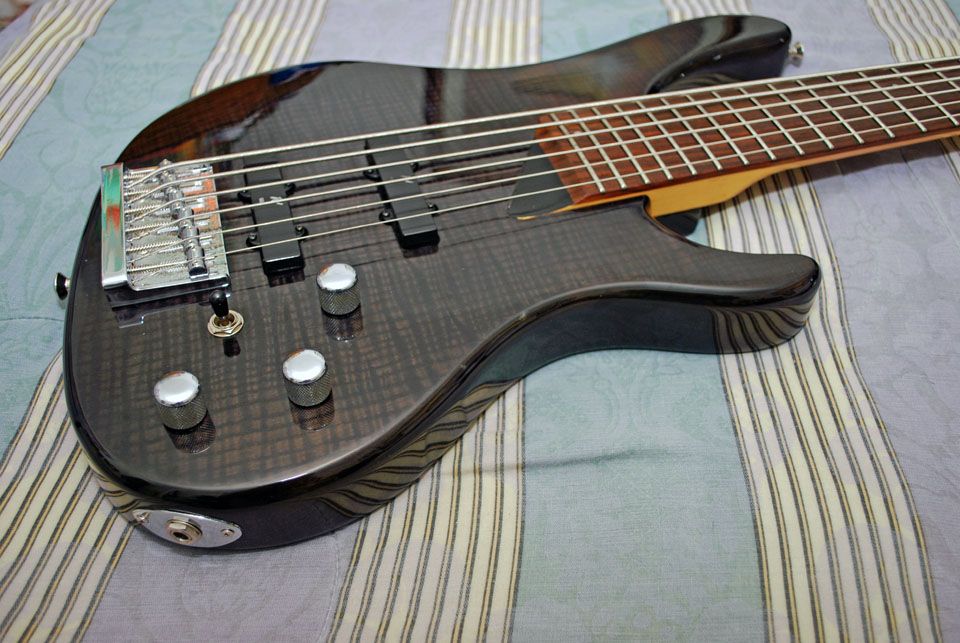 94' Washburn Bantam XB-600 (close-up)
Acoustic B200H with Peavey Bass Enclosure 1820 (2x 10" Scorpion, 1x 18" Black Widow)
Last edited by psp742 at Nov 18, 2015,

Join date: Oct 2015
10

IQ
For $2000 you could look into Carvin. A lot of options there as well, short of going fully custom, your quoted price range will net you a great bass.
That was my thought too.
I have a Bongo 5 string and think it would make a great six string btw.
it might actually be on the lower end to below your budget, but i had an ibanez BTB1406E for a while and absolutely adored the tone and feel, and it had some great features for the price range. new it was around $1600 cause i bought it when they first hit the shelves, but nowadays you can get them used for closer to 900-1000 without much trouble.
only warning: the neck can be a bit temperamental due to it being so thin, so you definitely wanna be able to take care of that yourself if you don't want to visit a tech every couple months when the weather changes. i live in texas, though, which is known for crazy climate changes, so it might be less of an issue where you are.
also i have an 8 string for sale if you don't mind going even bigger

Last edited by Hail at Nov 22, 2015,
I heard good things about the BTB. Would you say the action is significantly lower on it compared to any other basses you've played on? Is the string spacing generally closer? I need something with really smooth playablity to shred on rather than slap.

I'm leaning more towards ibanez because I really like their thin and smooth necks but I don't like how the BTB body looks on their five strings, the 'horns' look clumsy and stick out too much for me. Maybe it looks better on a 6 string.
the string spacing felt further than an SRs, but i didn't measure or anything. but it was in a good way, as my fingers were much less likely to ring out strings i wasn't playing, and it felt very, very comfortable for my hands.

the action is adjustable just like any other bass, but yeah, i never had any problems getting close to the frets. 5/6-string chords and stuff were pretty achievable

Join date: Oct 2012
70

IQ
BTBs (still stalked by me on line)

I do not prefer anything about the 500 series and beyond.

I have had all of the necks on my BTB's shimmed to get down below a mm on the High C string or the G if it is a 5er.

If I was to have a 6 made right now, it would be a QM top on basswood for clarity and curb appeal to me, although many rave about the 1006 Fretless I play.

I would have the Custom bass done by Status, so the Neck would be Carbon Fiber.

BTB406's can be found, and Blue ones in Europe moreso than in the US.

If you are into Jazz and Blues, the 1006 with the Mahogany Core and Bubinga Stringers is beautiful, a bit more unstable than the Walnut. So happy to have one of these in fretless for such things. An amazing Blessing.

Everything else, 406 or 456 is all I need, under 2mm on the 12th fret LowB.

I still cut the highs by 7db no matter what.
Some do not like the preamps, but I adore them.
carl thompson...for $2k? good fucking luck
A Carl Thompson would be way over budget. If you wanted something custom-ish though the base prices for Tom Clement 6 strings start at just under $2k.