NGD Ibanez content
Picked up a used Ibanez S 421 for 230$ out the door. It is a used one 2013 model.
It is a nice guitar for shredding minus the pain of the floyd. (sorry I prefer hardtails) I love the switching options in the 5 way picup selector. 1 neck humbucker 2. Neck humbucker paralel 3. Neck and bridge humbucker 4. Inside coils 5. bridge humbucker. Neck is great for fast single not lines but same can't be said for doing jazz chords and like. Flat thin wide wizard neck on this. Very lightweight and comfy and still has excellent sustain. Bridge humbucker is not that great a ceramic humbucker that has a brash midrange. I ordered a Dimarzio Mo Jo the fix that. Tuners are nothing special they work for now but I have had better. The bridge is a massive Gibralter bridge that can be either string through or over the top. A bit of a sample here for you.
https://soundcloud.com/dresden-conspiracy/ibbys421
nice

i like the colour and that sounds like a decent price. nice playing in the clip too


Join date: Dec 2012
120

IQ
Congrats, man. I've been in love with Ibanez's S line for years. Some of my favorite guitars come from that line. Looks super nice - throw some new pickups in there and maybe some new tuners and you're good to go.

Join date: Mar 2013
40

IQ
I also prefer hardtails to FR trems. My Jackson has a FR, in the process of getting it blocked. Congrats on the find and the cost!
Thanks I am not normally into those kind of guitars. Mostly due to my dislike of Floyds had a Charvel Fusion back in 89. Nice guitar but just could nto get into the high maintenance vibrato. Have a Fender and a Gretsch here so it is a bit out of place but I need Something for those times when I want to shred. Interloper I will have a new bridge pickup before Christmas. Dave MC thanks for the compliment I use a very simple setup a guitar and Micro BR 80.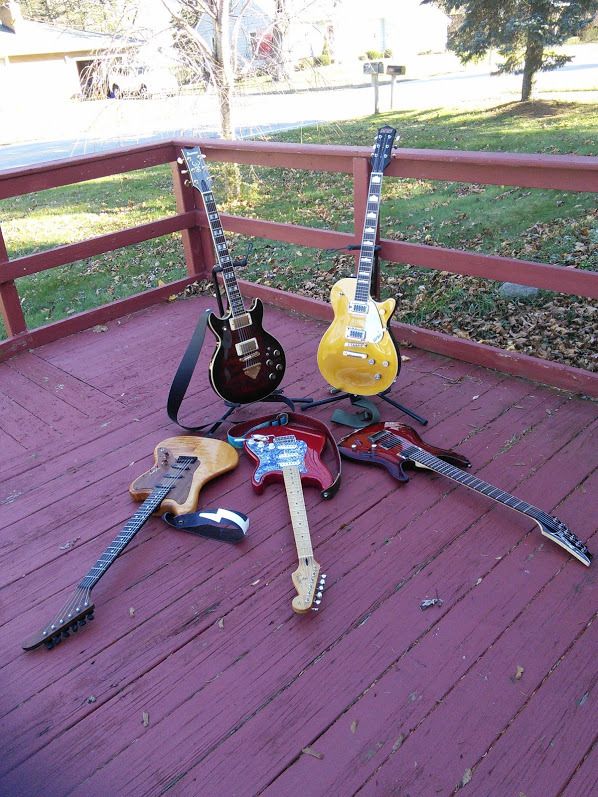 Here it is hanging out with the rest of the guitars.

Join date: Mar 2011
200

IQ
Nice family pic and congrats on the NGD!