New guitar dilemma
After posts on this forum and some research of my own I have decided I wanted to get a Epiphone Les Paul Standard. With that in mind I emailed the two local music stores asking if they had one in store I could try out before I purchased one, they both said they did not both however had copies. One store had Vintage Les Pauls and the other had revelation/Vintage/ESP Les Pauls. The second claiming better specs and better prices. I went to the one store tried it out and I enjoyed it and now know Les Paul is the way I am going.
Do I
A) Get one of the fore mentioned copy guitars from a store near me
B) Get a Epiphone from a online store

Join date: Jul 2009
80

IQ
i assume that ESPs you are talkinga bout are actually LTDs which are very good for the price. of course they aren't actual "les pauls" just single cut guitars patterned after a LP. Vintage makes some nice budget copies. i have there SG style guitar and greatly prefer it to epiphone SGs. try the guitars if you like them then you are good to go. epiphone LPs are nice guitars but aren't necessarily any better than the ones you mentioned.
I wouldn't buy an online Epi (or anything else for that matter) if I had found another make that I had tried and like. - "A bird in the hand" and all that.
Thanks after looking at all three makes I was thinking the LTD, then if I decide to upgrade later I could put some EMGs in there which from what i've seen sounds sweet. But yeah I will for sure go into store and have a look before I buy anything. Do you know what LTD guitar is comparable to the epiphone standard in terms of specs and price they all got awkward names
Ltd ECs (Eclipse) are great guitars. They are on par with the PRS SE level of guitars. Great builds, excellent finish, but the hardware quality depends greatly on the model.
Example:
EC-256: Plastic nut, standard tuners, LH series pups (split-able), standard bridge and saddle.
EC-1000: Earvana nut, Sperzel Locking tuners, Duncan JB/59 pups (non split), and TonePros Bridge and saddle... and abalone and binding all over.
Last edited by Auriemma at Dec 18, 2015,

Join date: Apr 2010
1,580

IQ
The ltd EC series is nice (400 and above) but they feel a lot different than a LP. The necks are different, feel is different, as well as tone. They are great guitars, but a LP is just different. It doesn't have to be a gibson or epi to be a LP, but LP's are not EC's.
I was looking more in 300 price range 400 is kind of reach, I have seen some videos of vintage might go for that but I still want be able to get some metal sounds out of it is that possible with the right pedals and settings?
if you have a friend that owns a Rondomusic.com Agile guitars AL-2500 or AL-3000 are made in Korea and are quality guitars..
www.rondomusic.com/electricguitar-ss6.html
I like my Washburn Idol WI64 with Grover tuners and buzz fieten tuning - they are Washburn answer to Gibson Les Paul / SG, these are slim body set neck, try looking for Korean made..
here is a picture of my Idol WI64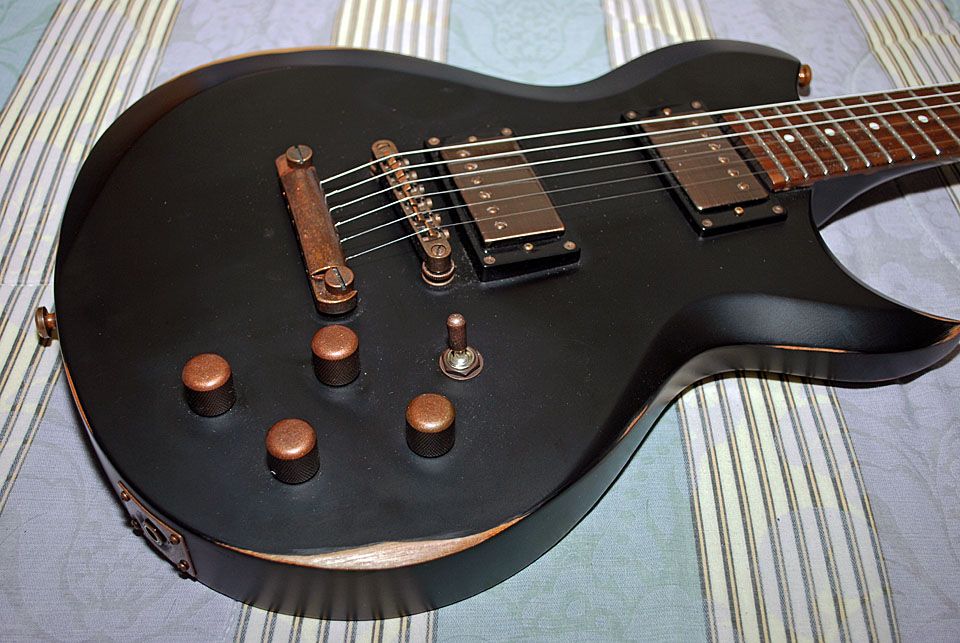 Of course everyone has his/ her own ideal of a great guitar. Hope you find a guitar that inspires you.

Last edited by psp742 at Dec 19, 2015,

Join date: Dec 2015
10

IQ
Just ask your parents to get you a Gibson SG.