Parallel split mod failure - please help
Any help would be very appreciated. I tried to install a push pull pot on my standard strat to wire in parallel. I also put in a hot rails in bridge. I put a volume kit on the push pull pot.

Unfortunately it did not work out right. 2 problems:

1 - no sound from bridge in parallel mode

2 - hum and noise. A general noise can be heard on all pickups, all positions. More on neck and middle. There was almost no hum before.

There is a hum with the neck pickup that goes down when the tone knob goes down (middle knob). The hum on middle pickup goes down when I turn down the lower tone knob.

I have a multimeter but am not sure what to do to test connections for grounding. No idea why the parallel does not work.

Thank you

EDIT: extra info


I used this diagram for wiring.

Also, I want to make sure what I did for the bottom 3 prongs (would be like this pic, where the knob is at the top, and the 3 prongs are at the bottom. ),Furthest right prong is grounded. Middle to jack. Left and middle volume kit. Left goes to 5-way pickup selector, top right position which would be the one that all pickups go through.

Also, I grounded wires to different parts of the pot since there is not one easy places to put all the ground wires. I figured if they all connect to the pot case they should all be ok.
Last edited by 21GunSalute at Dec 29, 2015,
if i was to guess the color code is wrong here's the site i use, but of course make sure that the sleeve and tip contacts on your input jack are soldered in the right place before starting.
http://www.guitarelectronics.com/category/wiring_resources_guitar_wiring_diagrams.humbucker_wiring_color_codes/
guitarelectronics.com has a proper diagram..but.. to beginners or intermediate like myself at one time I had no idea where the ground wires went and got all kinds of string buzzing or issues. But you learn. Seymour Duncan wiring diagrams are superior but I hate their wiring wizard idea I emailed Derek (Seymour's son) or custom support in general suggesting it.
with a multimeter you have two main modes you use with pickups
measuring resistance - 20k usually I set mine to as very few pickups are over 20k
resistance will tell you everything you need to know about the pickup, on higher end ones even inductance but a common one is just as good.
you get roughly 4 readings
series - full power
each coil - north or south coil in a humbucker or stacked pickup
parallel - hum cancelling and all as you know
series is the largest number for a resistance - say 16k
parallel - 4k approximately
north or south pole in a humbucker lets say 8k approximately (some coils have higher resistances for a reason)
the continuity goes a long way, this is where a multimeter shines. Continuity is where the multimeter beeps. The symbol on mine looks like a sound wave. So where and what can you do with continuity is below, this is best for trouble shooting a custom harness or fixing a mistake.
so start simple to see if the mode is working. touch two probes on a piece of metal, a beep = conductance. You want conductance, if you don't hear a beep and know the multimeter is on the right mode there is your problem.
*bare wire from a 4 conductor pickup to the base plate of the pickup - this is a way to test a pickup. But even I count how many times I do this on one hand a year. It's more for aspiring pickup makers.
*the base of one pot to another, even the neck volume on a les paul to bridge tone as it's one trail out. If there is a beep continue as you need a trail out of the guitar.
*the bridge (or stoptail) to the pots - this tells you if the bridge is grounded properly as if the bridge isn't the strings buzz. This is one you can do without using the multimeter too. Just touch the bridge with your hands. You won't get shocked and if the buzz goes away it tells you your bridge isn't grounded. This is a very common one to find.
*the pots to the input jack - whether it be hot lead or top of a pot to sleeve on an input jack. This tells you if the wires have a solid enough connection to the input jack. Ground is ground that is to sleeve. But the harder one is hot lead, it really depends on your diagram so have the diagram off of your website of choice handy. Hot lead is the one going directly to the input jack. Touch anywhere on the pots contact.
the last one pretty much it's best to do on a SG or les paul. There is three things a 1/4 inch guitar cable has. This I actually only learned about a year ago; granted I'm self taught and haven't wired guitars for too long but yeah..
plug a guitar cable in, but no amp, just a guitar cable into an input jack. Mono (2 contact for passives) or stereo (3 contact for actives) and try this trick. This is easier on some guitars than others depending on the construction of the guitar.
sleeve- if the grounding is solid everywhere else one probe anywhere one to the sleeve of the guitar cable
tip - this is hot lead again , so consult the diagram
ring - where the 9v batteries and red wires from blackouts or EMG pickups are to the ring portion.
here's a 1/4 inch jack layout to help, good luck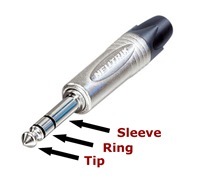 Thank you so much. I will try this in the morning as it's 1am now. I will write again on progress.
Couldn't sleep. I tested the grounding can't find any issues.

Reading 15 for bridge,6 on other pups for ohms through the multimeter and jack. When I put the bridge in parallel I get a reading of about 225 - I imagine this is a very strangely high number.

The wiring is the same as seymour duncan lists. I accounted for switching black and green wires since the other pups are fender
hmm I'm kind of curious a second opinion what it could be as taking photos usually even with photoshops help it doesn't do much for me. But it is good you used the fender color code as well.

the fact that you're getting some life like buzzing in the non-pulled position means it isn't a shielding issue though like say for example in one of my main guitars when i copper shielded it i didnt know that contacts cannot touch the "walls" of the cavity and it created a short, when i fixed that the problem went away.
Now I tried rewiring to switch to single coil. Now it works - but bad hum on the neck and middle. Noticed it hums more when I move the guitar around, like pickups up, then playing position. Thing is, I never did anything with the neck and middle wires. The grounding looks ok.

Any ideas?

Thank you
Tallwood, thanks for all your help. Finally, I think it's set up and good to go (coil split, not parallel). Redid groundings, a little hum on the single coils but not so bad. The hot rails sounds great in series, doable in coil split bridge, and pretty good in the notch 4th position when coil split. It fits my needs so I'm not going to mess with it any more for now.

Thanks again!
hey sorry for taking so long to get back to you, I had a really busy day and a half. Thankfully with coilsplits 60 cycle hum is to be expected in isolated positions so you're good there. However 2 ways to reduce hum

if the grounding is perfect in the guitar and you're not using actives as they are already pretty hum cancelling this is what I do with all my ESP , Jacksons and anything I'm going to use a ton of gain and distortion on.

#1 - copper shielding tape -2-3$ on ebay you need about 2m-3m worth.
#2 - a special power bar from a guitar shop that has an RFI and EMI filter on it, these are excellent for apartment buildings. ZZounds for example sells them doing a quick search as reference. Bestbuy maybe too.

but yeah try other guitars through the amp and see if they are as silent if you got say some passive humbuckers to compare it to. I am lucky at any given time there is 5-10 guitars in my room to rule out cables and all. But as always email me any time on here if you got any questions, private messages appear as emails for me and I respond much quicker.
Last edited by Tallwood13 at Dec 30, 2015,