npd(s) more new stuff!!!
so on top of the new 5153 50w, I managed to squeeze out a few trades and sales of old gear and rebuild my board. due to how versatile the 5153 is compared to the peavey 5150 I sold my gt10 and all the other crap on my board and went back to single pedals! it sounds so much better.
first up: the T.C. Electronic Flashback Mini delay.
I'm a big fan of a short slapback delay on leads and cleans. this pedal can do that and obvioulsly a lot more. I'm a big fan of TC electronic equipment. most of their pedals sound great and are built to last. the flashback mini has simple controls, fx level, feedback and delay level. i keep all knobs at about 11 oclock and it just sounds superb. i like my delay to sound like the intro for pink floyds "run like hell" so i try to get as close as possible and this little pedal does it for me. also it has the tone print tech. built in. so you can make custom delays on their program and load it in. great pedal for the price. $99 usd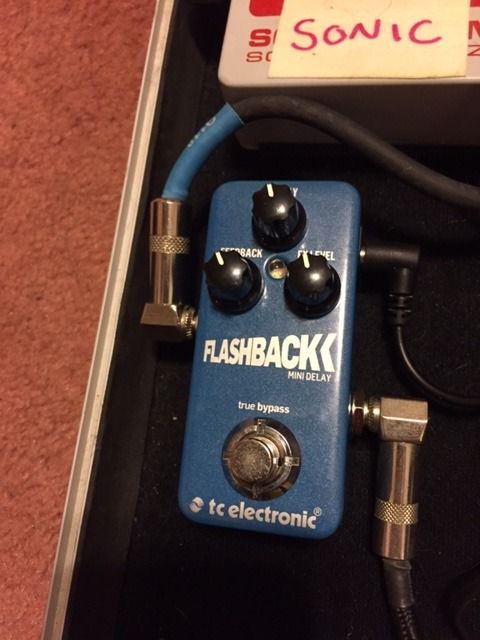 T.C. Electronic MojoMojo overdrive
once again I'm back to TC electronic gear. the mojomojo is a inexpensive but great sounding OD. i have been using the Ibanez ts9 or a variant of it for a while but i grew tired of the mid spike. i had my eyes on a EHX soul food and even did an a/b test between these two. the mojomojo came out on top due to the fact that it doesn't color the tone. it just adds that extra umph to it. controls for gain, level, bass, and treble. it also has a voicing switch. both modes sound great. with the switch up the tone is full and robust. with the switch pressed down the od is backed off and its has less bass. this thing sounds great on my 5153's 2nd channel perfect 80's butt rock tone. $49.99 usd
MXR Micro Flange
I'm a HUGE fan of MXR gear. they are probably my favorite pedal company. decently priced great sounding and built to last gear. i needed flange for a few songs in my classic rock bands setlist and this pedal does the trick. it gets all the tones i need for example "hey you" by BTO and "unchained" by van halen. great sounding little pedal
$50 usd used
korg pitchblack tuner
i had one when they first came out and the choice was an easy one for me when i needed another tuner. awesome little pedal......and it powers my other stuff if i need it to! $79.99 usd new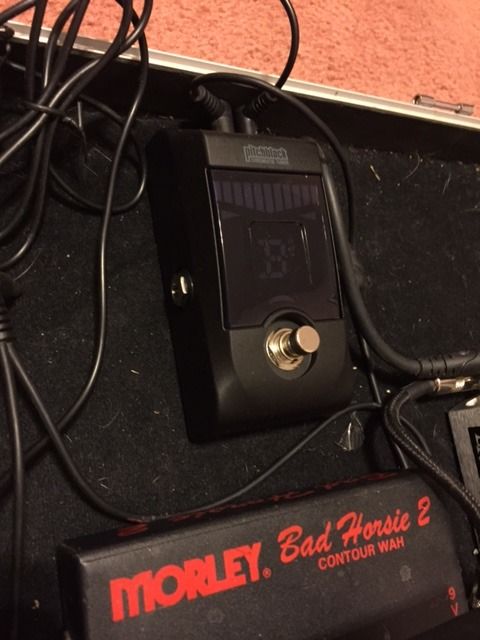 Ernie Ball volume VP/JR
the classic. there isn't much to say about the old stand by. they work great and are built like tanks. i love them. they are a great tool in any rig.
so that's the new board. i may or may not add a few more things id really like to replace the phase 90 with a phase 45 and id like to add a Dunlop mini fuzz face. they sound great
anyway this is the new haul. i hope you enjoy the pics. (the tape on the pedals is glow in the dark tape for on stage so i know where my shizz is

)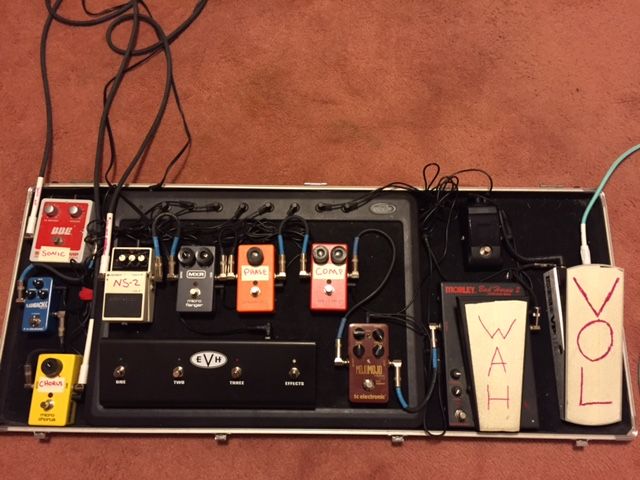 I was thinkin about it

get in there man, that's respectable for sure.

Join date: Apr 2010
1,580

IQ
get in there man, that's respectable for sure.
+1, you have a very nice board.
you could enter large and have a good shot for sure.
you can also enter the 'pretty' category too, its pretty clean.
thanks guys. I just entered