NBD! Maruszczyk Jake!
Hey guys, it's been a while! I'm still here, however more active in the flying V thread and on another forum, so I've not really been here (I still lurk though, I promise!) This came for me a couple of days ago and I wanted to share it.
So there's a little story behind this one, I've been playing Fender precisions for a long time (CIJ, MIM Harris) and they felt perfect to me, apart from one thing. The weight, as a sufferer of back problems, I decided to go and start hunting, for something that wouldn't hurt my back and retain the same feel as my Fenders. So I found these guys, Public Peace in Germany, who were getting rave reviews from Talk Bass and Bass Chat, so I thought why not and enquired about getting a custom Jake (Which is a precision) made for me and it's here, it also only came out to what a high end MIM Fender would cost. (Only got one picture of it, but I'll get more I promise) It is slightly darker in person, however it changes dependent on where the light is.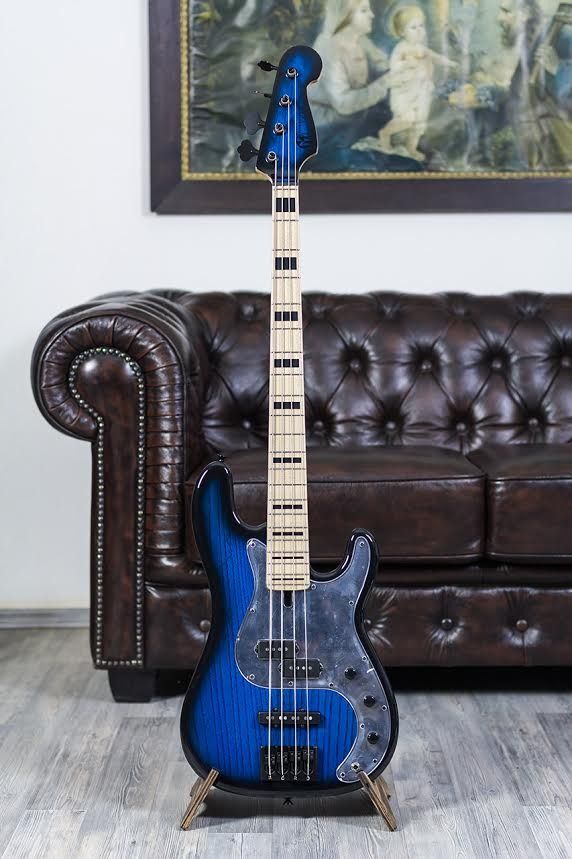 The specs are as follows:
Chambered Ash Body
Blue Burst
Black Block inlays
Chrome Pick Guard
Haussel P+J set
Hipshot Ultra Lite tuners
Hipshot A type bridge
So, it's a nice sounding bass. Very vintage like and warm. My first thoughts were similar to James Jamerson Motown, but with a bit of a livelier feel to it. Haven't taken it to a rehersal yet, but I will be doing so on Monday and will report back, my band play older style metal, so think Maiden, Priest and that sort of sound and you're there.
The J pickup has a lot of bite too it and is perfect for some of the quieter sections in some of our songs.
Feeling wise, it's dead on to my MIM Harris, exactly the same thickness and width. Which is all I gave him, however he's got the radius and all the finer details dead on, which is pretty cool.
I'm gigging with it Thursday, which is apparently getting filmed and up on YouTube, so you'll be able to see and hear it better then.
Sorry about my incoherent ramblings! Never been too good at this, but hope you guys enjoy!
Also here's their site:
http://www.public-peace.de/index.php/mensinger-guitars/m-basses/men-speesy
I really think Fender, Lakland and Sandberg really need to watch out!
HNBD! That blueburst is gorgeous.

Make sure you post us a link when the video goes up, I know I'd love to hear how it sounds.
HNBD! That blueburst is gorgeous.

Make sure you post us a link when the video goes up, I know I'd love to hear how it sounds.
It is stunning!
I will if we get filmed! Hoping to use this as my main one now!
wow very nice