Best Guitar For Shred Under $400 or $350
Hello UG community i want to but a guitar which is for shred genre

But i want your suggestions guys
I know my price budget is very low but can this happen .., please help me .., and yeah i am now a newbie at shred .....,i shreded the living life out of my yamaha pacifica 112

for 4 years...,


now i need something more consistent i.e. good neck . and 24 frets ., and yeah can floyd rose happen in this budget.


Thank you fellas,
Appreciate it .
I'd go used and I'd definitely go for a fixed bridge in that budget.

Join date: Feb 2011
320

IQ
Look for a used LTD M,H,MH 1000 series guitar if you can find one in your price range (or the highest range you can afford.

They come with either EMG's or Seymour duncans and the trem versions have a decent FR trem

You can also look at Ibanez, but I'm not as familiar with their ranges

Join date: Jul 2015
511

IQ
in my opinion, those cheap LTD's suck.

In the low/mid range, I'd go for Ibanez any day. There are a few cheaper models in their lineup.

Best necks. Even their trems are better than the cheap floyd's.

Join date: Feb 2011
320

IQ
in my opinion, those cheap LTD's suck.

In the low/mid range, I'd go for Ibanez any day. There are a few cheaper models in their lineup.

Best necks. Even their trems are better than the cheap floyd's.
The 1000 series is quite good, even the 500 series is a nice range
Ibanez is deff worth a look, you may like them. I really don't like them because of their thin necks. hell I have a JS1000 that stays in its case, probably 4-5 yrs since it has been played
Last edited by Robbgnarly at Feb 28, 2016,

Join date: Jan 2016
10

IQ
I just picked up a schecter c-1 with a floyd rose for £215, it's possible to get good guitars cheap you just have to be VERY patient.
Ibanez is a more or less universally available brand that fills the bill with several models.
When I went looking for the same kind of guitar in that price range some years ago, I didn't go to the local music store, however. I hit the local Craigs and Ebay looking for a good used Carvin DC series. Anything built after about 1989 is neck-through construction, most have 24 frets in a 24.75" or 25" scale (after about '92 or so) and most have a fretboard radius of 12" to 16" (some are compound radius boards) and, if the guitar is lightly used, you'll usually find great fretwork. Carvin famously advertised action "as low as 1/16th" at the 24th fret" (most guitars are lucky to see that same action at the 12th fret) guaranteed. In the early '90's, they began equipping everything with locking tuners. All guitars built since 1989 are essentially custom orders, so you'll find some...uh...interesting choices here and there. But the woods Carvin uses are superb and the workmanship far better than top-end Gibson/Fender (at the very least, right on par with them). Carvin began offering stainless frets over 20 years ago as an option, and all Floyds will be OFRs (no licensed anything). Fretboards are ebony, standard.
All of mine are essentially different (though you'll see some preferences...) For example, I have a DC-150 from 1988-89 with a neck-through koa body and neck, a flamed maple cap (in "vintage yellow", an amber color), ebony fretboard with abalone block inlays, a 3+3 headstock, H-S-H pickup configuration with a five-way, coil taps and an out-of-phase switch. Poly finish.
But another DC-150 from the same period is solid maple neck-through in non-more-black finish, ebony fretboard, jumbo frets, abalone dots, flying V-style arrowhead 3+3 headstock, H-H pickup configuration with an active preamp, active controls, coil taps, phase switch, three-way selector and a black Kahler trem and behind-the-nut string lock. It's significantly heavier than the Koa guitar and very seriously rock and roll. The controls give you what you'd get if you dimed passive controls, but they do so at the "5" position. Rather than 2T, 2V, you get a master volume, a master bass, a master treble and a blend knob. The bass and treble knobs will give you an active boost and cut of about 15 dB on either side of that "5" position. A LOT more tonal control. The blend knob allows you to maintain the volume while dialing in more or less of each pickup (especially useful when you have the pickups out of phase). Both of these have the same small bodied double cutaway design with 24.75" 24-fret 12" radius fretboards with huge fret access, but they couldn't be more different in intent. This general shape and configuration (this isn't mine):
These offer an alternative to the SG type guitars, with better upper fret access (the horns are out the way) and thicker, heavier bodies that keep the guitar more balanced.
A slightly earlier ('87?) V220 is a star-shaped guitar done in pearl white. Flying V-style headstock, 24.75" 24-fret ebony fretboard with MOP block inlays, the neck and body are solid maple. H-H configuration with 2V 1T controls, coil tap miniswitches, three-way and a Kahler trem with a flip-lock behind-the-nut string lock. Action is snaky low (breathe to fret a note) with no buzzing frets. The guitar cost me $325 including a serious custom-built hard case (here, nestled into a cutout shaped precisely to the body). Not a mark on it.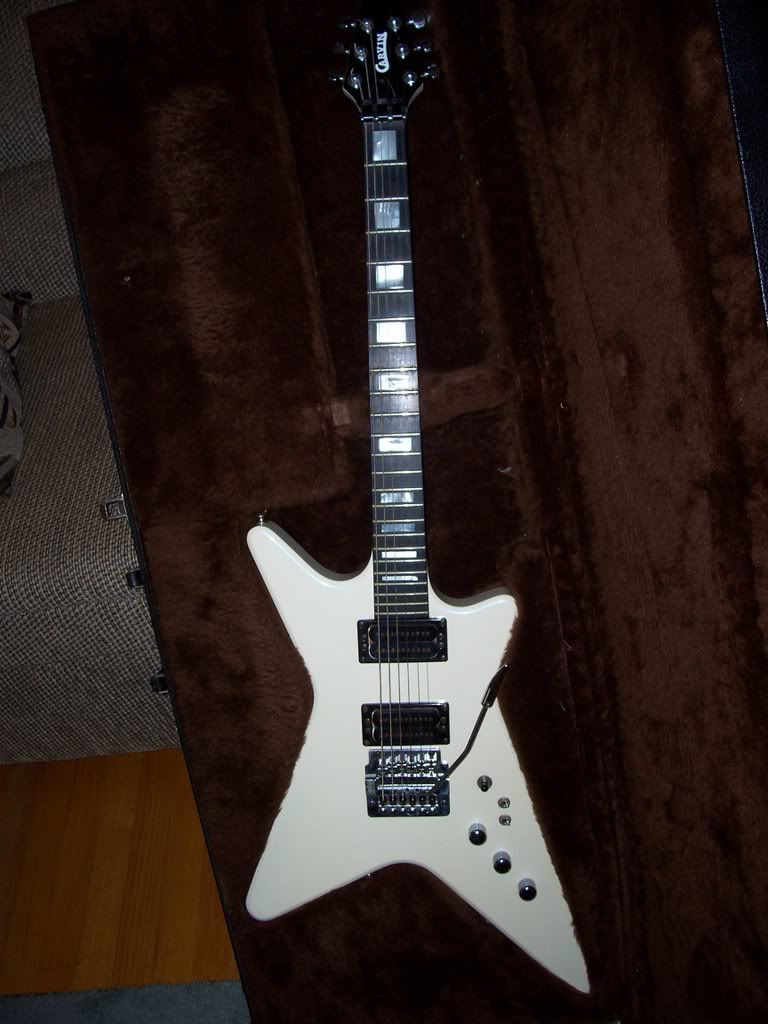 A more modern solid koa version with a tilted pointy headstock, Floyd:
Last edited by dspellman at Feb 28, 2016,