NP(edals/picks)D
tl;dr: EB Volume pedal, Malekko chorus, and Pick Boy picks.
It's been a good while since I got any new gear. So, I decided I wanted to start on another, smaller pedalboard. And here's where I start!
Alright, for your consideration we have here one o' dem dere Ernie Ball VP Jr volume pedals, and a Malekko Omicron series analog chorus (it's so tiny!). The VP Jr needs no introduction. I've never really used a volume pedal to any extent up to this point, but I wanted to have one available as another tool. This is a solid, sturdy built pedal. The pedal sweep is smooth but firm. And it has a tuner output if I decide I need one. Here's a shot of that.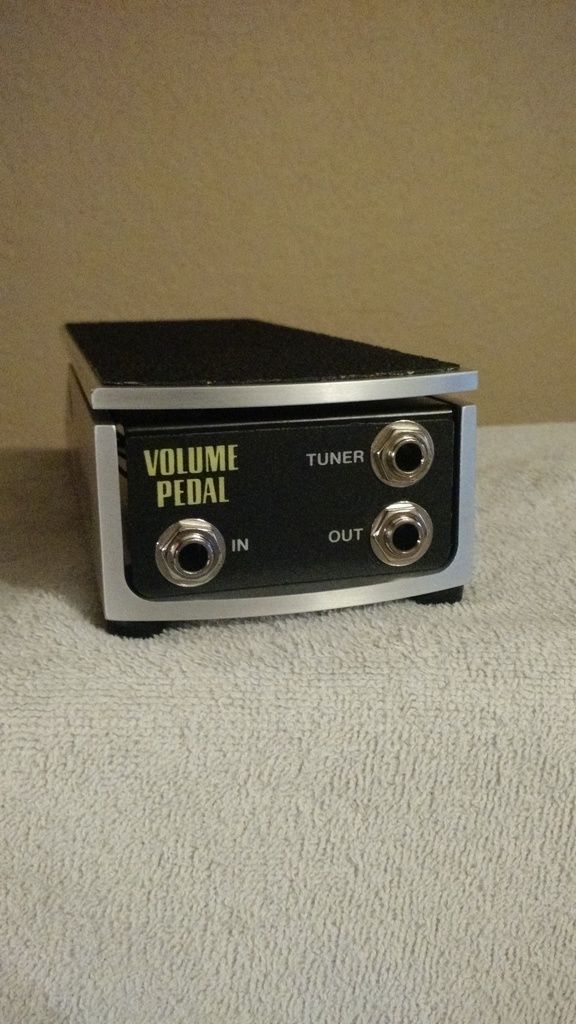 Now for the little baby pedal.
I've been on the hunt lately for another chorus pedal. I have a Boss CE-20, one of the twin pedals, and it has some good sounds, but the bypass is terrible. The name of the game with this new board is compact, so this one caught my eye. This particular specimen popped up on the 'bay for a price I couldn't pass up, so I snagged it. The pictures online didn't do justice to just how small this pedal is, hence the comparo shot up top. Anyways, I dig it. Excellent tone, and plenty of tweakability from just two controls. Cleans really shimmer and it does equally well over a dirty tone too. And no bleed-thru on bypass! Build quality is solid, though I will need to tighten down the knobs on this one. I knew that when I bought it, so no biggie. I definitely recommend this one if you're in the market for a mini chorus.
"P" as in "pedlulz", and "P" as in "pickz".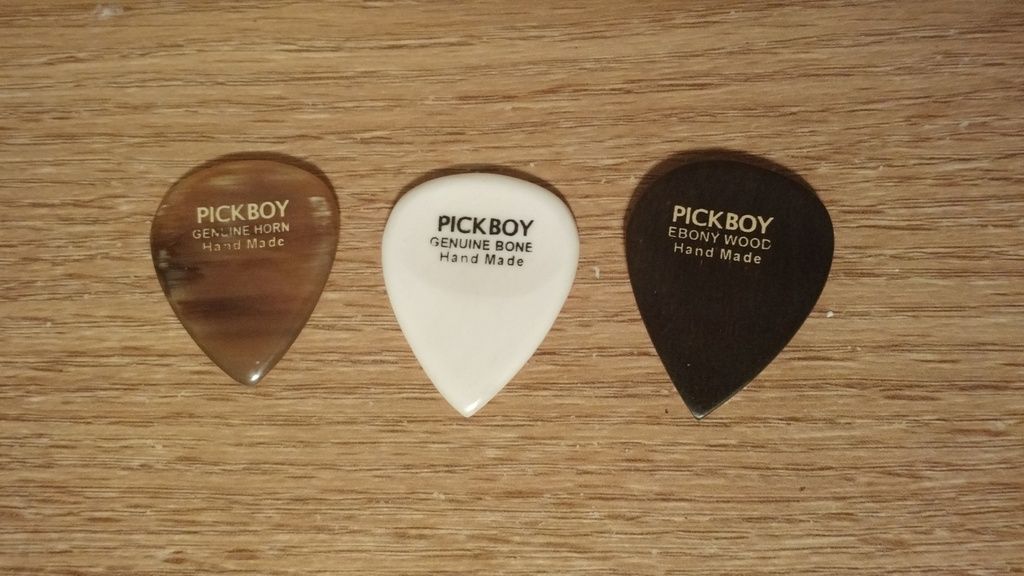 Saturday I took one of my amps up to Jonesboro, Arkansas, a little over an hour's drive from home, to be worked on. I killed some time in the store there, and eventually came to the pick rack. I've acquired a decent collection of V-Picks, but our local store here doesn't carry Pick Boy. So I saw these, and decided it was worth the somewhat steep price to try them out. I don't think they'll be replacing my V-Picks any time soon, but I do like the way these feel. The bone and horn picks feel and sound the best; the ebony wood is a little too scratchy for teh brootz but it's good for some acoustic strummy stuff. One thing about them that is a pro and possibly a con is they have a divot machined out on one side for the thumb and a curved groove on the other for the index finger. It's comfy enough if I hold it that way, but I tend to flip flop my picks, and that gets awkward at times.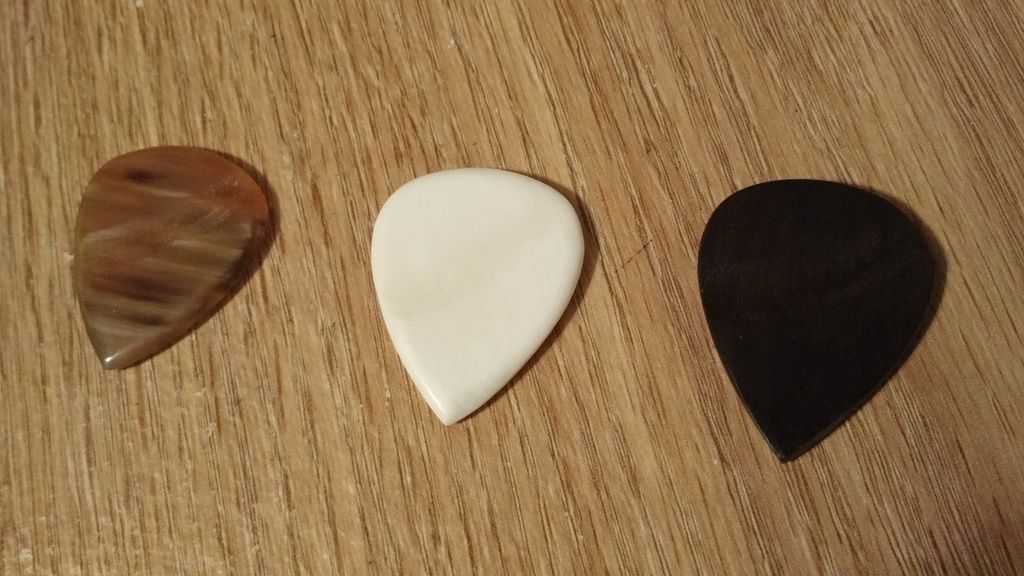 Otherwise, pretty sweet pickage.

Join date: Dec 2007
50

IQ
cool! congrats on the new gear. kinda wondering exactly how tiny the chorus pedal is lol
is there a noticable difference between the bone and horn picks? i like thicker hard picks myself, never tried a bone or horn tho
also, im diggin your Carvin 727 looks niice

Last edited by Rocketface2112 at Mar 8, 2016,
Thanks! I was surprised when I got the little pedal in and unwrapped. It's probably about 3"x1-1/4". The bone pick is my favorite of the three. I used to play with Dunlop nylon 1mm until I discovered V-Picks, and since then I've been using much thicker picks with no flexibility whatsoever. The Pick Boy picks feel very similar to V-Picks aside from the indentations, the ebony one notwithstanding.

I'm actually wanting to get rid of the Carvin to make room for an Ibanez SIX27...
How much did those picks cost?
The bone and horn picks were $6, the ebony pick was $4. In the same range as V-Picks which are $4.99 a pop.

Join date: Apr 2010
1,680

IQ
malekko makes some nice stuff. i have the same chorus pedal, and four or five other malekko pedals. if you are in the market for a delay, the 616 is just flat out awesome. i also have the 616lo-fi, and that is pretty cool too.

HNPD!
Thanks!

I did take a look at the 616. If/when I decide to replace one of my delays, it's at the top of the shortlist.

Join date: Jul 2009
60

IQ
The Malekko Chorus is fire. mn3007 and all. Been trying to find a good deal on one for a couple weeks. Just made a couple bigger purchases though.
HNPD, dude!
sweet