New Pedals Day! Lucky's Extreme Pedalboard Makeover Edition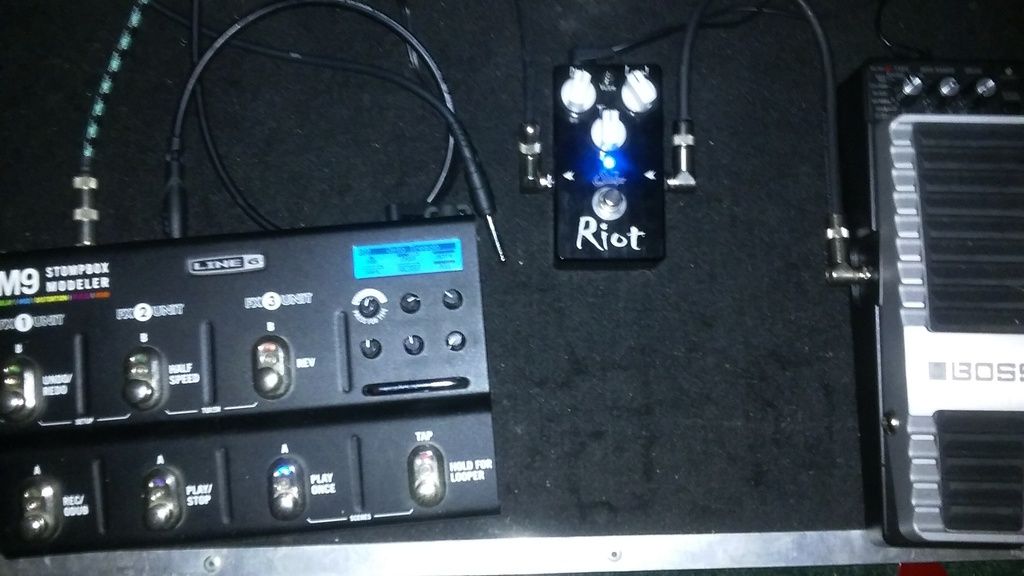 I moved recently and have much less space so, thinking I had to go smaller and quieter I got all crazy and sold/traded several pedals to kinda retool my rig. I was not happy and gradually got used to my new roommate and neighbors and found that they don't mind my playing and even say they enjoy it. So...its on! Lol.
I do value efficiency, especially with my limited environment.
I picked the Boss Power Wah (PW10) for the hell of it. It doesn't sound all that great but its got some fun gimmicks to screw around with, still "wahs" with lotsa gain and it models the Crybaby, Morley and Vox wahs so that's pretty cool in my book for a gimmick pedal.
I found the M9 for sale at a good price ($220) and knew I could get my money back by selling my DL4 and Boss ME50, which only took a few days to get exactly my money back. Poof! Upgraded and condensed at no cost whatsoever! Gotta love Craigslist.
I was a lil nervous at first, the ME50 worked great for me and I loved the DL4. But I'm already thrilled with the M9, the looper is essentially the same as the DL4 only it has up to 56 seconds as opposed to the DL4's 28 seconds. My DL4 sold too quickly for me to a-b them, but I haven't noticed a difference in sound q, or even hands on functioning for the most part. I have it in my fx loop and it sounds glorious! I've owned several budget mfx but this is the first one that I can't really tell I'm using an mfx, the thing sounds awesome! I'm especially fond of the Opto Tremolo, it sounds frickin' intense with gobs of distortion. I've tried the M series out several times before and was impressed enough to keep them in mind and I'm glad I thought of an excuse to get one, lol, but I'm admittedly relieved, and still impressed, that it works well with my amp.
The controls were a bit frustrating at first, the bright/faded/ and a/b system confused the hell outta me, but once I got used to the lights it actually makes sense and is much simpler than I first took it. If you don't need amp models and use a seperate dirt box with a traditional setup, the M9 is perfect for all your fx. It does everything and with class, definitely a step up from previous mfx in that range.
I just picked up the Suhr Riot Rogue today. I was at GC looking for a new dirt pedal, I mentioned looking for a Crunch Box or similar Marshall in a box type pedal, they didn't have anything interesting but a guy behind me in line was trading in pedals, overheard me and offered up his Suhr Riot, which I had to meet him across the street to buy as GC was pissed bout it. Oh well.
Anyways, I know a lot of you are familiar with the Riot but I bought it on a whim. It doesn't turn my Fender flavored amp into a Marshall but cheeses crust does it have a shit ton of gain on tap! And much like the Crunch Box the entire distortion dial is a sweetspot. It gets progressively saturated and heavier, but its all useable, from 0-10, no weak/muddy spots, just dirty to "brootz", even with single coils. I'm digging the Riot quite a bit.
I'm loving this setup, I have the M9 in the loop of my RM20, the wah and Riot in front. Its a lot more versatile and universal than it looks. I dig efficiency, especially whilst sounding awesome!
sweet