We Are Millennials
Talk about millennials.
I think if you are old enough to remember 9/11, then you are a millennial, but if you are not old enough to rememeber 9/11, then you are a part of the post-millennial generation.
https://en.wikipedia.org/wiki/Millennials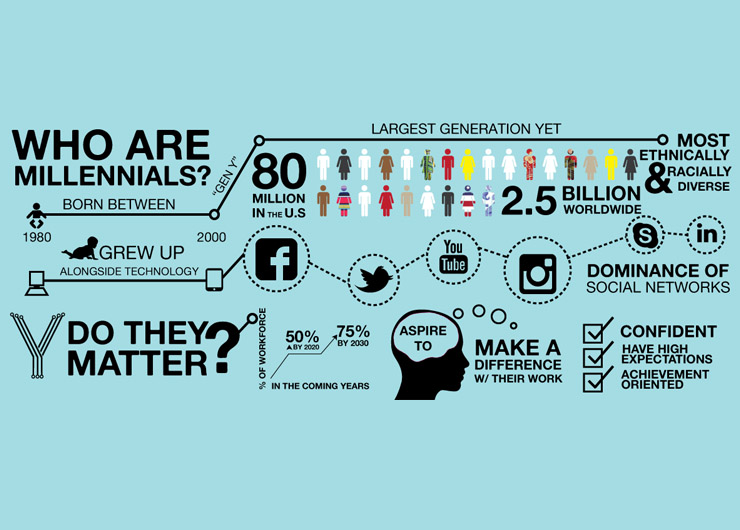 In 2006, Australian McCrindle Research Center, used 1982 to 2000 as birth dates in a document titled "Report on the Attitudes and Views of Generations X and Y on Superannuation".[21][22] Separately, McCrindle has also defined Generation Y as those born between 1980 to 1994.[23]

In 2013, a global generational study conducted by PricewaterhouseCoopers with the University of Southern California and the London Business School defined Millennials as those born between 1980 and 1995.[24]

In May 2013, a Time magazine cover story identified Millennials as those born from 1980 or 1981 to 2000.[25]

In 2014, the Pew Research Center, an American think tank organization, defined "adult Millennials" as those who were 18 to 33 years old, born 1981–1996.[26] And according to them, the youngest Millennials are still "in their teens" with "no chronological end point set for them yet".[26]

Also, in 2014, a comparative study from Dale Carnegie Training and MSW Research was released which studies Millennials compared to other generations in the workplace. This study described "Millennial" birth years between 1980–1996.[27] Gallup Inc. which is a large company that does polling, also tends to use 1980-1996 as birth years.[28][29][30]

Various other sources put the births of Millennials between 1983 and 2000, particularly in the United States and Canada.[31][32][33]


---


According to a 2013 article in The Economist, surveys of political attitudes among Millennials in the United Kingdom suggest increasingly liberal attitudes with regard to social and cultural issues, as well as higher overall support for classical liberal economic policies than preceding generations. They are more likely to support same-sex marriage and the legalization of drugs.[48]

The Economist parallels this with Millennials in the United States, whose attitudes are more supportive of social liberal policies and same-sex marriage relative to other demographics, though less supportive of abortion than Gen X were in the early 1990s.[48] They are also more likely to oppose animal testing for medical purposes.[49]

A 2014 poll for the libertarian Reason magazine suggested that US Millennials more often were social liberals and fiscal centrists than their peers. The magazine predicted that millennials would become more conservative on fiscal issues once they started paying taxes.[50]