NGD: Washburn RX10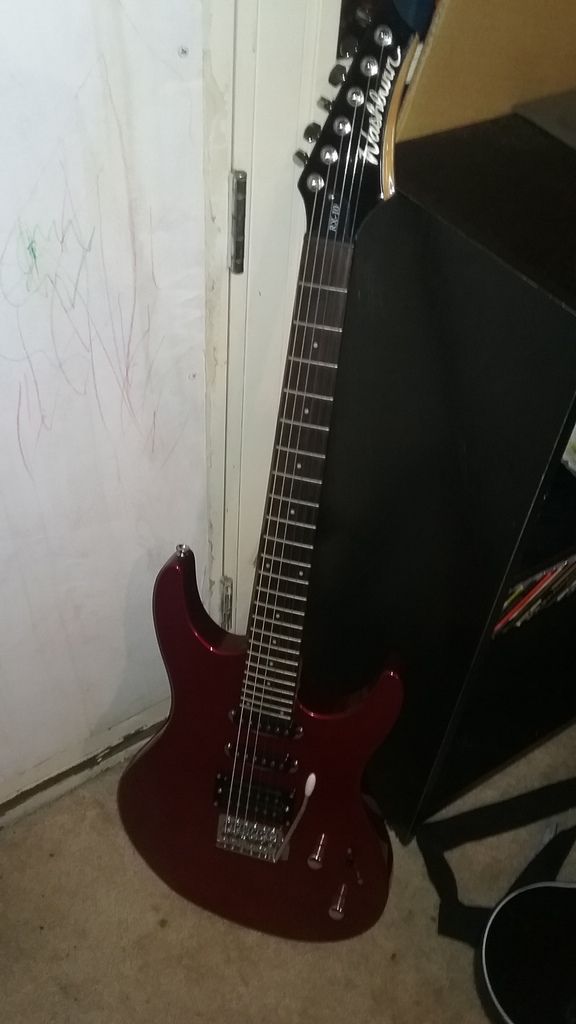 My claim for today, the Washburn RX10. It's a budget guitar, and seems to have a new retail around $150-180 US. I got a 2010 production model.
-24 frets
-HSS pick up configuration
-Red (for now)
-GraphTech nut
No name on the tuners, and specs say die-cast (no biggie). They look like they might be Grovers based on what I've seen on my WG587, but not going to claim it for sure, given it is a budget ax. Whoever had it before either kept it in good shape or barely played it. Fretboard looks phenomenal. I need to set it up, but I don't think I'll need much work on that end.
So far, the best thing about this one is the access to the higher frets. Getting to the 24th fret is ridiculously easy with the cutaway. I've heard the Music Man JP line is good, but I haven't had access to one so I can't compare. Once again, Washburn gives me a cheap guitar that should probably cost much more.

Join date: Apr 2010
1,720

IQ
HNGD! i had a few washburns back in the day (including a WG-587). nice guitars for not a lot of money.

Congratulations!
HNGD! Rock on,

I love my Washburn they are nice guitars for less money then most other major brands.
Here's my Parallaxe:
Thanks! Part of my reason for getting this was to repaint it. Now, I don't want to with this one. Not when the body just had fingerprints and no chips.

In my limited experience, once both Washburns were in my hand I looked them over like "I only paid how much?"

Join date: Apr 2010
1,720

IQ
I agree,Washburns are a great value. The only Washburn I still own is an older dime model. It's tucked away though. I miss the x50 I had.

Join date: Nov 2007
470

IQ
Cool guitar OP! I saw you mentioned in the other thread that you picked this up and it's looking pretty good

Thanks! It sounds good jamming so far. Need to put new strings on it yet. If the original ones are still on, it wouldn't surprise me.

Join date: Mar 2013
40

IQ
Looks like a great candidate for pickups from somewhere like GFS/Iron Gear and maybe a new nut and you have a very solid guitar for not very much money at all.

Sweet axe.
According the specs I could find, it has a GrapTech nut. The slots are in a V-shape, unlike others I have.
sweet