Can someone explain the CAGED system? confused.
Join date: Jul 2012
360

IQ
got a new book on chords, but its making me very frustrated and feeling like destroying my guitar... i know how to play but by ear and tabs, never actually bothered to learn scales, name of chords, etc.
for example the g chord shape in c, so i understand that for a g shape in c, the c note would be at the 5th fret on your d string, but then why is it supposed to be barred all the way down to the b string? instead of just the d string on the 5th, its also the g string and the b string. shouldn't it be just the d string alone on the 5th fret?
picture of the g shape in c chord,
https://www.google.com/search?q=g+chord+in+c&espv=2&biw=1366&bih=667&source=lnms&tbm=isch&sa=X&ved=0ahUKEwjJ5aCb6-LNAhVE2B4KHbjrDSEQ_AUIBigB#tbm=isch&q=g+chord+shape+in+c&imgrc=rM5LlBnM40Ec1M%3A
also, is there always supposed to be 1 fret between the note (C) and the chord that you're doing? for example in c, all the chord shapes are one fret after the note of c.
and how do you know which root it is? there's a couple c notes on the fretboard, so which one are you supposed to use?
Last edited by GuitarNewbee at Jul 7, 2016,
In the G-shape C-chord you have your C's at 8th fret of low E-string, 5th fret of G-string and 8th fret of high E-string.
Why is 5th fret barred? Well, C-chord consists of notes C, E and G (the 1st, 3rd and 5th notes of the C major scale). The 5th fret of D-string is G and 5th fret of B-string is E. All the different CAGED C-chords (C, A, G, E and D -shapes) are made of only those three notes: C, E and G.
When you are making your CAGED-chords, you need to know where is the root (the 1st note of the scale. C in this example) on the fretboard and where is it located in your chord. For instance if you have a G-shape C-chord, you know that in that chord there is roots located on the 1st, 3rd and 6th string (= high E, G and low E -strings). You then find the C-note from the low E-string (for instance) of your guitar and remember that your G-shape C-chord has a root on the 6th string, you can position that shape there.
Knowing the roots of the chords is essential. So is knowing your fretboard enough that you can position the chord-shape into right place. But the most important thing might just be undestanding intervals (...of major scale), after which everything should make much more sense to you.
So I suggest you look into intervals, 'cause they help you to understand and see how those chords are made. Here is a link to one lesson about them.
https://www.ultimate-guitar.com/lessons/for_beginners/know_your_intervals.html
Don't be to alarmed if you did not get something/anything. This will sink in to you slowly but surely. It's hard to understand right away.
Last edited by Tim_Rock at Jul 8, 2016,
Join date: Jul 2012
360

IQ
okay thanks for the helpful info and link, i'll check it out
The way I figured this out when I started up many years ago, was that the chord positions for C A G E D are played with open strings which are effectively "fretted" by the nut. Take the E major chord to play G major using this shape up the neck - the note G is 3 semitones up from E so barre across behind the 3rd fret so that 3rd fret becomes the nut. To play E major using the C shape-- E is 4 semitones up so barre behind the fourth fret. Sounds a bit crude but it worked for me, it was later that our bands pianist explained all about roots and stuff.

Join date: Oct 2009
1,223

IQ
Different chord shapes are just different ways of getting access to certain chord tones. C major always has C, E and G in it. Learn where the different chord tones are in the chord shapes and you'll understand them. Don't get stuck with shape based thinking. You want to understand the shapes and where they come from.
Here are the different shapes with chord tones (root, 3rd and 5h).
D shape

|---|---|-3-|---|
|---|---|---|-R-|
|---|---|-5-|---|
|-R-|---|---|---|
|---|---|---|---|
|---|---|---|---|

C shape

|-3-|---|---|---|
|---|-R-|---|---|
|-5-|---|---|---|
|---|---|-3-|---|
|---|---|---|-R-|
|---|---|---|---|

A shape

|-5-|---|---|---|
|---|---|-3-|---|
|---|---|-R-|---|
|---|---|-5-|---|
|-R-|---|---|---|
|---|---|---|---|

G shape

|---|---|---|-R-|
|-3-|---|---|---|
|-R-|---|---|---|
|-5-|---|---|---|
|---|---|-3-|---|
|---|---|---|-R-|

E shape

|-R-|---|---|---|
|-5-|---|---|---|
|---|-3-|---|---|
|---|---|-R-|---|
|---|---|-5-|---|
|-R-|---|---|---|
I never use the G shape when playing barre chords. It's kind of an awkward shape and there are easier ways to play the same chord (I'll use the E shape or the A shape instead).
Here is the C major chord all over the fretboard. You can also see how the shapes are connected.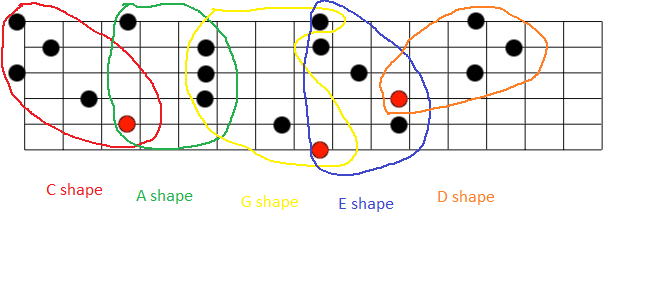 It doesn't really matter which shape you are using. The chord is always called C major if you are using the notes C, E and G.
Oh, and the shape names can be a bit confusing. They are named after the open chords. For example the E shape looks like the open E chord (0 2 2 1 0 0) but it really has nothing to do with the E major chord. You just use the same shape moved to a different position.
Last edited by MaggaraMarine at Jul 8, 2016,
OK... I think we got away with this...

Now, QUICK!!!! close the thread before "Tommaso and the Flat-Earthers" show up

Join date: Sep 2014
440

IQ
GuitarNewbee

Need to phrase the question better, I'm afraid ... the link shows a load of chord shapes, so don't know which is confusing you. The 5th fret on the d string is G, not C. But I suspect you mean something different?

But I'm certain you are misunderstanding CAGED based on your last couple of paragraphs.

You need to realise that a chord shape is simply a bunch of pitches that are located at various "distances" from the strongest pitch of the chord (the "root" that stands out the most to your ear). For example, just using one string (so you have to play the pitches one at a time), then the pattern (0, 4, 7) defines how to locate the pitches of a major triad .

So, suppose you choose the 1st fret (C) on the 2nd string (B string) as your root. Then the pitches for C major triad are found at frets (1+0, 1+4, 1+7). By octave they can be found in many other places as well. Similar logic applies to all chord types.

The pattern for a minor triad is (0, 3, 7). So, E minor triad pitches can be found on bass E string at frets 0 (open), 3 and 7. It is the combination of pitches at various distances apart that creates the sound flavour for the chord.

When you slide a chord along the neck, so long as the shape is kept unmodified, these distances are maintained, and the chord type (sound flavour) is maintained.

So, a chord book that shows 12 shapes for a major triad, rooted on the bass string (E,F,F#, G etc), is a waste of paper. They could just show it once, and say "use same shape, but the name of the chord changes depending where you locate the root."

By the way, the nut is a fret in its own right ... imagine your first finger was barring there. So, the usual E major triad shape is (0 - 2 - 2 - 1 - 0- 0) from bass to treble string. To make F major, this shape moves up one fret, to (1+0, 1+2, 1+2, 1+1, 1+0, 1+0) ... and now you do need to barre across the first fret.