Ltd MH400... A beast but...
Hi there
I started a couple of threads earlier asking for recommendations on my next heavy metal and shredding guitar... I am more towards ESP.. A used E-II Horizon in specific... However, I cam across this beast.. Ltd MH400.. It is 2008, made in Korea, inspected in the US (Does this add anything to the guitar?), and it has replaced pickups; owner replaced the stock EMGs with Dimarzio Mo' Joe and PAF Joe...
I played the guitar yesterday and I was really impressed... it is so smooth and in a real mint condition as shown in the pics below. I was worried about that licensed MIJ Floyd Rose but I did few deep dives with it and the guitar stays in tune.. it is very solid... two things are stopping me from hunting it:
1. It is not ESP, not E-II, not even made in Japan... am I compromising too much quality getting this guitar?
2. PRICE, such guitars in such condition is so rare in Egypt so the seller is asking around $700 !!!! Normally, this guitar worth not more than $300 - $350 I guess but the seller claims that he paid a lot for the upgrades and such guitar in such year in this mint condition is impossible to find. He also claims that (Inspected in the USA) adds value to the guitar...
I am so hesitated now... any thoughts? I am in Egypt by the way, getting a guitar online is a hell of cost due to shipment and customs !!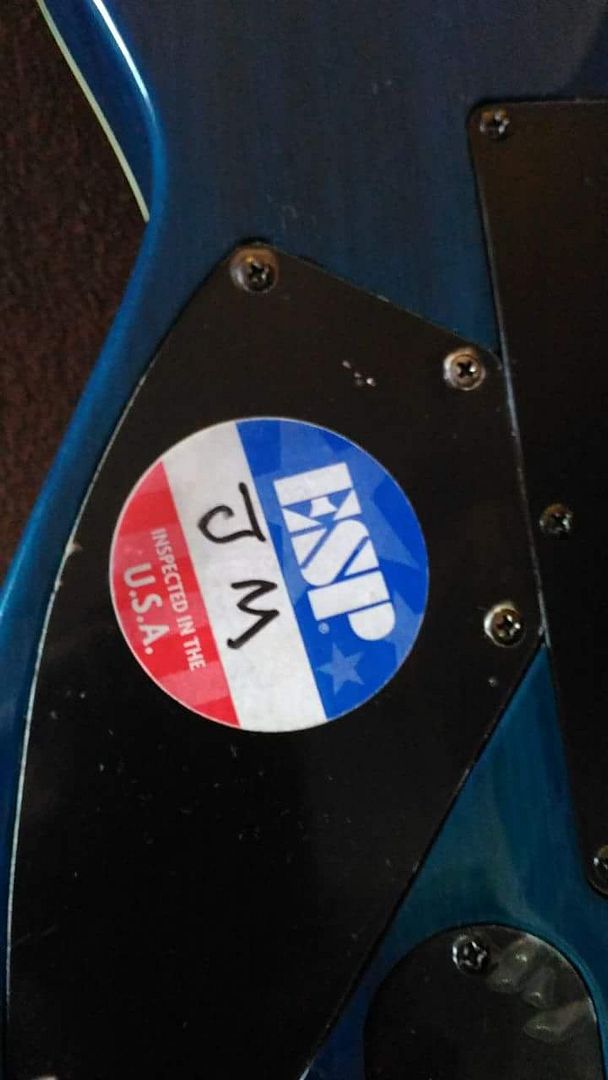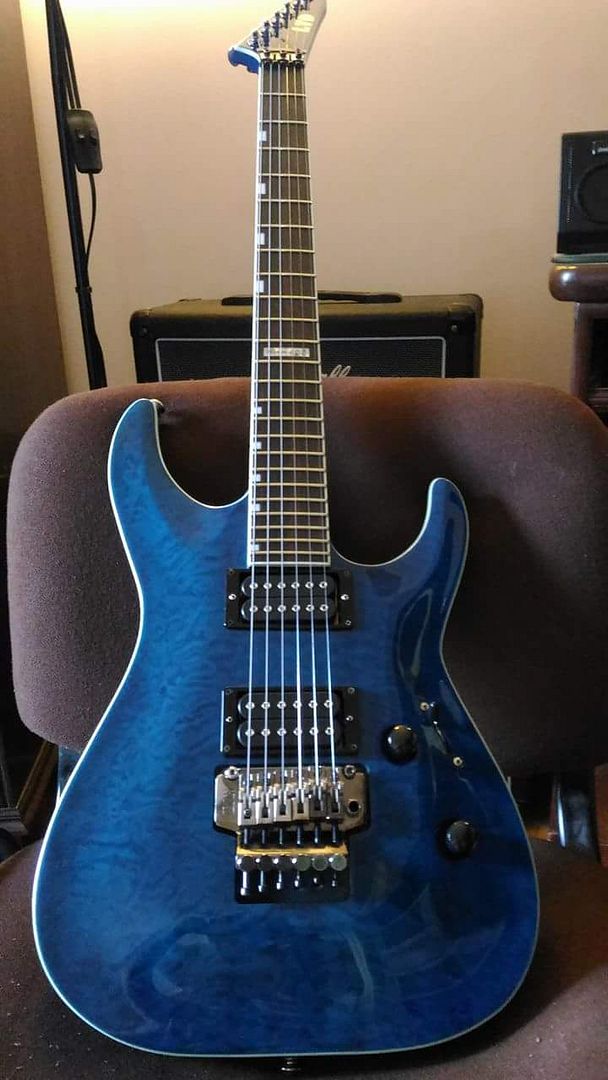 Join date: Oct 2010
470

IQ
They aren't quite as good as the equivalent ESP/E-II's, but the old 400 LTD's were certainly good guitars all the same.

Objectively speaking it's really up to you if you think you'll appreciate the differences between E-II's and some of the better LTD's.

The guitar being allegedly 'inspected in USA' is about as valuable as the sticker it's printed on. All LTD's make this claim.

People who buy guitars used generally want them to be in as original a condition as possible. So the upgrades add little to nothing to the guitar's value. If anything if the seller does not at least have the original parts for the guitar, the sale will actually go down in value.

The rarity of a guitar means little if it isn't actually desirable either. That's not to imply that 400 series LTD's are undesirable, its just that the logic the seller is using that because it is a hard guitar to find in Egypt therefore it is worth literally twice as much is flawed when you consider how much it costs to get the same guitar from a US seller and paying the shipping for it.

In simple terms, he's asking too much money.
Last edited by T00DEEPBLUE at Jul 12, 2016,
Join date: Apr 2010
1,720

IQ
the pickups aren't an upgrade. they are a side step. that should not add value to the guitar. The inspected in USA means nothing, they all ade.

if you have your heart set on an E-II you are not going to be happy with that guitar. you may be for a little while, but you probably won't feel fulfilled with it for the long run. you will always be chasing the ESP.

Join date: May 2007
580

IQ
Like everyone says, changed pickups are not an upgrade, if anything, they should drive the cost down, especially since the original pickups were good as well (im guessing it came with the 81/85 pair). The rarity of it is also a bullshit argument, it would only be relevant if you actually wanted this specific guitar. Its way to expensive if you ask me, and you should explain to the seller, that all his points are flawed. A used guitar should not be sold for more than a new one, no matter what kind of pickups it has.
As for the quality, that depends. The bridge will probably get worn out faster than a real floyd would, but the wood and build quality itself can be up to par with a real ESP i think. If it plays great and stays in tune, then its a good guitar. It wont just break in your hands one day because its an LTD

What you SHOULD check, is the quality of the wiring. If the guy replaced the pickups by himself, that means he probably soldered all the wires himself as well, and he might have done a shitty job. Its also why the "inspected in the us" thing is even more worthless than at the start. Hell, even my ltd had an "inspected in the us" sticker on it, and im pretty certain it never actually went there.
Thanks guys... he just dropped the price to $600.. still too much I guess... unfortunately I think I will pass it... I haven't played ESP or E-II before so I can't imagine how better would they feel and play...

The words trashedlostfdup said are ringing in my ear right now "you will always be chasing the ESP"... This is absolutely true !

Join date: Oct 2007
450

IQ
I have an MH400 and an ESP Horizon NT7. The quality is closer than you'd expect.

Join date: May 2007
580

IQ


Honestly, it depends. I always wanted a Gibson Explorer. Got myself an ec-401 about two years ago, because i couldnt affort an explorer, and now i dont want it anymore, because i love the EC to bits. I have played actual gibson explorers since then, and none of them fascinate me anymore. You just kinda have to let go of the whole "i want this really expensive guitar, just cause i want it!" mentality i guess.
$600 is till too much the rarity claim is total BS and the upgrades add nothing especially when going from one name brand to another, walk away and wish this guy good luck selling it.

Join date: Dec 2014
111

IQ
I agree the guy is asking too much, throw him a reasonable offer you are actually willing to pay for the guitar and tell him you know its low, but if he decides he wants to take it later on to give you a call.

When nobody bites on the guitar at his price, you offer will start to seem better and better, and the thought of having actual cash for it might just get you the guitar for what you are willing to pay, you just might have to wait a few weeks.


Yeah I agree... this is the best strategy to buy anything... my bigger concern is that considering my desire for an E-II, with this MH400 satisfy me? This is the question I need to answer before thinking about the ceiling I should offer for this guitar !

However, I cam across this beast.. Ltd MH400.. It is 2008, made in Korea, inspected in the US (Does this add anything to the guitar?), and it has replaced pickups; owner replaced the stock EMGs with Dimarzio Mo' Joe and PAF Joe...

"Inspected in the USA" adds nothing whatsoever to the value of the guitar.
Non-original pickups are never an "upgrade." Doesn't matter what he paid for them. Never raises the value of the guitar. I personally take OFF money when there are non-original parts grafted on.
You've played the guitar and you already know that you're not giving up all that much in quality getting that guitar.
I have no idea what the market is on guitars in Egypt. You have a better idea than we do, but my suggestion is: Lowball and Haggle. In whatever order you choose. Get the price down to where you aren't quite happy with it, but neither is he.