Cargo shorts are great

Join date: Jul 2007
80

IQ
http://freebeacon.com/blog/if-you-hate-cargo-shorts-you-hate-america/
I think we all know that there is nothing more sickening in this day and age than female privilege. And there's no variety of female privilege more galling than their sneering at men who wear cargo shorts. "Oh, what do you need all those pockets for?" they snap as they carry around a gigantic purse with 18 quarts of cubic space in which to carry all their ridiculous crap. "How could you possibly want to look so ridiculous?"

For some reason, people love to hate cargo shorts.

I've never understood this. Assuming you're not striding down a runway in Milan—thus necessitating a clean, straight-leg profile—you're probably wearing shorts because you want to stay cool. And if you're a guy, you're probably wearing shorts without carrying around a European man-bag. Which means you have a paucity of space to carry all your cargo.

This is where cargo shorts come in.

Now, every man's cargo is different. I'm not intending to suggest in the infographic below that this is what everyone carries or should carry. I'm just using it as an illustration to help you fashion Nazis out there understand why a guy might throw on a pair of shorts with a bunch of pockets on them when they exit the house.

No other item of clothing comes close to being as useful as North American Cargo Shorts. Of course the elitist east coast establishment sneers at it with their dying gasp. America will be made great again not by these egghead losers but by men whose shorts sag under the weight of tools and electronics, books, and bottles. Don't come crying to us when you need an airplane bottle of gin, poindexters.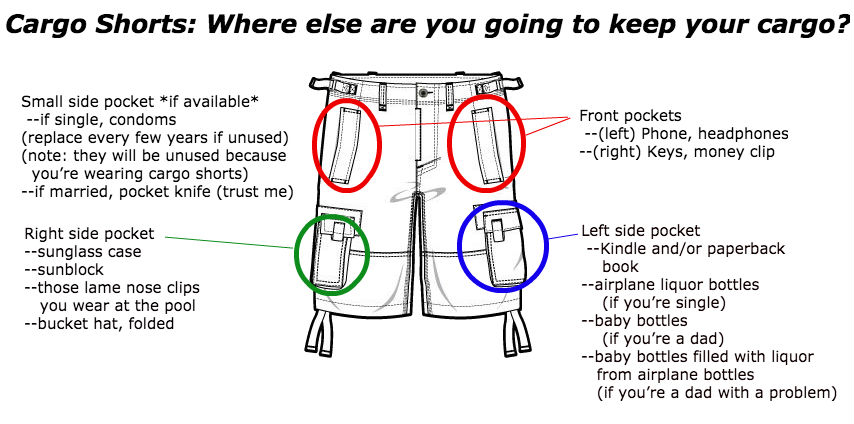 What do you carry in the pockets of your cargo shorts?