Looking to buy something like a Line 6 Pod. How much has changed in 3 years?
After a lengthy stint away from guitar, and a couple of weeks of rekindling, I have decided I would like a new amp solution.
Take a second to read this thread that I started 3 years ago:-
https://www.ultimate-guitar.com/forum/showthread.php?t=1623985
The overwhelming response was that I should either buy a new house or a Line 6 Pod.
Due to monetary restraints, I am going to go with a Pod over a new house, but my question is, how much has changed within 3 years?
- What is required to run a Line 6 Pod? The Pod itself and a speaker?
- Are Pod's still quite acceptable, or have other companies made better... multi-effects? Is a Pod a multi-effect?
I'm currently watching a bunch of YouTube videos to see what's right for me, but as of now, I am completely clueless.
I'm also looking at AmpliTube, as I have a decent computer, this may be the route I go down. Any thoughts on AmpliTube, and what equipment is needed to get it up and running?
Probably going to be selling a Marshall DSL15C aswell, but that's another story.

Join date: Jul 2009
90

IQ
yes a POD is a multi-fx unit

still acceptable for what? they work fine for their intended purpose but yes at this point there are other options

no you can't just plug a speaker into it and play. headphones yes, it's not an amplifier so it needs to be plugged into an amp or PA for live use.

you haven't really made it clear what you intend to use it for. I have an older model and it works fine for practice or (what I really use it for) recording. in a pinch I could also use it to play live as long as it can be hooked up directly to the PA.

in order to use amplitude or other computer based guitar programs you need an interface that allows you to plug your guitar in. trying to plug in straight to the computer usually results in crappy sound and other issues.

check link in my profile to hear my POD in action
To run a pod independently, you need a Pod and a powered speaker. Or a power amp and passive speaker. Ideally, the speaker itself should be wide-range and flat response (so a set of decent recording monitors will do, a good powered PA monitor will do, or an arena-sized PA system will work. A typical setup will look like this: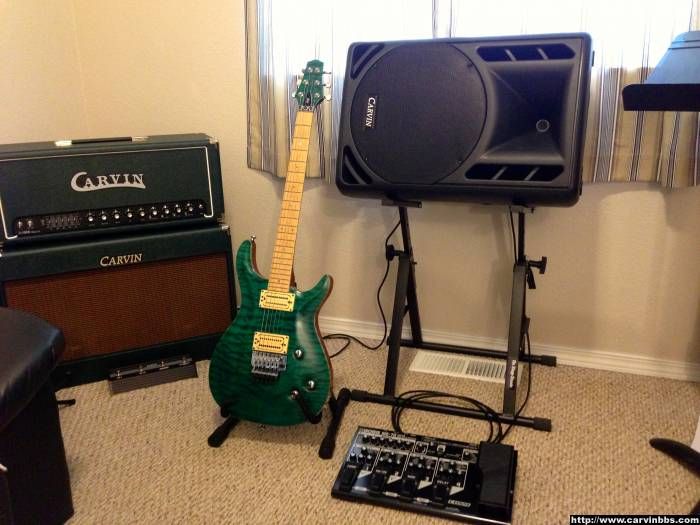 The speaker on the amp stand is a Carvin PM12A (powered PA-type speaker with 400W RMS power, a 12" LF driver and a 1" HF driver), about $300.
There are more expensive Pod-alikes, including rack-mount gizmos like the Axe-FX, independent setups like the Kemper, foot-pedal setups like the Fractal AX8 and even upscale things from Line 6 like the $1500 Helix.
It's always possible to use computer based guitar programs, but you should really figure the cost of a computer into the *actual* cost, think about how hardy the whole system would be if you needed to play out somewhere, and note how fiddly the bits are to put together.

Join date: May 2014
50

IQ
If you have a hifi/ stereo/ powered speakers with an aux input, you could try a POD or similar through that? From the headphone socket, I would suggest.

Join date: Dec 2014
111

IQ
Since the pod hd500x came out you can pick up the previous model, the hd500 for a steal and they are almost identical in operation. If you are not looking for the complexity of the hd500/500x you could also check out the line 6 firehawk, it's similar to the 500 but a little more stream lined

Join date: Dec 2010
80

IQ
Instead of the POD HD line, check out the latest up and comer - the Atomic AmpliFIRE. $600

You still need the powered speaker or headphones.

Join date: Jan 2013
70

IQ
Since the pod hd500x came out you can pick up the previous model, the hd500 for a steal and they are almost identical in operation. If you are not looking for the complexity of the hd500/500x you could also check out the line 6 firehawk, it's similar to the 500 but a little more stream lined
was thinking the same thing , damn Cath ...... I'm going to get me one of those fuggers
http://atomicamps.com/amplifire-pedal/