NGD....with a twist
A new creation of mine the shovel guitar. $10 spade and an $8 Chinese pup. Everything else was just spare parts I had laying atround. Tuners are old Squier ones. Bourns pots and a Switchcraft jack. The pup is way too microphonic but I got away with it at last night's gig.
The nut and the bridge were made from some chopped down angle iron. Fret markers are just filed and filled with iink.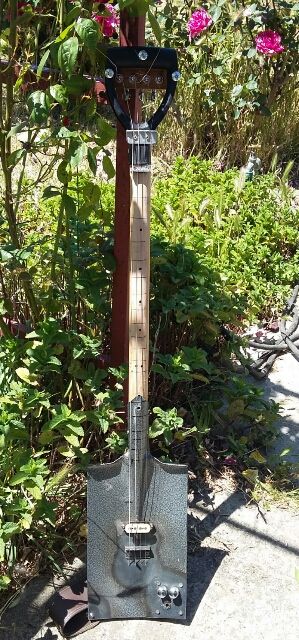 Here''s a video of a Rose Tattoo classic we played last night.
It's obviously a slide only guitar. In the vid it is just going through my Amplifire straight into the desk.
Last edited by Cathbard at Nov 12, 2016,
Join date: Mar 2008
780

IQ
Awesome.
I love it. I mean I really dig it. You have quite a handle on this kind of creativity. Glad you've got a foothold on it. Doesn't look like a backbreaker either. But can it do Tool?
Great idea Cath.

You're truly a badass Cathbard, not many folks can rock a frickin' shovel, that was impressive!
wassup with the heat stressed areas around the knobs, jack, bridge and pickups. looks like you had to heat treat it or do some welding on it. you tack weld a little box on the back for the control cavity or something?

definitely a cool take on the cigar box guitar.
I saw a shovel guitar on youtube but it was only three string. I need four strings at least really. Two strings for rhythm two for lead. So it's tuned like normal open E but missing the two middle strings. So EBBE. Pretty easy to play actually; well it is for somebody used to playing in open E.


The shovel was case hardened. I had to heat treat it so I could drill it.
Last edited by Cathbard at Nov 13, 2016,

Join date: Oct 2009
160

IQ
Bourns pots? Switchcraft jack? You just
had
to build a high-end instrument, didn't you?



Seriously;
very
cool!
Cathbard

Interesting tuning. Everyone seems to have different ideas about three- and four-string tunings. I've got my uke in open A with 13-36 strings, the same intervals as the top four strings of open G but a tone higher. It is good for trad blues style slide, and although the strings are fairly slack, it is manageable on the 15" scale.
FatalGear41 Its what I had in my stores. I spent just $18 on it. Everything else were just spares or junk. The piece of timber that the tuners are fitted too is a piece of Mirbau decking. I had to route it out a bit but it's just a piece of junk I had lying around.

Tony Done It's just what made sense to me. I normally play slide in open E. With this tuning I'm just missing the third. Which is good in another way too. I can play in minor keys much easier. I may not be able to play a minor chord but fifths go over anything.

Join date: Feb 2010
320

IQ
You aren't bad on the meat whistle man, sounded pretty good! Definitely didn't seem to have any problems playing the thing, very cool

Join date: Nov 2007
430

IQ
Talk about burying the mix!

Cool peoject Cath. It sounds awesome.

hahahahaha awesome

The shovel was case hardened. I had to heat treat it so I could drill it.
so obvious, should have put two and two together.
I got a few comments at the gig including a "so much for the tone wood bullshit huh?"

tone woods?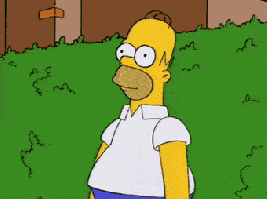 When I saw the thread title I thought it'd be something like this:
But this is more fun

it's got a wood handle right?
probably alder from the sounds of it.