Help on setting my tone again on a new guitar?
Alright guys, so I bought myself a new Ibanez RGIR20FE (EMG pickups). In the past I owned an LTD EC-330(Active stock ESP pickups). I mostly play metal and I managed to achieve a good metal tone through my interface with POD Farm 2. Well, when I switched to the Ibanez the tone changed quite a lot. It sounds more heavy and aggressive due to the EMG pickups but it seems like I lost my mids and my guitar isn't cutting through anymore.I usually write songs with programmed drums but now seems like I got no mids, It gets lost or something. Especially when I cover songs, I put the original song on a track, lowering its volume quite a lot and my guitar still doesen't cut through to be heard, I tried increasing the amp sim volume but it's still the same. it gets lost. Here is my guitar eq so far:
http://imgur.com/a/qNOM1
what can I add or cut to make it cut through? Also to mention, I've got my mids on the amp sim at around 85% and it's still not enough. Some help will be greatly appreciated. Thanks

tuca.madalin
Just a few suggestions that come to my mind:
1. Instead of boosting mids, try lowering the lows and highs a bit. That might tighten your sound a bit. Your gain looks fine, actually, so I don't see a problem here.
2. Are you using a compressor for your guitars input signal?
3. When I play along to other songs, I always cut a few mid frequencies in them, to make some room for my guitar. It's not only about boosting the mids in your guitar signal, it's primarily about having room for them. If there's already a different instrument occupying that sonic space, you will have difficulties hearing yourself.
Let me know what the results are and also if you find out the culprit.
Not familiar with farm, but take a look in your mic and cab settings. Always made a difference iin my XTLive.
Dragonfyre137
Yeah I never thought about eq-ing the mids on the song. here's what I've done:
http://imgur.com/a/aNQT2
it's not enough though but I don't really know how to work on this eq plugin. Am I cutting the frequencies right?
tuca.madalin
for the lack of a proper adjective, I'll just say that the eqs on the song look a bit too narrow, meaning some mids seem too low (or non existent) and the bass and treble too high. I think the best thing is just tweaking the songs eq's a bit untill you find that you can hear both the song and your guitar. It doesn't take that much, you just need to experiment around a bit, finding out where to create the best sonic niche and how to fill it with your guitar. But as I said, from your generall EQ-settings it doesn't look like your guitar shouldn't cut it in the mix, unless the EMGs absolutely have no mids, which I can't really imagine.
For example, those are my default settings when I run my "jam along"-playlist: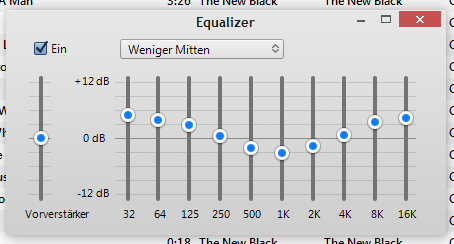 Edit: I usually have the "rock" settings, which by default have reduced mids, resulting in a sightly scooped eq-appearance. What I basically did is just amplifying said scoop.
Edit 2: I dunno whether you have the time and/or oppurtunity to record any piece of your playing, optimally just any rhythm part with you playing power chords. That way I could compare your sound to what I imagine it sounds and to what my guitar sounds like and my songs' eq settings.
Last edited by Dragonfyre137 at Dec 25, 2016,
Are you having this problem with both pickups? Fresh batteries in the pickups? Fresh strings? Active humbuckers ought to have a very sharp, focused sound, and I'd wager most people with that setup are scooping the mids.

You may be experiencing the difference between good tone for performance/recording and good tone for bedroom jamming. The tone you use for jamming is quite different from what you'd use when someone's mixing your signal.

And are you just running this straight into a digital console? Active pickups produce a really hot signal, which helps drive tube amps, but may not be an advantage in a purely digital setup. You might go to the store and see how those pickups do on a tube amp, and if it's better you can buy a "preamp" pedal that has like a single 12ax7 tube in it.
Last edited by cdgraves at Dec 25, 2016,
Dragonfyre137
Alright man thanks alot for the help. I will experiment until I find the best results, I'll let you know if I make it. Thanks alot again

cdgraves
The battery is fresh, the strings are fresh it sounds good but the something in the mix isn't right, but I'll try and expermient until I find the best results


Join date: Apr 2010
1,720

IQ
you got a new guitar. it's different. part of the fun is dialing in a new tone.
tuca.madalin
you're right, it indeed lacks a bit of punch. The sound itself is very clear and hot, so at least we can cross this one out.
On the first track it sounds like you have a lot of reverb. First, I'd try dialing it just a bit down. Further, I'd try to decrease both the gain and treble a bit and increase the lows a bit. Too much gain sometimes works like a compressor and overpronounces the high frequencies. If I got it right, your new pickups are active, right? They usually sound significantly more trebly than passive ones and on my passive I usually dial the tone knob about 30 - 50 % counter clockwise to cut some of the treble, which causes to pronounce the mids a bit more. That being said, your sound itself is really cool, we're talking about nuances here. Especially the third recording sounds very very nice. Oh, and let me compliment you on the very tight playing

Last edited by Dragonfyre137 at Dec 26, 2016,
What kind of pickups were you using previously?

You might try shaping your tone from the cleanest setting first. No delay/reverb or anything.
Dragonfyre137
Well thanks buddy

. The third recording is made with my previous guitar. The one that had a good tone. And yes my new pickups are emg's so they're active.I'm still tweaking it so it sounds the same as it did on my old guitar at least. And I think I know what I need. Lowered treble, lowered distorsion, a bit of low end but some mids too. The problem is even If I set the amp as I need to it's still not the same haha. but I'll experiment until I find the best results.
cdgraves
The previous pickups were active too, but not EMG. And yep it is shaped from the cleanest setting

tuca.madalin
You're welcome, glad I could help at least a bit. Still good luck and have fun!