NGD - ultraviolet schecter content

Join date: Jul 2009
130

IQ
Review/life story first then pics.
I've owned two other 8 strings, an agile intrepid that I bought in 2010 and had for a year and a half and a carvin Dc800
purchased in 2012 that I had for about a year. I wasn't sure if I'd have much use for 8s anymore but I've been playing in a band
for about 2 and a half years now. We've got a few songs written in 8 string tuning territory that I've been doing on a 7 but I
decided to shop around for an 8 for future writing purposes.
Behold, a Schecter Hellraiser Hybrid in UV finish! Notable specs:
slimline SLS neck profile w/ satin finish - thinner that I thought it would be which is great! I don't really mind slightly
thicker necks on 6s but 7s & 8s i like it thin. I haven't had a satin neck guitar in a long time and I'm glad this one has it.
Its lovely.
EMG 57/66 set - really digging these. they play nice with my eleven rack as well as my laney ironheart. between these and the
het set in my snakebyte I got last year, my faith in EMGs has been restored.
carbon fiber binding - looks pretty snazzy and im looking forward to seeing how the glow in the dark side dots perform.
Schecter locking tuners - I loved the schecter locking tuners that were on a previously owned blackjack c-7 and these are just as
nice.
Hipshot 8 flat mount bridge - I prefer TOMs and i think they make 8 string TOMS now(?) but this bridge is quite comfortable.
The axe is pretty lightweight and there isn't any neck dive! its a very comfortable guitar to play and the finish is beautiful.
Schecter seriously got it right with this one.
The cat approves.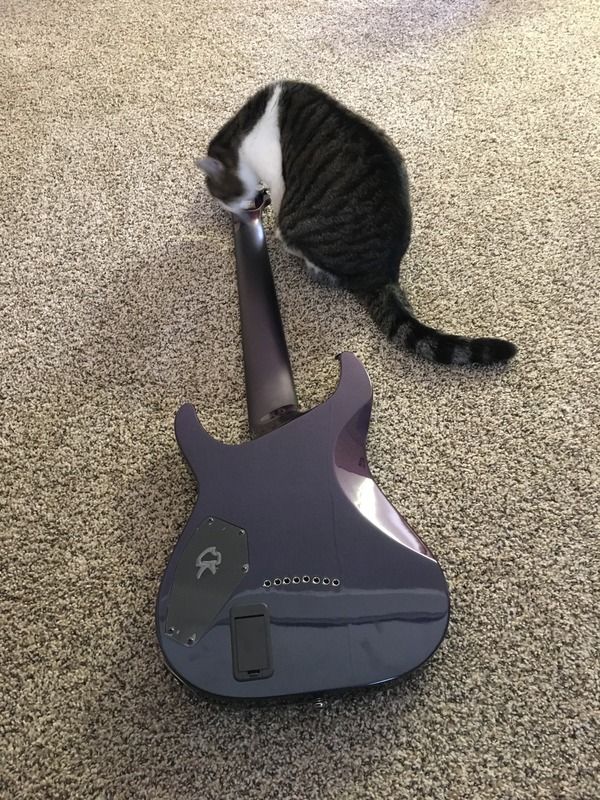 So does the horse.
It was cloudy here but you can still kinda see the color changes.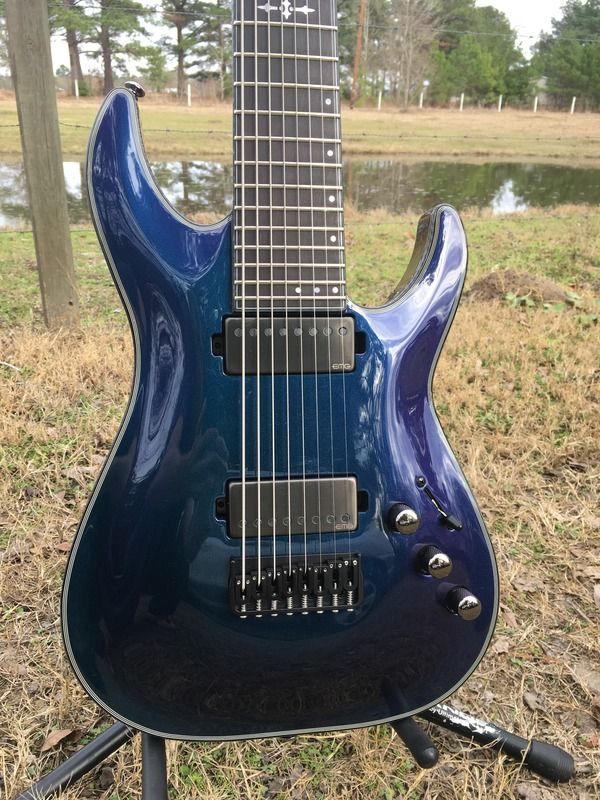 Love the carbon fiber binding. The clear over the binding is just a little sloppy but I don't notice it while playing.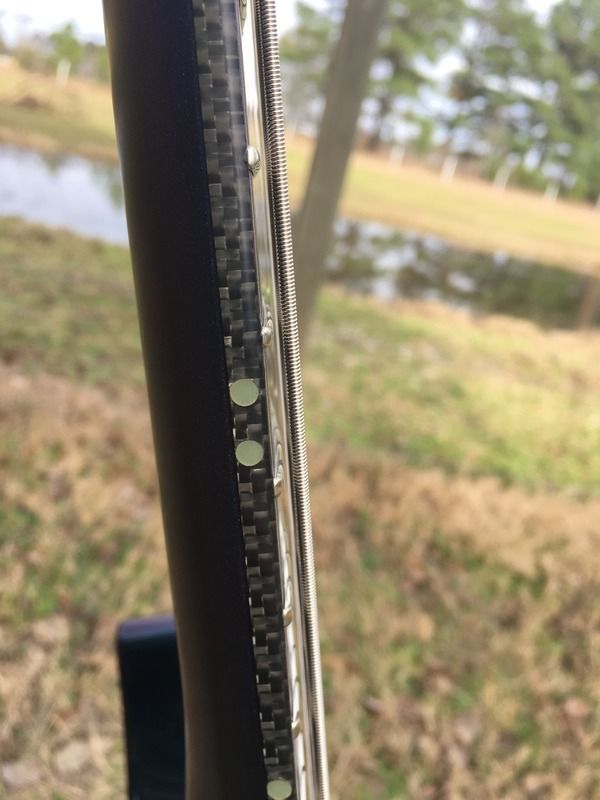 Loving the headstock and the tuners.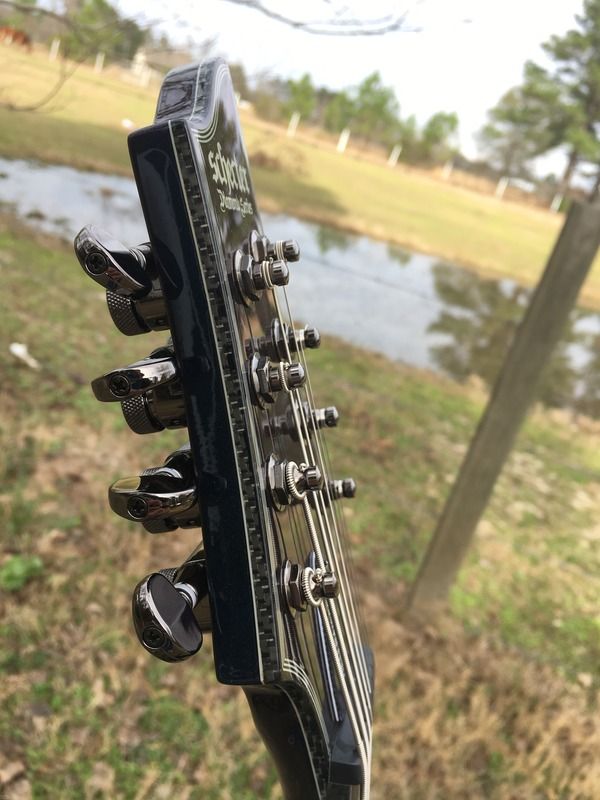 Finally the sun comes out so I can capture the finish.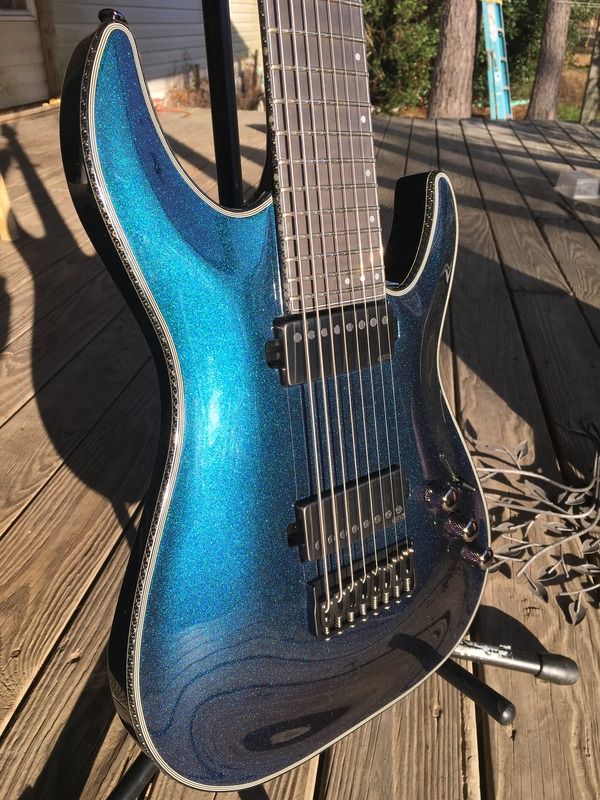 Gorgeous backside and check out that neck!!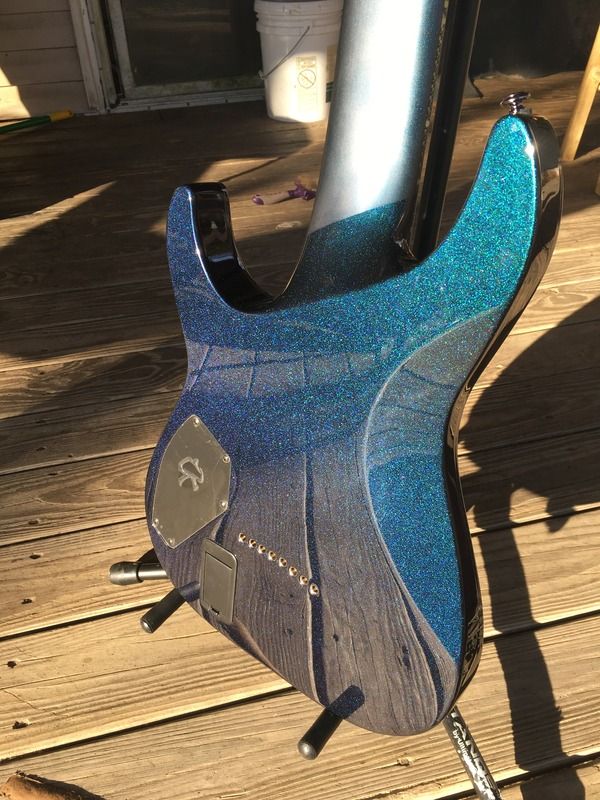 More down neck.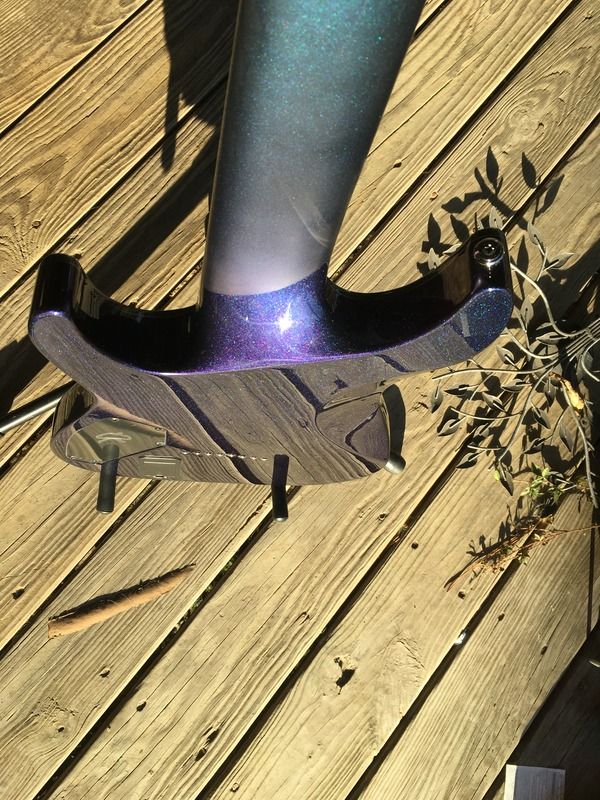 !!!!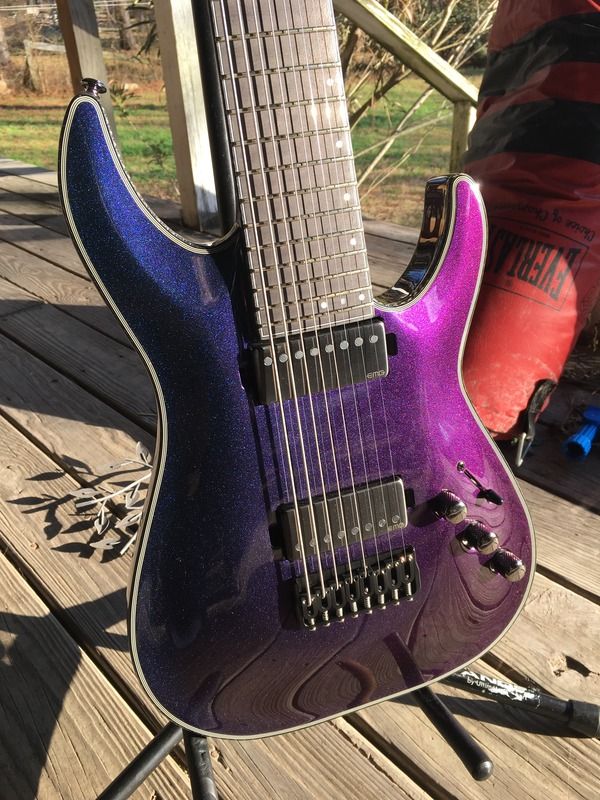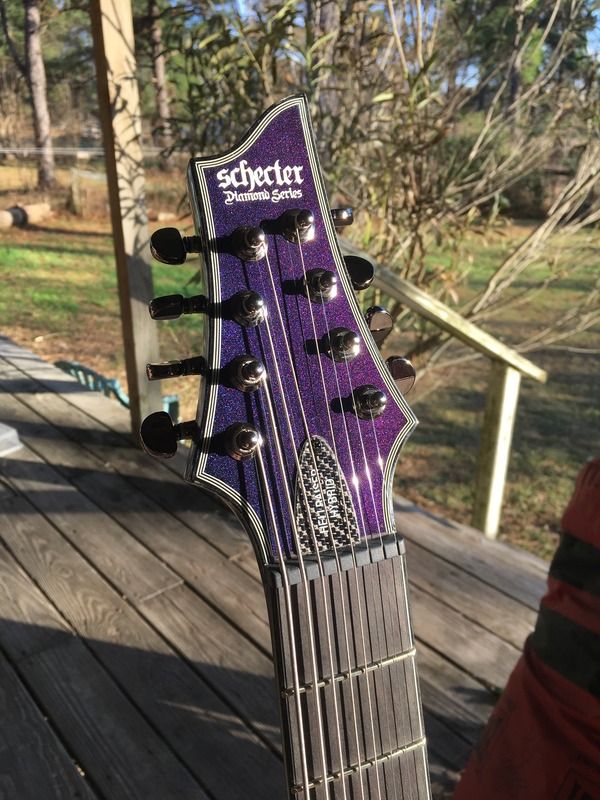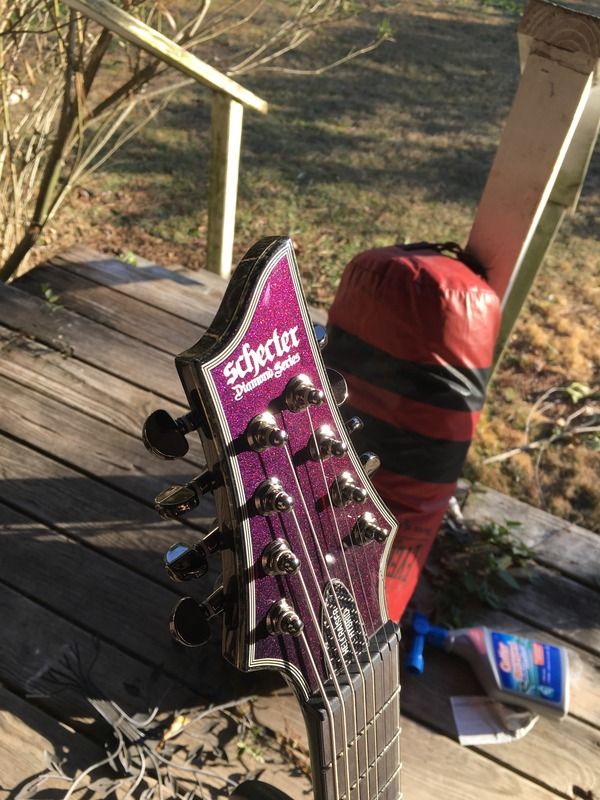 Join date: Dec 2008
420

IQ
Ver' nass. Ver' nass indeed.

That's beautiful. Congrats!

Do you know if it's as thin as the Ibanez RG2228. It gets more play than the Stef B8 and SC-608B.

Join date: Jul 2009
130

IQ
not sure how it compares to the ibby but it's thinner than my other guitars with the esp "thin u" contour. it feels pretty similar to my old washburn wg-587 which was really really thin.


Join date: Jan 2012
20

IQ
Dang, dude! I'm typically not a fan of Schecter but I'd totally be proud to own that. HNGD!

Join date: Sep 2002
601

IQ
Yo that's a space guitar, far out, very sexy


there's a horse?
i believe this is the first NGD thread i've ever seen with a horse.
very cool looking horse, can he keep a beat?
HNGD!

That is one sweet finish. HNGD!

Join date: Mar 2011
200

IQ
That is very nice. I will now be on the lookout for a 7 string version of that. Many congrats to you sir!!!
that is one of the best looking schecters ive ever seen. THE best super strat from them , the finger board looks smooth as glass

Join date: Feb 2010
350

IQ
Sweet, not a huge Schecter fan but this is sex.
Sweet

guitar I have short fingers so i do not get along with 8 strings but i do have a Schecter Damien Elite 7 in metallic black with EMG 81/85 it has beautiful abolone gothic cross inlays.
Anyway HNGD that finish is awesome I think Schecter is underated at times.!