NGD: some classic looking Bacchus bling.
Every time I sit down to play this guitar, I remember seeing Ozzy from the shitty seats on the Diary tour. It was one of the first concerts I attended in HS.
For whatever the reason, it takes me there.
What we have here, is a mid to late 2000s vintage series bacchus flying v custom. These (like most mij bacchus and momose guitars) are built in small batches. This one is an early example as the logo is on the back side of the headstock.
As far as fit and finish, envision PRS attempting to build a replica of a flying V custom. Boom. That's the level of quality this thing exudes.
She was mostly a case queen and came with the warranty card, case, key etc. The only signs of use are some light aging on the pups and scratches on the guard. Weighs a 7.1 lbs on a very accurate luggage scale. I love those things for weighing guitars. mahogany body and neck, ebony board, lacquer finish, 12" radius, 1 11/16 bone nut.
Bacchus pups get a lot of hate, but generally i find they just need an adjustment or two to dial them in. That said, I hate the neck pup. I do have a set of vineham '59s that may find their way under those gold covers by summer. The bridge pup is fine though, very paffy.
Just for
H4T3BR33D3R
the abr screws directly into the mahogany body.

She rings like a bell. The R0 I sold to
mmolteratx
had the same kind of quality to it. Strike a note and the guitar made you play that note, it rang out and screamed "use some vibrato on this" right in my ear. So you do what the hell it's telling you and play it. Amazing thing when that happens.
pics play games with white guitars depending on lighting and the background, so here's a few in varying light.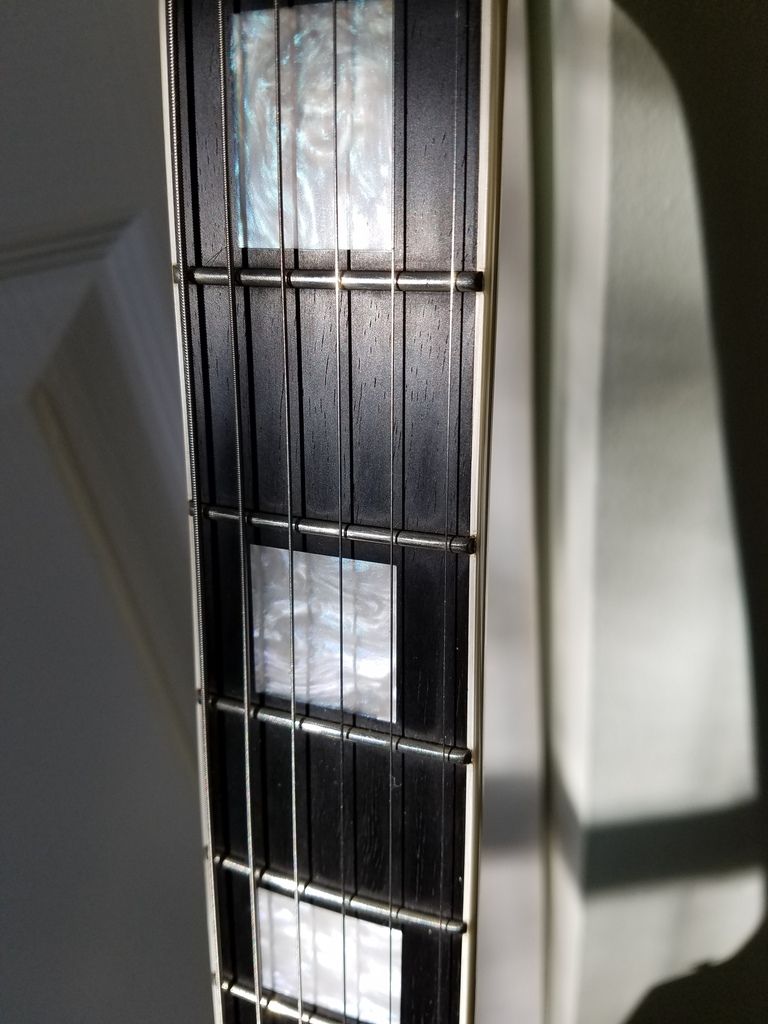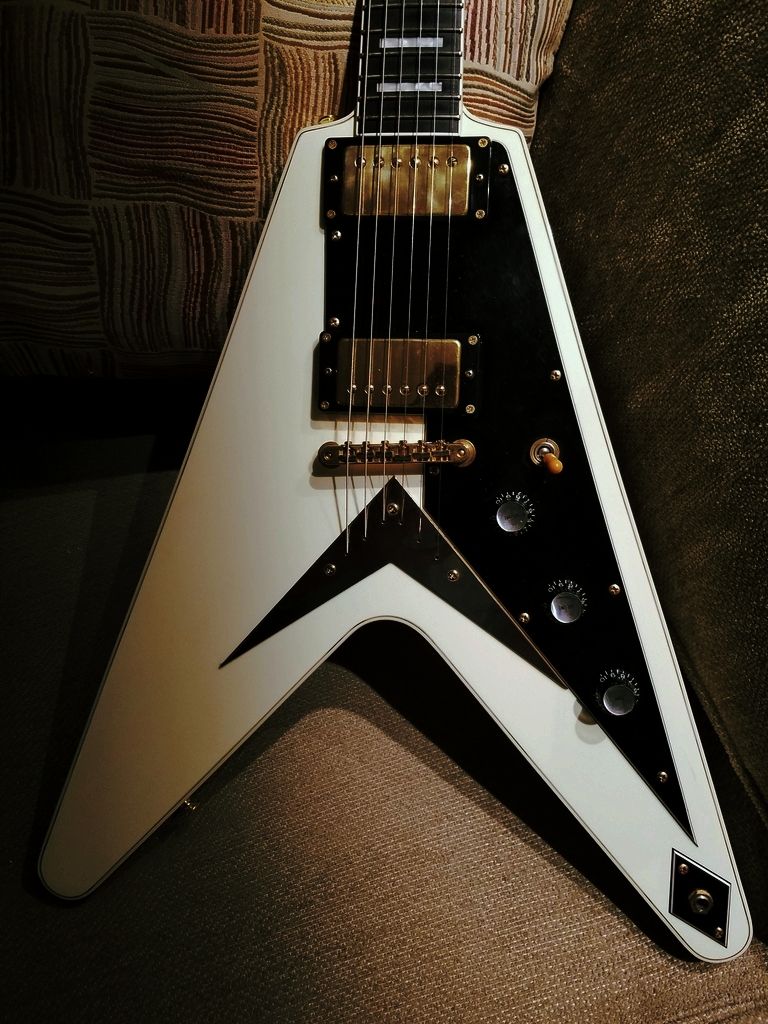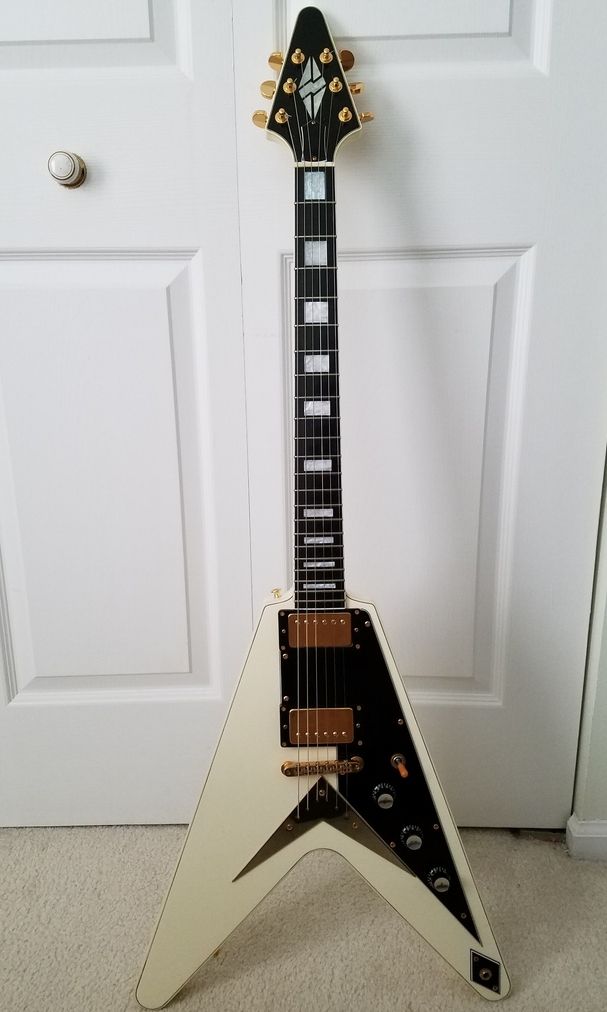 While I didn't think this was a "grail" guitar when I was ordering it from 4,000 miles away based on some crappy cell phone pics by a guitar shop in japan, now that it's arrived I know selling this ever, would be a big mistake. I've done that before and regretted it, once. And I'm currently working hard on getting that one, or another exactly like it, back in the house.

Join date: Mar 2013
40

IQ
It's beautiful! HNGD!

I have always had a fetish for white guitars with gold hardware, such a classy combination.

Join date: Mar 2011
180

IQ
Great, now my desire to have another v has risen exponentially! Very well done!!!
Congrats! Need pics of the back, too.

Is the Momose Explorer still on your radar?

Join date: Oct 2010
450

IQ
I wish I could hit that like button more than once.

I can, but then I'd just cancel my 'like' :c

Join date: Jul 2008
130

IQ
Holy smokes that's hot. I love V Customs.

Join date: Nov 2007
390

IQ
my ABR senses are tingling!
What a stunner. Youve really got an eye for the nice ones Greg HNGD


Join date: Jul 2009
80

IQ
wow that is sharp.

time to channel your inner Michael Schenker
Thanks everyone!

Congrats! Need pics of the back, too.

Is the Momose Explorer still on your radar?
i'm passing on a nice momose to pick up the korina bacchus. pretty sure it's a 2010K, but not positive.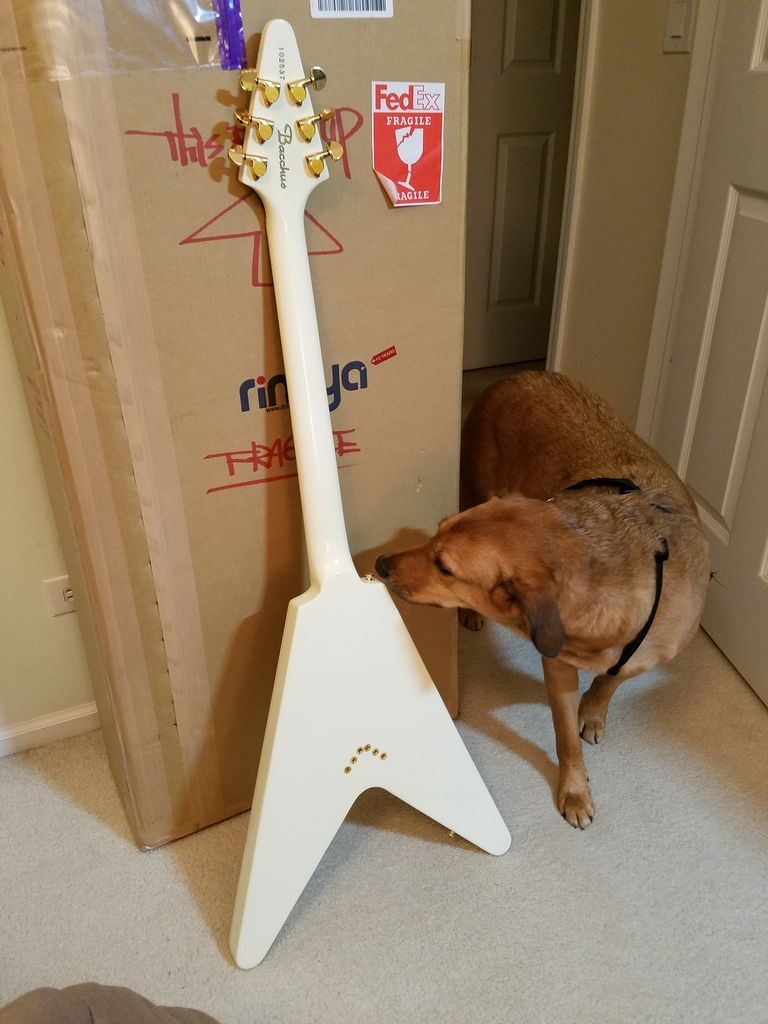 not a horse, but pretty cool doge anyway.
back of said korina bacchus.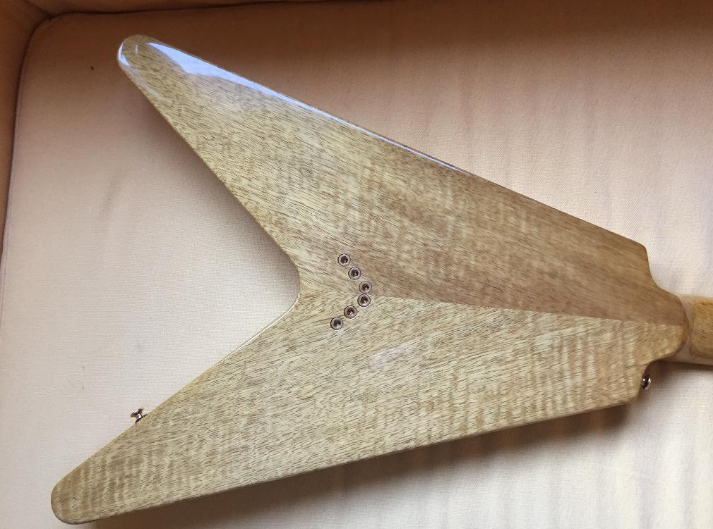 Last edited by gregs1020 at Jan 19, 2017,

Join date: Apr 2010
1,570

IQ
hawt. I love 'gibson styled' v's.

I haven't played a Bacchus but it looks stellar.

ride her hard.

Join date: Dec 2008
320

IQ
Classic axe, Greg!
(I oughtta close this thread out of spite!

)

Join date: Apr 2005
610

IQ
Where's a drooling smiley when you need one!?
An absolute stunner of a V for sure. Congrats!


Join date: Jan 2005
606

IQ
I dislike V's, and I see this a very well constructed counter-argument.

I'm not a V fan... but that is nice! HNGD!
awesome


Join date: Nov 2007
30

IQ
mmm. pretty sexy looking beast. yet to get me a V.
HNGD - that is a classy looking V

thank you all, i am really happy about this one.
from the original ad images, my impression was "oh dear, this is a gaudy mess but i'm sure it would flip fast if i hate it".

Very nice.
HNGD

That guitar looks nice. I like things that are nice. Nice! Have fun with the geetar!

Join date: Feb 2011
221

IQ
Wow, that is a beautiful guitar! I love white guitars. HNGD
Gorgeous, HNGD