Tube help please!
I recently purchased a Mesa 50/50, made in 1996.
It had the original tubes!!
I'm changing the 6L6's with Mesa 440's.
I want to change the interior preamp tubes also.
I have two Sovtech 12AX7LPS tubes.
Can I use these for the PI?
If not, what?
And what to put in the input tube socket?
Much thanks!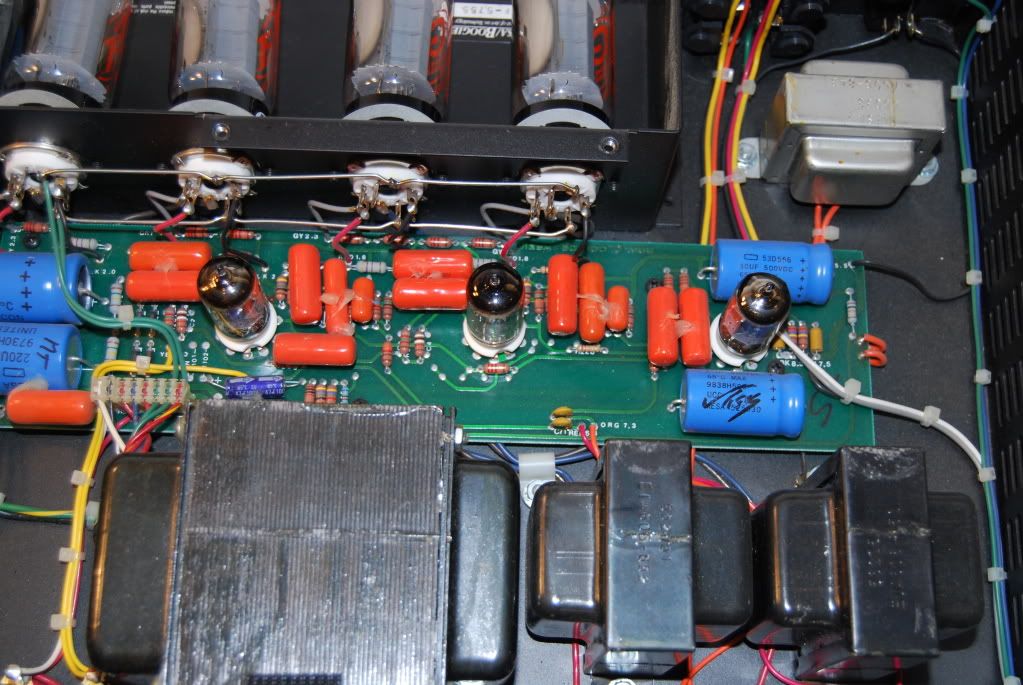 The Sovtek 12AX7LPS will be fine in the PI position. I would not put them in a Cathode-Follower role, however (typically V2). Put a JJ there. In V1, it is up to you. You might could try a Mullard or Tungsol RI.
I was thinking of using 12AT's instead of the AX. .?
Diatribes
You can try it. They are considered lower gain (signal gain) than the X.
Will Lane
I'm not as well versed on sockets as a lot of people. I've been running solid state poweramps for nearly 25 years. Last tube poweramp was a Mesa 295, and I never tinkered with it.
Which sockets are V1, V2 etc?
Looking at the picture above, the tubes in my 50/50 were, from left to right, 12AX7A, SPA12AX7A, SPA12AX7A. All Mesa tubes.
I swapped all of them with JJ AT's. Sounds kinda trebly. And I get zero volume at "1" on my knob.
What would be a good sequence to use the tubes I have? Including all the Mesa, JJ and Sovtek tubes I have.
I was thinking putting all the Mesa tubes back except the middle socket, and using one of my JJ AT's (V2?)
Thanks I appreciate your help and patience with my noobness
Last edited by Diatribes at Jan 20, 2017,
In V1 I'd normally try a JJ ECC803. However they have a little more top end than a JJ ECC83S so you may be better with the ECC83S.
Cathbard
The tubes I have on hand are:
Mesa: 12AX7A, and (2) SPA12AX7A
JJ: (3) ECC81
Sovtek: (2) 12AX7LPS
Would any combination of these make decent neutral tone and volume?
I'm also a tube amp noob, as stated above. I don't know which sockets are V1,V2 etc
Thanks!
V1 will be a buffer. So the ECC81 may work just fine.in V1. V1 will be the one closest to the input.
Cathbard
V1 will be a buffer. So the ECC81 may work just fine.in V1. V1 will be the one closest to the input.
Ok, that would be the socket on the right, going by above picture?
Which of my tubes do you think I should try in the other sockets?
Thanks!
I'd say so but it's a bit odd. The schematic shows only two "preamp" tubes - so what's that third one?

Personally, I like JJ's, esp their 6L6's. The Mesa ones are crappy Sovteks IIRC. The Sovtek12AX7LPS is one of Sovteks better tubes and certainly worth a try. Otherwise, stick with JJ.
From my understanding the left two are phase inverter and right is output. Or input? I am noob. I tried all JJ tubes and volume was really low. Tone was also bland
Oh yes, the schematic only shows one side but it's stereo. That's the rub. The two on the left are PI's and the one on the right will be V1. The volume is probably low because it is actually a gain stage so the lower gain of the ECC81 will cause a volume drop. Throw an ECC83 (or ECC803) in there.
Ok, I'll try that and leave the ECC81's in the PI
The PI has no gain so that should be fine.
I put the Mesa spa12ax7a in the V1 and left the JJ's in the PI sockets. The volume seemed the same, but the tone was significantly improved over having the JJ in V1
Christ. I just noticed the left channel is louder than right channel. Not by a lot.
Like, if I put left on 3 and right on 4, they are about even.
Would this be any of the preamp tubes, or the 6L6's?
Or something else?
Fckn used crap..

Join date: Dec 2010
70

IQ
Did you clean any of those tube sockets when you extracted those original tunes?

Get some quality electrical contact cleaner like DeOxit, spray the pins on the tube and work it in and out of the socket until it glides easily - no sexual innuendo implied here!

Same with the input jack.
metalmingee
Will pick some up tomorrow. Maybe some new 6L6's too. I get a bit of random crackle static like stuff every once and awhile. Just a tiny bit but it's annoying. I hope the 50/50 I bought inst a train wreck. Aesthetically it's mint
I noticed when I flipped it from standby to on, with the lights off in the room, I can see blue on 3 of the power tubes. Very hard to notice with lights on. I tried moving the tubes around, in the AABB pattern to keep matched pairs, and the same blue was happening on same three tubes. Not sure if that's an issue? It doesn't look the the blue flash I've seen in videos. Kinda, but a lot more subtle.
Last edited by Diatribes at Jan 21, 2017,
Blue is fine. It's just impurities flourescing on the plate. Red is the only scary colour in a tube
Only red is on the filaments where it's supposed to be.
The blue is not static to the tubes. As stated only the right three (as looking at above pic) had this blue.
Of the left two, I will call them #1 and #2, only number 2 had this blue. So I switched 1 and 2. This time, 1 was blue and 2 was not.
There's something goofy going on. The fan for sure needs replacing, and it gets that random static noise.
I don't think getting serviced would be such a bad idea.
Being blue tells you nothing.
If you want to check the power tubes just swap them around and see if the fault follows the tubes.
Last edited by Cathbard at Jan 22, 2017,
I hope so. Just got kinda paranoid after watching Mesa video with that dude showing tube arc when he flips standby switch. The blue I'm seeing is nothing like that. Can't even really see it with lights on.
There is random static though. Very subtle and random, but there. And the fan makes random crappy noises too. The fan alone will get me to bring it in for a replacement, and might as well have my tech go through it.