Modding an old Squire for bigger pickups -- need help please
Hi all -
This is my first post here.
I was just hoping to get some advice from folks who have sanded/modded their guitars in the past.
I have a 80s model MIJ Squire that was actually my first guitar as a kid.
Out of curiosity, I looked up the Serial# and it's E + 6 digits, meaning it was made between 1984-1987.
The reason for my post is that being a 30+ year old guitar with all original parts, it could use some TLC and newer, better pickups.
I already bought Seymour Duncan SH4's (double coil) and upon removing the pickguard, I discovered that the pickup bays are a little too narrow.
I was thinking about sanding it to accomodate, but wanted to know your experience doing this sort of thing.
Any advice or things to look out for?
Best way to do it? I was going to use a wire brush drillbit to get it started and then maybe some finer course sandpaper to finish it off.
In case you're wondering "why is this guy bothering to mod a Squire?", I only budgeted a few hundred bucks and I'm already basically there after new locking tuners, new bridge, nut, pickups, and few odds & ends.
This guitar, believe it or not, is rather sentimental to me, which is why I'm hesitating on modding it.....but I think in order to continue playing it & get the best possible sound out of it, this is the way to go.
I apologize for the rather lengthy post. Thanks for reading.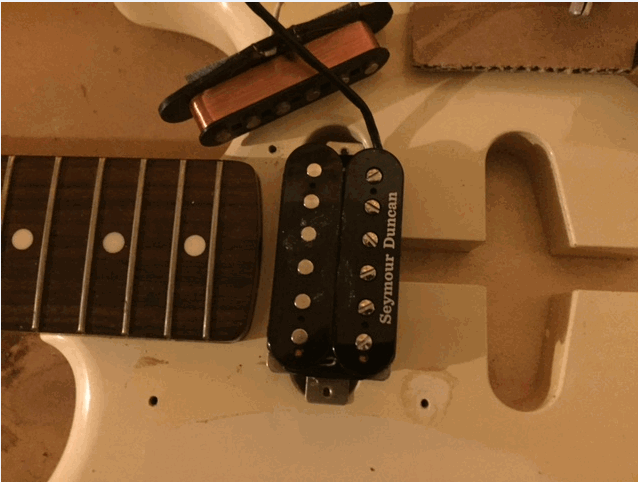 Last edited by r_w_ingram at Jan 26, 2017,
Join date: Oct 2010
450

IQ
The 80's MIJ Squires are known for being well made guitars and they have held their resale value.

If you're going to mod this guitar, do it in a way that doesn't require doing anything invasive. No new screw holes required. No need to hog out the pickup cavities to get the pickups to fit etc. These guitars if in good condition are worth something. Go on ebay and see what 80's MIJ Squires sell for, you might be surprised.

If it's the pickup cavities themselves that are causing the grief, then realize that removing wood inside the cavities to get the pickups to fit is going to cause the guitar's resale value to bomb.

Seymour Duncan makes a JB-style of pickup in a single coil size to get around this exact problem you're facing. Look into that.
T00DEEPBLUE
Added a picture.
The answer is the pickups don't fit neither the pickguard nor the cavities inside the guitar.
Point taken regarding the 80s MIJ Squires. I did a little bit of research and thought that it was the earlier Squires and the MIK (Korea) Squires that were actually made with more quality parts.
Why they didn't make the pickup cavities larger is beyond me.
T00DEEPBLUE
Thanks --- I'm keeping all the original parts, but I'm thinking twice about any permanent-type mods.
Since I already bought double coil humbuckers from Guitar Center, I'll return them and look to get single coils. Then if I (or anyone else) ever wanted the guitar back to original, it would just be a little work and solder, but no extra holes, etc.
I use a Dremel to enlarge the cavity. If you are handy with a plunge router, you can use that, too, but if it is under the pickguard, I just do it by hand.
I'm a great believer in modding of that type, but I'm not sure I would do anything non-reversible on that particular guitar for the reasons given by TDB.
One other option would be to go with stacked humbuckers or single-coil-sized humbuckers. There are lots of options for these. I picked up a 90's Peavey Predator that's pretty similar to your Squier a few weeks ago. It's also routed for three single-coil pickups. A previous owner installed Fender vintage noiseless stacked humbuckers in the neck and middle and a Seymour Duncan Cool Rails in the bridge. These didn't require any permanent alterations to the guitar and put humbuckers in each position. To my ears, the vintage noiseless pickups are good, if a bit mid-scooped. The Cool Rails, though, are awesome. A big, full sound on both clean and overdrive.

Join date: Dec 2008
320

IQ
Add me to the chorus of UGers who don't want you to route out your Squier. Especially since there are all kinds of pickup makers who make all kinds of pickups that will fit in those standard cavities!

Tell us what kind of sound you want, and we may be able to help you find the right ones for you.
Thanks for all the replies!

So, what I ended up doing was NOT routing it out for those double coil pu's and instead I picked up 3 JB JR single coils and installed those.
It looks pretty good! .....but can't hear it yet....
The only problem is my old Line 6 Spider amp (90s) is shot, so I'm looking at a new, better amp.....but that's for a different thread ;-)

I have a buddy who's in a band, so I may just take it over to use on one of his amps, so I can hear how it sounds.
This was my first time upgrading pu's, but I'm so glad for YouTube and sites like U-G forums.
Thanks again!
Last edited by r_w_ingram at Feb 15, 2017,

Join date: Dec 2008
320

IQ
Eh, no need for a new thread- what kind of stuff do you wamt to play? Desired tone? Budget?