NAD: Laney IronHeart IRT-Studio - with sound!
So I've had my IRT-Studio for going on 3 weeks now. This little amp is a beast!!!
The specs are easy enough to find online but my main reason for purchasing was for the headphone out and USB connectivity. The USB feature is awesome.
I figured the best way to share is to create a bunch of different recordings "playing" the same riff and types of riffs over and over. Go easy on the playing - this was done in 15-30 minute spans over the course of days. Most of the time I'm not even warmed up - it's about the amp not me!
The tones:
https://soundcloud.com/user-626040810/sets/laney-irt-demos
I played mostly on the Rhythm Channel with the Reverb on. Here are the settings: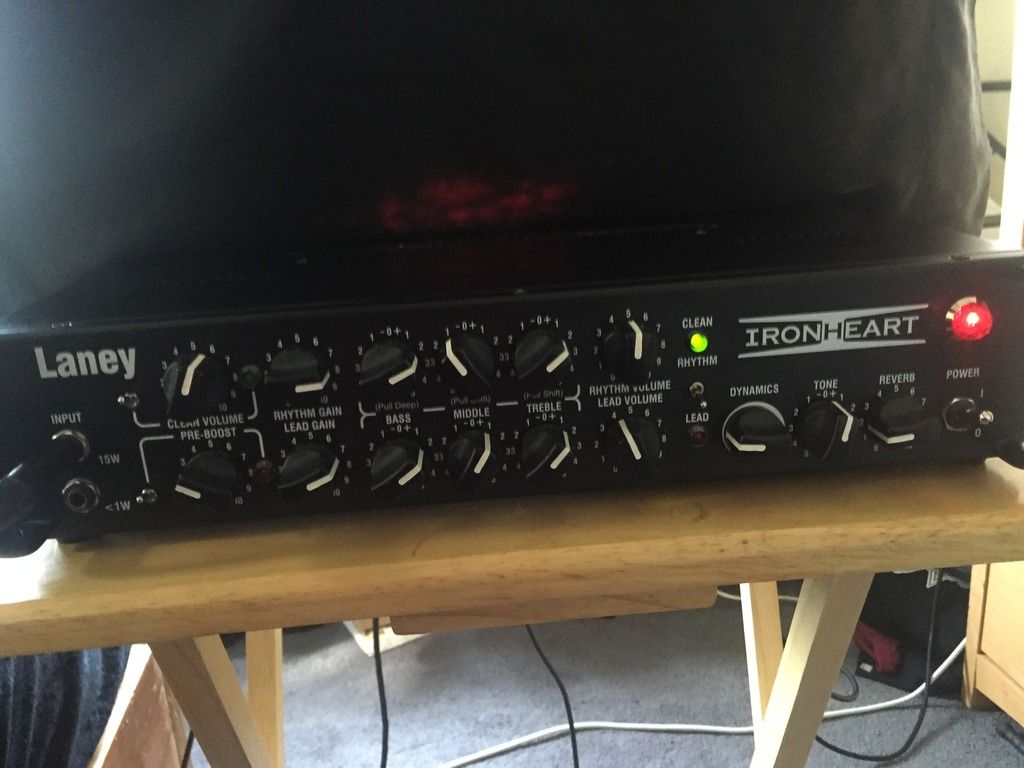 I used 3 different guitars all in Eb with 10's:
- Jackson Kelly KE3 with a Seymour Duncan Distortion in the Bridge
- LTD EC-1001 with an EMG 81 in the Bridge
- Jackson Dinky DKMGT with an EMG 81 in the Bridge (if there is not a label in the sound clip it was this guitar)
For the speakers, I used the Native Speaker Emulation and Peavey ReValver Flathill V30 (Mesa Rectifier 4x12 with a SM57 in the center of the cone).
There are also some samples of a full blown Peavey ReValver Lecto Dual Rec preset I use on Modern, Flathill V30 with a SM57 and a 421. Touch of reverb, and a Buddha Zenman Boost sim.
I didn't use any pedals on the recordings and didn't use the DAW for anything but recording and the noted speaker emulations - no EQ, Reverb, etc.
I also did a tube swap test. I received the amp with:
V1 - TAD EC83 Highgrade
V2 - Ruby 12AX7 HG
V3 - Ruby 12AX7 HG
Ruby EL84 Power tubes.
I did some samples with a JJ 5751 in V1 and then once my retube kit came in it ended up with JJ 12AX7s and JJ EL84s.
The conclusion (if you read this far!) is that this is a great bedroom / recording / willing to be mic'ed amp for cleans and metal tones. I play mainly thrash (sorry Slayer for butchering South of Heaven over and over and over). Changing the tubes really allowed the amp to open up on lower gain settings. When time permits I want to experiment more with pushing these EL84s into breakup with a Strat and some more rock sounds. My only physical cab to play it through is the Mesa 212 with V30s built into my Roadster combo. It sounds great! The <1W setting lets you get into some power tube breakup and still hear afterwards. For comparison sake my ears started to ring after about 1 hour with the volume set to 5 - it's definitely loud enough to piss off apartment neighbors. The 15W gives much more headroom and bass response.
I purchased this used for $315 shipped. Add another $70 or so for the new set of JJ tubes.

Join date: Jul 2009
90

IQ
sounded great enjoy


Join date: Apr 2005
140

IQ
The native speaker emulation leaves a lot to be desired, kinda fizzy and buzzy IMO. I like it better when you started employing IRs. Good job, and definitely a versatile amp if you're into silent recording/practice.
diabolical
Thanks! That was my thought as well. The higher fidelity the speakers the worse that buzz is with the native emulation. It sounds pretty decent with the built in speakers in my MacBook.

I didn't want to be too opinionated in my post!
Maybe it would be better in a mix? Either way I'm glad you can turn it off.
Or maybe an EQ would tame it?

Join date: Apr 2005
140

IQ
Try putting another emulation after their emulation, it might sound better

Not sure what it is, I've heard that amp tested by someone on sevenstring.org and it sounded better than yours but still the IRs won there as well.
i really like that amp for it's versatility, and great for silent practice with phones.

diabolical
Gotcha. I kept mine on the Rhythm Channel and didn't use a boost (neither internal nor a pedal). I normally only play thrash or lighter anyhow.

Join date: Nov 2007
450

IQ
Nice score man! Always wanted one of those things but never bit the bullet


Join date: Dec 2009
540

IQ
not a big fan of the emulated headphone out or the emulated speaker out but being able to put it into a daw makes the output usable.

unbeatable features for the price.

Just wish the gain channels weren't set up the way they are but it still sounds pretty good.