Impratical to have a half stack for apartment use?
by half stack I mean a 2x12 half stack with a 120 watt head..

The reason i'm asking this is because I was able to find some very good deals locally, there's many combos that are decently priced BUT, I was able to find a Peavey all tube head for $225 and a 200 watt Carvin cab for $100. and it just feels like it's too good of a deal to pass up... I know a combo makes more sense for home use, but if it were you in a situation where you could get a very good deal, would you pass it up?

I know there is probably some kid out there who bought a half stack for home use simply because he thought it looked cool, but this isn't that situation . I already KNOW a half stack could be too much because i've used a 4x12 half stack at home before. I couldn't even turn the volume past 1 on the head.


At the moment i'm only playing in my apartment, I have a big empty closet where I can place the half stack in, and I plan on using it in a band setting soon. but for now would a 2x12 half stack be overkill?
If you can get away with leaving the volume low enough, do it. I think putting it in the closet will rumble things louder imo. You could always sell it for more or break even if you change your mind.

Join date: Dec 2009
530

IQ
Depends how good you are at Tetris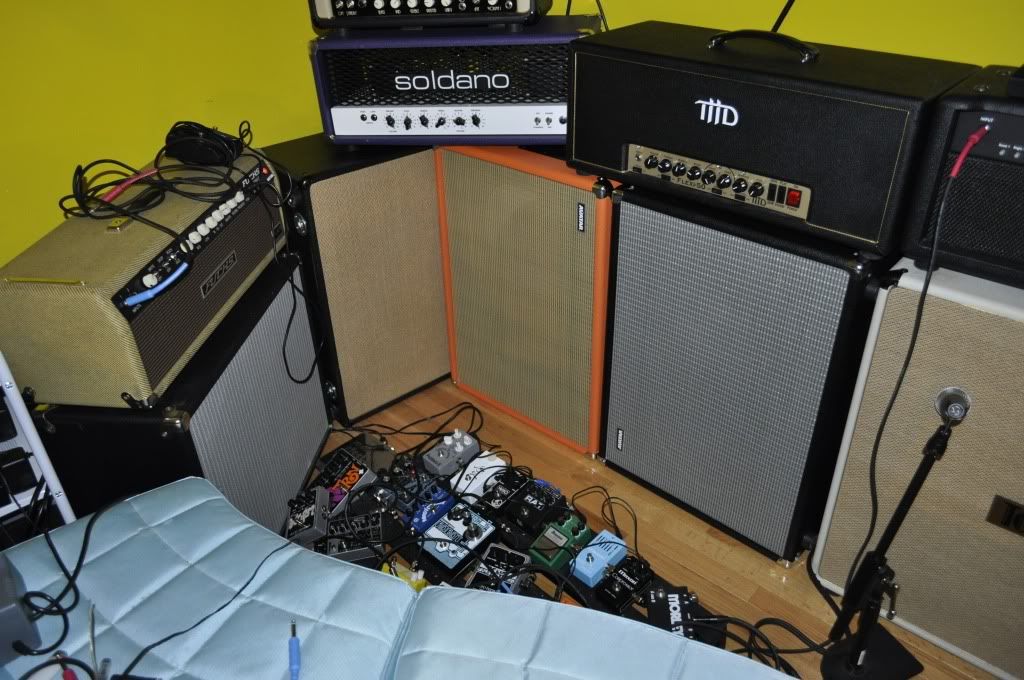 Join date: Apr 2017
20

IQ
My only thing, and it's driving my search is driving it enough to get good sound without deafening yourself and your neighbors. Solid state amps dont seem to need the volume to get the sound like tube amps do. That's my observation at least.

With that being said, if you like the setup and it's what you can afford snatch it up.

Join date: Apr 2010
1,580

IQ
go for it. There is always a volume knob on the amp. it is overkill in a way though.
but I am running four rigs that are big watt tube amps into 4X12s at my studio. three 4X12s at my house and a pair of 2x12s. so I might not be the one to listen to.


Join date: Dec 2009
530

IQ
this tube amps need to be loud shit needs to die already

Join date: Nov 2004
50

IQ
My first question is whether this is the amp you want or just something that popped up in your price range. Also, if it doesn't work out, can you sell it for a profit or break even? Otherwise, I'd probably say over kill if it's just home use.
Quote by jedigovnaUG
Impratical to have a half stack for apartment use?

by half stack I mean a 2x12 half stack with a 120 watt head..
A half stack is a 4x12 with a head.
A 2x12 with head isn't a stack.
It's just an amp with an external speaker.
Truth is, 50W combos are also impractical for apartment use. There are a couple of issues. One, if you're going to put the silly things on the floor, you're never going to hear what they sound like. You're going to have issues with mechanical and acoustic coupling, your ears are going to be off-center for listening, your walls and mattress are going to play hell with any sound that comes out of them, either sucking up treble, or setting up phase issues off the hard walls, etc., etc.
I've gone with a good modeler and a pair of decent powered studio monitors on 36" stands designed to eliminate or minimize vibration transmission to the floor.
I have a pair of KRK Rokit 8's -- they've got 100W each, 8" woofers capable of getting right down past 50Hz. The modeler does the work in terms of reproducing a full-chat Marshall, etc., so it's like listening to recorded music with those characteristics. You can dial it up or as down as you like. The stands put the monitors at a reasonable listening level for me, and they're designed specifically for listening in the 6-8' range (nearfield). Thanks to the stands, they don't take up much floor space, and I can even tuck a subwoofer somewhere if I like.
The other part is that they're a fair match for a pair of Quested V3110 mid/far-field monitors that I have in a practice area outside the house. Those are three-ways that have a 700W woofer and 150W each for the mids/highs -- 1000w each speaker. And those are a fair match for the pro audio systems in local venues (just add distortion, masses of seething bodies, poor sound techs and odd speaker placement).
evening_crow
Yeah it's an amp I want . I actually had the combo version a few weeks back and I sold it and regretted it.
I guess if it ends up being too much for home use I could just sell it for profit and get something smaller
Join date: Apr 2005
100

IQ
As a teenager I had a full stack up to the ceiling, impractical - maybe, but totally badass.
As a teenager I had a full stack up to the ceiling, impractical - maybe, but totally badass.
And groovy.

Join date: Feb 2014
10

IQ
Any amp is impractical for apt use. Get a DMFX for $100 used and decent headphones.
Cajundaddy
Too late.
I already have headphone amps .
I got 2 - 212 cabs for $140 for both and the peavey head for $225 . I didn't want to pass it off and they sound great.
As I said I plan to use it in a band setting as well .
It sounds awesome at bedroom levels . I will probably be selling one of the cabs .
http://imgur.com/a/zWPpa
My camera was glitching out
Last edited by jedigovnaUG at Apr 11, 2017,

Join date: Apr 2017
20

IQ
Blow the walls down man, I really can't wait until I stop waffling and decide on something. The rig looks nice, hope you enjoy it

Join date: Mar 2014
20

IQ
Sounds like you got a killer deal. I finally got to play thru one of those amps a few weeks back, was quite impressed.
Any amp is impractical for apt use.
Yeah. An apartment works much better for apartment use.

DirtFarmer
I basically got the 2x12 cab and head for $295. I got 2 cabs for $140, but plan to sell one.. It was an AWESOME deal. and i'm thankful I can find deals like this locally. The amp sounds freaking awesome even at lower levels. It can do anything from beautiful cleans, to Slipknot . It has an insane amount of gain, more than i'll ever need I prefer to keep my gain pretty moderate.. . Great hard rock / metal amp and much better cleans IMO than a 6505