NGD: PRS Reclaimed Limited: S2 Vela Semi-hollow.
what a freaking score.
these guitars are partially made from reclaimed woods, here's the PRS info on them. the tops and fretboards are old growth woods native to the north eastern parts of Brazil.
http://www.prsguitars.com/news/story/prs_guitars_unveils_limited_edition_reclaimed_wood_guitars
this thing is ridiculous, exactly what I was hoping for an so much more. i lucked out and the top on this one is perfect, i think. the back is what's so nuts though, great figure to the mahogany. neck plays so nice, i really like the profile. i'm honeymooning but it's sort of a tweener of a LP and Tele for me but it definitely has it's own unique vibe overall. better than comparable models of each in it's own ways.
I played it a bunch this afternoon through my '63 VVRI and exactly, balls on exactly what I hoped to hear. there's so much that's lost in videos and whatnot when you watch samples online. what a ridiculous guitar. i can't wait to run it through my Amplifire rig tonight. i'm sure a SLO preset with a slide won't disappoint!
what's funny is, there's a bunch of play wear on the plastic sheet that covers the pick guard. i know Eric played it a bit at Guitars and More in Alabama, but i suspect someone at the factory didn't want to put this one down. haha
also it came with a great initial set up, i'm only going to tweak it slightly from here but i was ripping on this thing earlier. it made me a better player, i forgot how much i like playing PRS guitars. I had a few at one point and sort of moved on, but later regretted selling the teal black mccarty and whale blue CU24 i had.
when i worked at a sam ash store for a while after the '08 economy poop, i was fortune enough tour the factory with a group and meet paul, have dinner and drinks and whatnot and hang out in the garage studio for a bit, incredible time for sure. so i've always been looking for the right prs guitar(s) to put in the stable.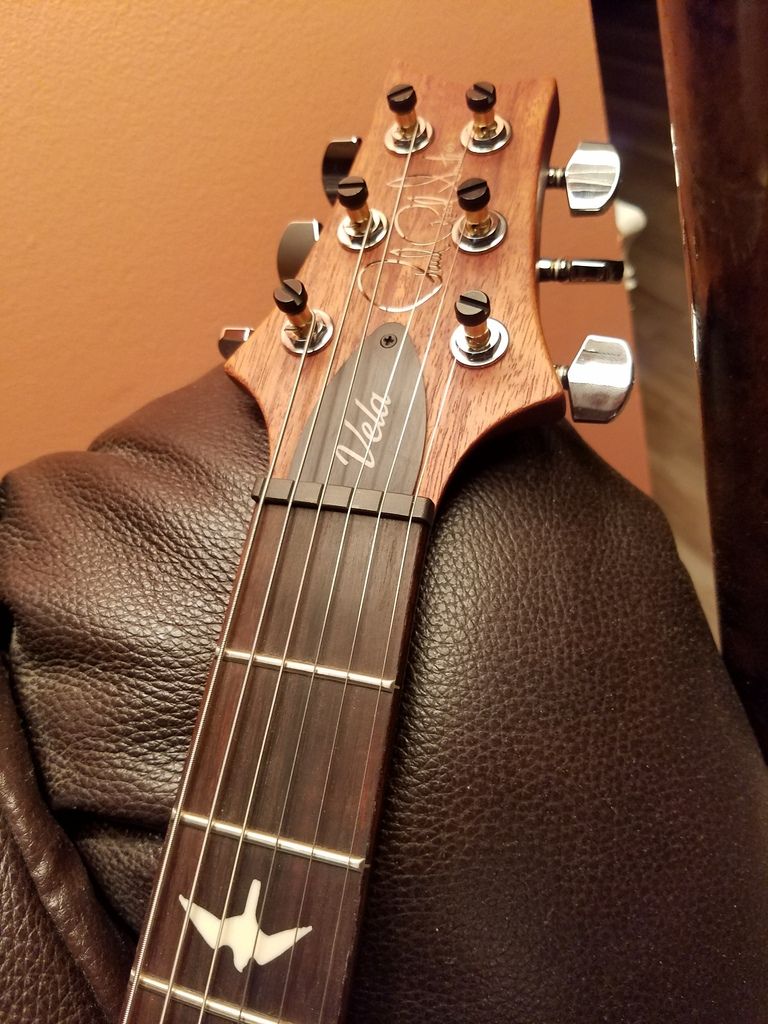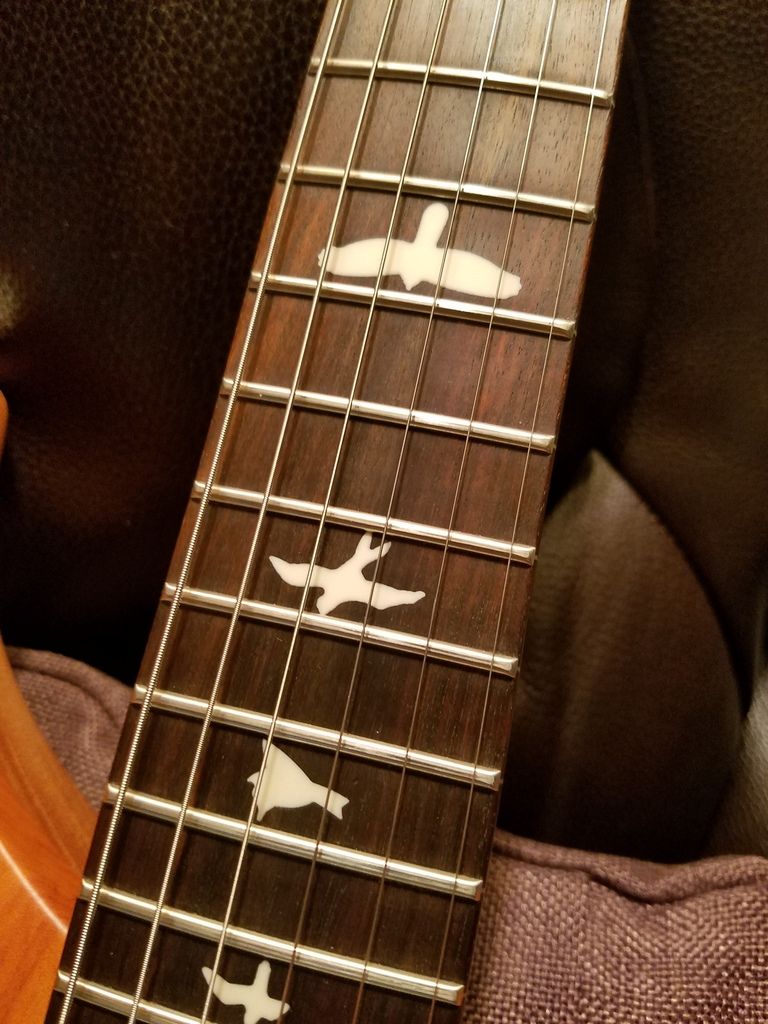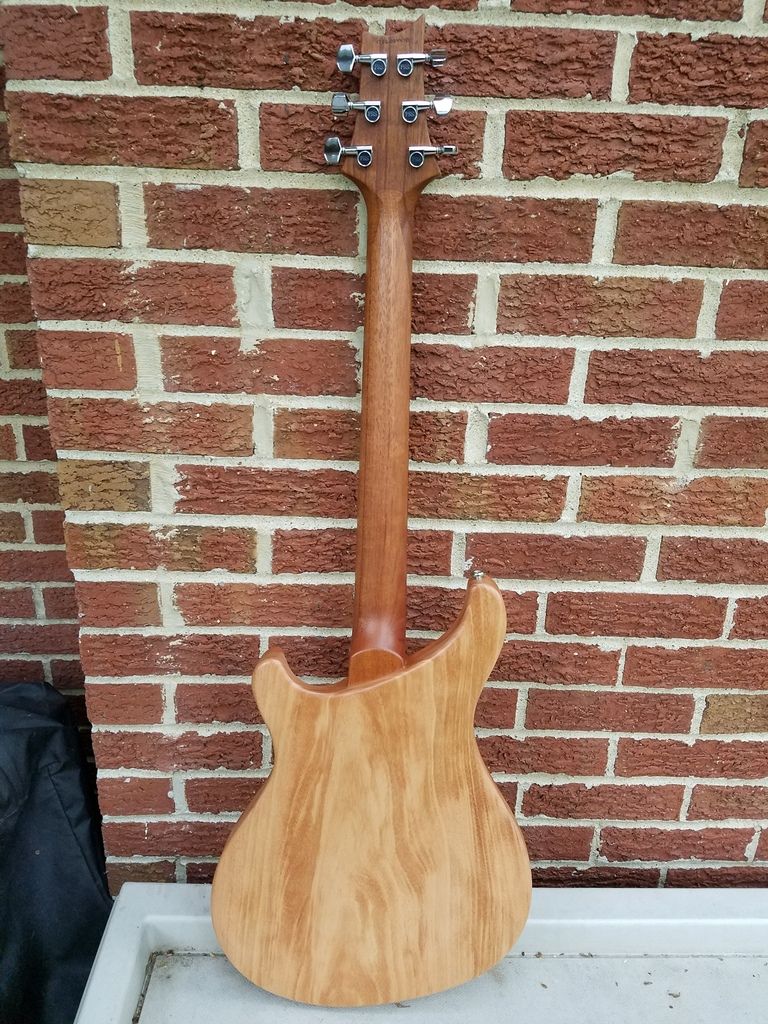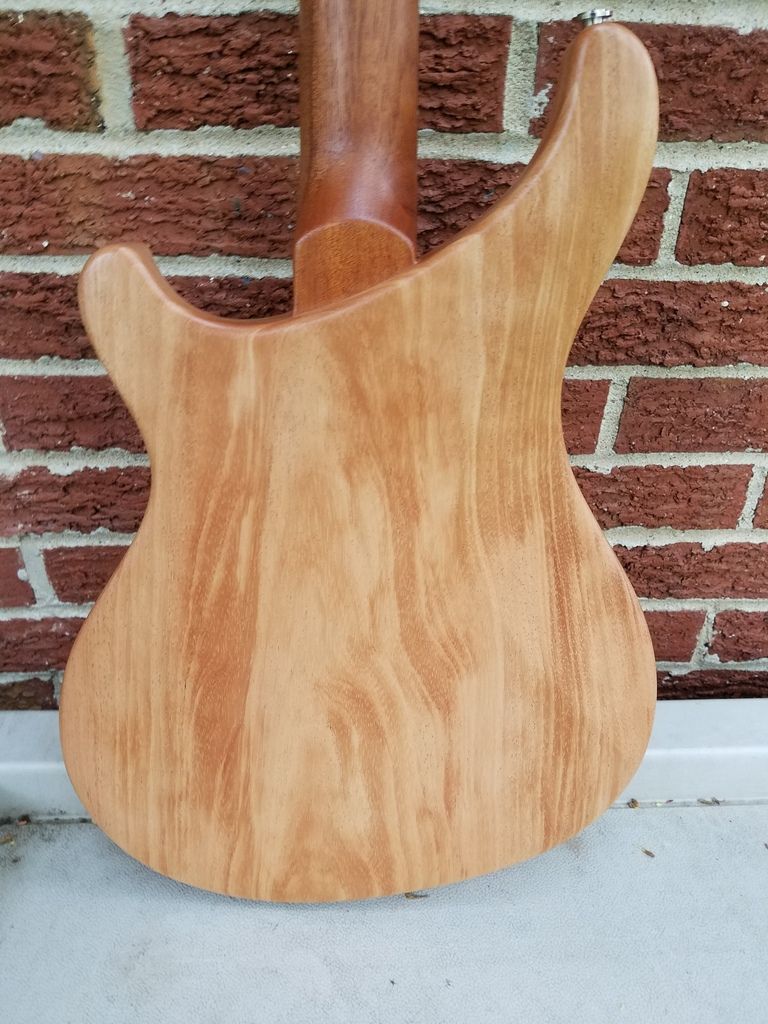 check out the pink streaks in the peroba rosa top, and the nail holes that look like a snake bite.
great sounding pick ups, the Sarla bridge pup and a neck single coil balance really well. i'm very happy with this "budget" USA PRS!