I go to Guitar Center and play some stuff.
Alright so I went to the Guitar Center in Times Square yesterday. It's a tiny guitar center. But it's actually better because it's tiny. There are only 2 rows of guitars on the wall, so everything is reachable. A lot of guitar centers hang guitars 10 high and it's super annoying to have to ask a sales person to take a guitar down because they definitely don't give a flying fuck about helping you.
So I got to try out a few things on my bucket list and a few things I've been looking forward to try for a while.
First up..the kind of hilarious fail fail....
This GC had 3 of the ht6 pro series Misha periphery sig guitars!
So the first one I picked up was rekt. The frets were lifting clear off the fretboard. It was so bad in one place that if you pulled the string off the board it would get caught and just stick under the frets ends.
This guitar was just a mess. Just terrible. I don't know whose fault it is...but this guitar had no business being out on the floor.
Then the white one in the picture was just straight up missing the high e string. 9 employees on the floor and no one had bothered to restring it. The remaining grey one was ok. Lot's of gunk on the fretboard.
That being said..the neck was really comfy and the pickups sounded ok.
Then this guy...the seven string ht7 pro.
It didn't wow me but it wasn't bad. Fairly lightweight. The Jackson neck on these is a bit thicker then the wizards but very comfortable. Completely decent 7 string guitar.. Veneer top looked good.
Plays well...but overall the quality on these things is a little lacking. fret ends are like starting to poke out of the fretboard finish visibly. and just gunky.
Ok...then bucket list number 1...teh holcomb se. So, I've been guilty of recommending this guitar without ever having tried one. I can fix that now.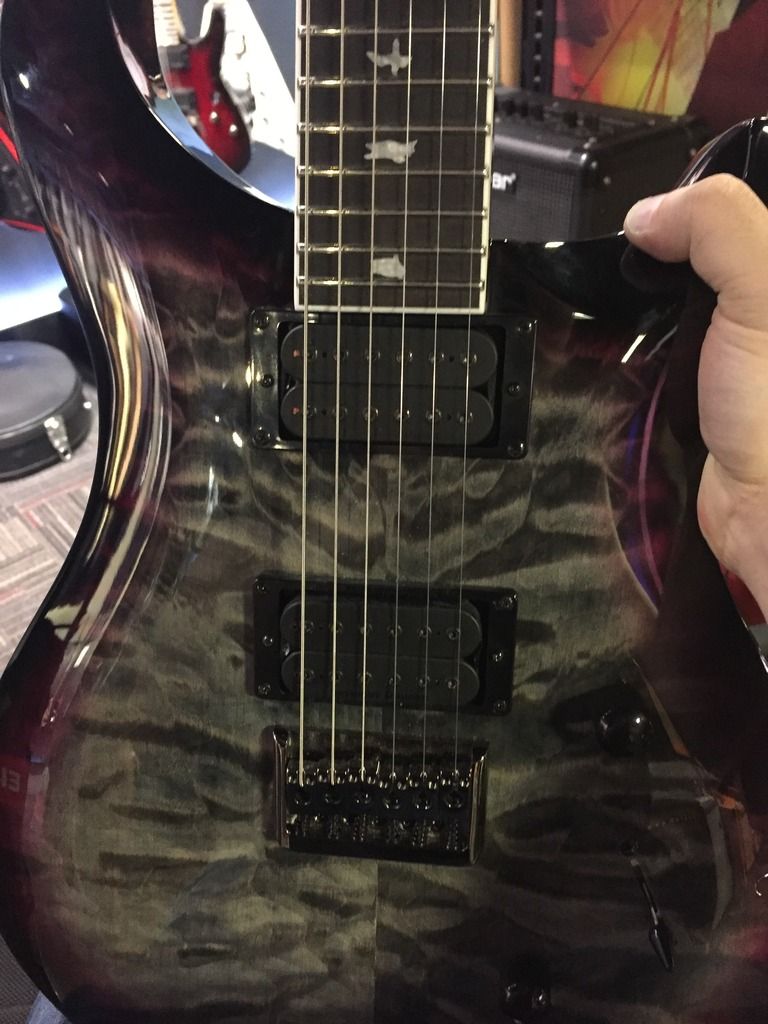 Look at those fully recessed string ferrules...on a Korean 900 dollar guitar. wow.
http://i625.photobucket.com/albums/tt337/diagrammatiks/9035C367-CA17-4594-85B8-1908F02B55B2_zpsfuqkurc6.jpg
Positives - fretwork is great. The bound fretboard feels great. No sharp ends. Lightweight. Pickups are great. Just super good and those sexy ferrules.
Negatives - this one was really ugly. The burst and the top is just super duper ugly. Not pretty at all. On top of that there is some quality of these SE's that I really can't put my finger on...but they feel very plasticky and toylike. I also tired a bunch of the core models yesterday and they don't have that feeling. I don't know if the gloss is too shiny and a little too thick but the guitar feels too slick. That might just be personal bias and getting really used to matte natural finishes lately though. Still a great guitar.
Bucket list 2!
Lol, this guitar haas the same finish and specs as my strandberg. Thick neck. Very very thick. Much thicker then Ibanez. Maybe about as thick as my Kiesel. The setup was a little bit weird. The strings could definitely have been lower. The hardware was pretty standard hipshot....
Fine...but not impressive. Given how good korean sub 1100 dollar guitars are right now...I have a hard time being really excited to pay something like 2400 for this guitar. Compared to my skervesens... nothing really unique or innovative design wise. These seem to just be really solid guitars...but it's 2017 and making really solid guitars isn't that hard anymore.
The surprise holy shit that made me check my bank account...
The Ibanez RGAIX6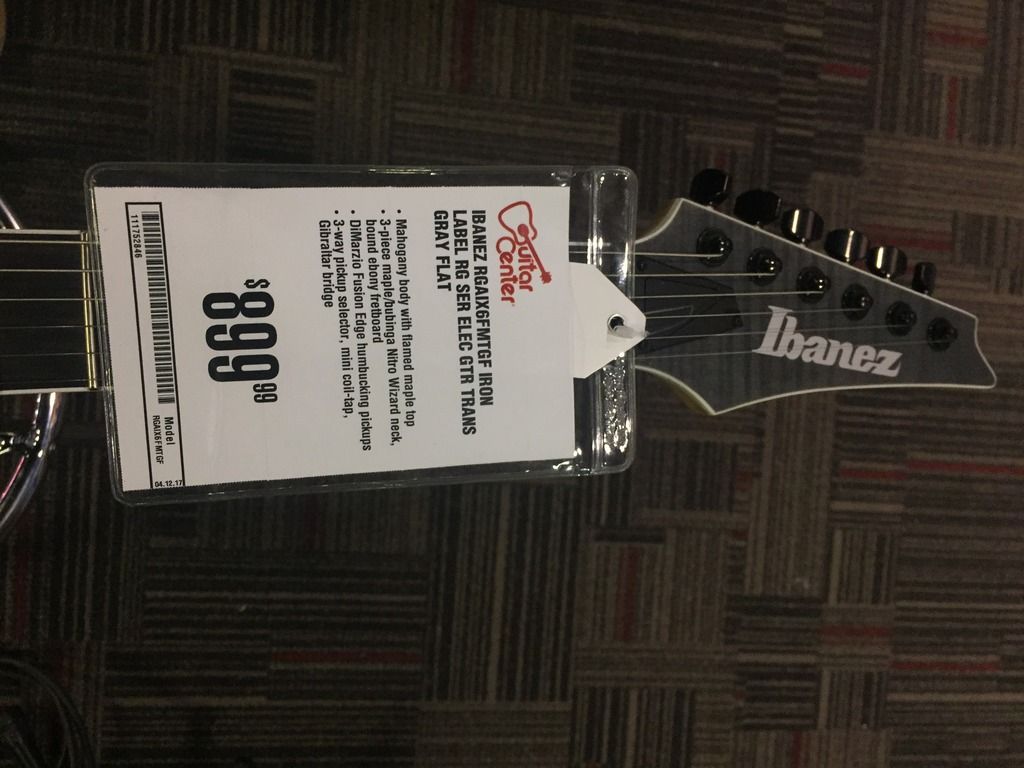 THIS GUITAR IS REALLY FRIGGIN AWESOME.
So, I had thought that the RGA body was just an RG body with a bit of a curve top. However, the body on this thing is not like my rg550 at all. It's much thinner, It's probably between the classic rg and the S. That with the curved top makes it so comfortable. The neck is very good, standard wizard type. The fretwork was fine.The pickups might need to be changed...but I didn't hear anything that made me think they needed to be changed right away. This would be in contrast to say my Strandberg which needs its pickups changed immediately.
The weight....omigod the weight of this guitar. It is easily one of the highest guitars I've ever picked up. I love it. I love it. It's so good. It looks good too. The veneer and finish are very understated. Not nearly as shiny as the holcomb.
The only negatives is like that its 900 new for an Indonesian guitar. However, if the quality of Indonesia is this high..then screw it. It's ok.
The only other negatives is that there are some finish flaws and constructions flaws that would be deal breakers on a more expensive guitars. There's some unevenness to the body binding where it's really thin sometimes. There's a gap on both sides of the neck pocket that would absolutely be a deal breaker at 1500 or prestige levels...but none of those things really matter in terms of playability. I'd have no problem picking this up used or even new over most RG prestiges just because the body is so good and light.
It's really good guys.