NGD! Fender American FSR Content + Family Photo
So my girlfriend and I have a deal, she gets a ring (No wedding/proposal happening, she just prefers to have one) and I get a guitar. Well the guitar shopping began and I knew I wanted a Strat as I didn't have one and a guitar with 3 single coils helped to diversify the guitars I have. I wandered into a pawn shop here in Winnipeg and saw this gorgeous thing hanging on the wall and I knew it was the one, as the finish on it was different than any Strat I had seen before (Fender calls it a V Neck) and it felt better than the brand new ones I had played.


(Invalid img)

(Invalid img)

(Invalid img)

(Invalid img)

(Invalid img)

So after looking into the guitar (before I bought it obviously) turns out it's a 2014 made in america Rustic Ash FSR (Fender Special Run) This particular one is called Olympic White. From what I can tell they only made them for a year. I read some forums with people saying they didn't like the brown "anodized aluminum" pick guard, but I think the guitar looks great and unique compared to a regular Strat. It's got Texas Specials in it. and plays fantastic. Looking forward to getting some time with it. I have named it Marie.
Well clearly posting images to Imgur didn't work. I'll try doing them one at a time.....
congrats! nice crew!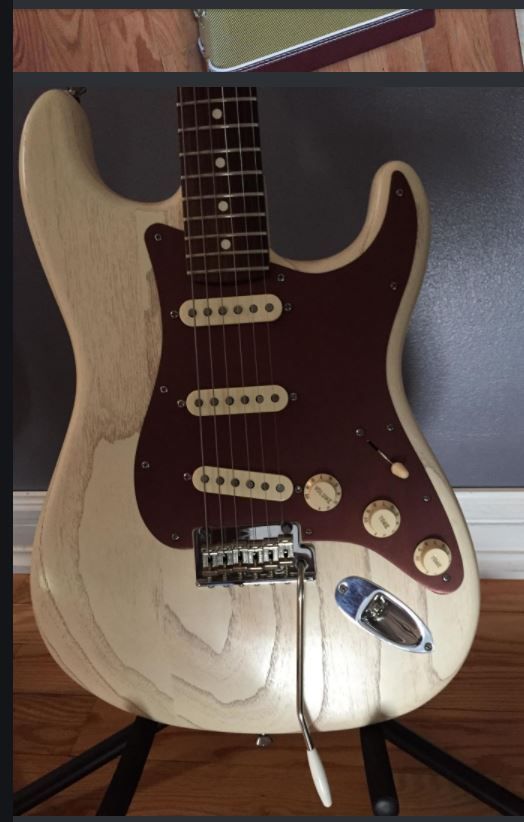 the bucket kinda sucks sometimes, but it works.
Hey Marie...looking good over there. Nice pawn shop find.

Join date: Mar 2005
100

IQ
I've got an FSR with v neck as well.
same year, great guitar.
mine is metallic sunburst. =p
ILoveGuitar07
I found i really preferred the v-neck over the C shape. Seemed much more comfortable to me and definately one of the reasons I had to pick it up.
the bucket kinda sucks sometimes, but it works.
So does Imgur if you use it right

In any case, that's one of the nicest looking Strats I've seen in some time, congrats