Unusual Fret Damage
Hello UG,
I have a relatively new Fender Tele (made in Korea) that is showing unusual signs of fret damage.
Normally, the smaller strings cause damage on the lowest frets first due to the up & down vibrato motion.
In this case, the bigger (wound) strings are causing fret wear first. Basically, the wound metal is "imprinting" itself onto the frets. I took a photo, but it's kind of hard to see...
Has anyone ever experienced this? Tips/tricks to avoid it or get it fixed? Is the fret wire on MIK Teles known to be too soft??
Last edited by slash_angus_VH at Jun 4, 2017,

Join date: Oct 2010
470

IQ
This isn't anything unusual with nickel frets. The wound strings will put scratches in the frets over use.

You get it fixed by levelling & dressing the frets. The only way to avoid it is don't play the guitar.

How much have you been playing this guitar since you bought it? Was it new? Used?
it was used but almost new. I rehearse with it twice a week (so say maybe 4-5 hours of play time each week for the past 6 months)

it's wierd though... I have other guitars that I've played much more, and none present this type of wear. could it be that my other guitars have a different fret material?

Join date: Oct 2010
470

IQ
Were the frets in perfect condition when you bought the guitar?

It's possible the frets could be made from a softer material if it's MIK. Couldn't tell you based on any facts though. But 4-5 hours of good, solid, constant playing a day for 6 months is a lot of playing. How hard are you gripping the neck? Gorilla gripping the neck as you play is going to accelerate fret wear.

Join date: Nov 2004
419

IQ
It looks like normal fret wear to me. It sounds like you are playing your guitar a lot so the frets will wear (objectively) faster than the average player but it's not something to worry about. Play it until it starts to buzz, get a fret dressing, and repeat until there isn't enough fret left to dress. You might want to consider stainless frets if you keep wearing the frets down quickly but that is a hurdle you will probably not have to jump over for several years.
T00DEEPBLUE
thanks for your advice! it's more like 4-5 hours a week, not each day. and I am not a gorilla gripper, I play fairly lightly but I do use downward bending vibrato a lot on the wound strings so I imagine that is accelerating the wear.
CorduroyEW
thanks for the advice!
Most likely it's case damage and has little to do with vibrato techniques.
There's no reason for a wound string to imprint into a fret unless there's been an impact or the case is SO tight that it's forcing the strings down onto the frets, and the slight motion of carrying the case is doing the same thing that impact would do. I dunno if you've noticed, but ESP and some other guitar manufacturers actually include a fret protector, a long piece of hard plastic that goes between the strings and the frets, when they ship new guitars.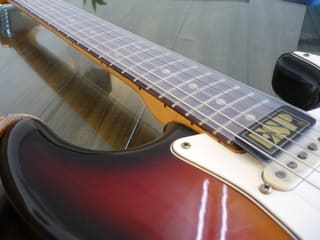 It's specifically designed to prevent that kind of fret damage.
dspellman
It's definitely not case damage, mine has one of those loose fitting Fender gig bags