Floyd Rose Help (lifting and cant make it settle)
Hi everyone im having some troubles with my Floyd trem.
So last year i purchased my first seven string with a Floyd. I got it setup by a professional. It didn't need much he just added a spring and tweaked the bridge a bit (screws posts etc)
I just did the first string change using the exact same gauges ( 72, 49, 38, 28, 18, 14, 11) and for some reason my bridge is now lifting quite bit. i stretched the strings as much i could and only changed one string at a time bringing it to the exact same tuning as the old ones so i dont really see why this is happening.
So i went to try and adjust the springs by tightening the screws but noticed thy are fairly deep and i dont want to strip the wooden chamber for no reason. (i also have all 5 springs in the back so i cannot add another, maybe i could get one with more tension?) But i dont think i should need to as the guitar was already set up properly.
Anyway thats about all the info i can provide im hoping there is a fairly simple fix. Any suggestions or help would be greatly appreciated! have a nice day all

Is the strings the same kind from the same brand? Are you using the same tuning that was used when originally set up?

What you could try is loosening the strings a bit so the FR leans backwards (into the body),
then use something like a folded paper block, wedge it so the FR rests parallel with the body,
tune your strings back up, then depending on how the FR leans, adjust the springs in the back

Note: I'm not sure if this is the "standard" or the "approved/correct" method, but the method makes sense to me because if you were to try to adjust the springs first, you'll be caught in a near endless loop of adjusting the strings and adjusting the screws to eventually make the FR parallel
Parac
Same string brand, same string gauge, same tuning.
I think where i messed up was tuning a string to the wrong note because i had accidently detuned the wrong string for removal.. lol... (so basiccally i detuned 2 strings at once) i did also unlock and remove all 3 locking nuts from the neck as well. shoulda probably only done 1 at once.
The bridge is only raised by maybe 1/4 inch or even less and action is still good but definitly not as perfectly tight as it was before.
Ill give it a shot with detuning, securing the bridge and re tuning... or maybe these are the metal gods telling me i must go lower? hmmmm

Join date: Dec 2010
80

IQ
Block under the back of your trem with some post-it notes so that the trem sits level. Unlock all of the locking nuts. Unscrew the fine tuners 3/4 of the way. Tune with headstock tuners. Remove the post-it notes. Trem should still be level unless you messed with the springs or really have different strings. If not level, adjust the screws on the claw. Retune. Repeat until trem sits level. Lock nuts. Retune with fine tuners.
What tuning are you in for an 11-72 set? You should pretty much never need 5 springs on a Floyd.
metalmingee
yellowv
I beleive i was tuned to AEADGBE (yea i know its kinda dumb i just did standard with an A on top but i think im going to drop the E to a D as well to make things easier.
Ill give it a shot whilst holding the bridge in place on both ends. And the reason i went 5 springs is because i didnt want to over tighten the screws as after many setups overtime it could strip the cavity. ( they are already nearing the end of the threads)
PS the action, intonation and everything on this guitar is amazing especially after the setup so i shouldnt have to do too much
ericguitar48
For drop A you only need 3 springs and maybe a .63. Your pulling the bridge up bc you have way too much tension
yellowv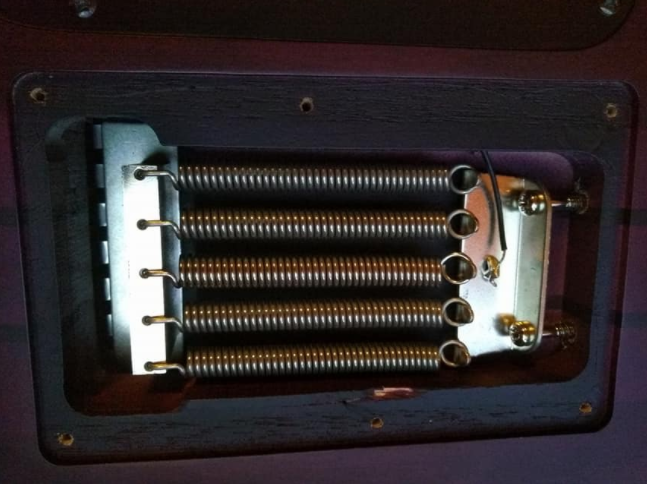 I just detuned the low E to a D and tightened up the screws ever so slightly and it made it perfect! a wee bit recessed for low action

When i get a guitar with a fixed bridge ill play around with a lot more gauges and tunings but for now im liking this setup!
Thanks all for the help. Sometimes a bit of research can go a long way!
That trem is leaning back too far now. As I said you do not need 5 springs. You have too much tension.