What to do with a spare pickup
So I was cleaning out my garage and came across a loaded strat pickguard with a single humbucker in it. It was from guitarfetish so I couldn't have paid much for it.
But that got me thinking, what can I do with it?
I like to tinker with things and I don't have a guitar that I can load this into so it would be a bit of a waste if I couldn't at least re-purpose this somehow.
Is there a way that I could run the output of the pickup to an amp and wave some old coiled strings over it to make some sort of theremin?
I would appreciate if anyone had any other ideas on what to do with this pickup.

cheers
I would build a basic lap steel, a bit more complicated than Danny's diddley bow, maybe a just a couple more strings and fretboard. I recently made something similar, an acoustic biscuit tin lap steel, and I just used a length of masking tape as the fretboard, marked off from an ordinary guitar fretboard.
Or send it to me - I'll make use out of it on a DIY project

As the others have said, give something a go yourself - I'd have loads of ideas on how to use parts to make something unique and interesting!
An Apprehension Engine, perhaps?



okay, so it looks like the only thing you can do with a pickup is make a different kind of guitar.
I watched the diddley bow vid and liked the simplicity, but I always say, if it ain't broke, screw with it until it is.
I think i'm going to try and do the diddley bow, but make the following additions/changes:
-going to use hardwood lumber for the bridge and the nut
-i have an old stop bar and tail piece from my epi les paul that i will use instead of a screw in eyelet.
-going to add a second string and tune down - diddley bow basitar?

i will try and post photos as i go.
macgregger
Fellow UGer
Cathbard
made a shovel guitar. This isn't his, but perhaps he'll stop in and share- in the meantime:
If nothing else, you'll never have a guitar easier to hang on the wall. Durable, too!
If I had a spare pickup, I'd be doing something like this:
Is the timber wide enough to accommodate the pickup? It will be pretty easy if it is.
This is the acoustic I made recently, it might give you some ideas:
The fretboard is just a length of masking tape and some scrapbook stickers. The plank is too small to easily accommodate a magnet pickup, so I plan on experimenting with a piezo SBT today.
it is wide enough for the pickup. the edge of the metal mounting tabs ever so slightly hang over the radius of the edge of the 2x4. if it overhung any more, then I would have done the same thing as I did for the tailpiece.
I have the bridge mounted along with the line on the side to mark the zero inch start
and the nut side measured out. Its a chunk of FR4 (fibreglass board) with right angle tabs to mount it.
I will be rounding the edge and slotting it with a file.
decided on a 25.5" scale. we'll see how it goes.
Last edited by macgregger at Jul 11, 2017,
If you are making a guitar out of a shovel be aware that you will have to anneal it before you can drill it. I simply heated it up until red with a propane torch and then allowed to slowly cool in the air.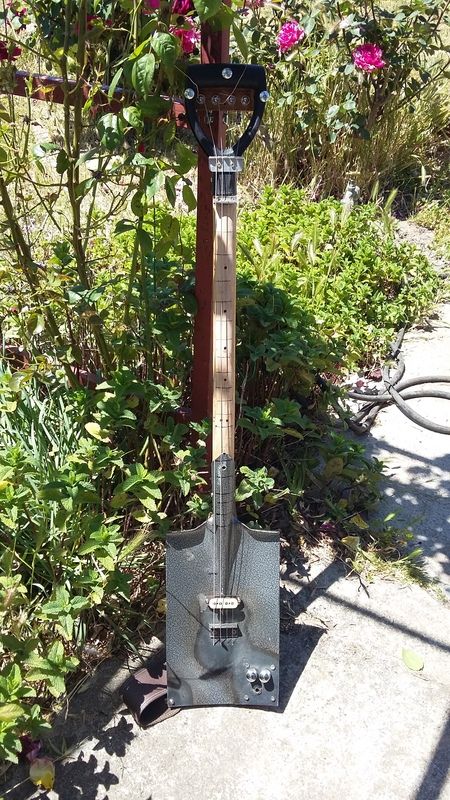 Are you planning on having a fretboard? If not, scale length is pretty arbitrary - long scales are good for high registers, short scales are good for slants. I would just have used the stop tailpiece as the bridge, since intonation isn't normally a consideration on lap steels.
Tony Done
yes to the fretboard. I know that lap steels don't really care about the intonation, but I'd like to go a little overkill and mark out a fretboard and intonate. just really because I can.
update
i got the fretboard marked out in pencil with the 12th fret done in sharpie. probably will do more with that later
also finished the headstock
i drilled and tapped a 4-40 hole in the back of the fiberglass for the screw. works out much better.
next i plan on stringing it up and filing the nut, then i'll find the best position for the pickup.
my roomate's step-mother makes $83 /hour on the laptop . She has been out of work for nine months but last month her pay was $16672 just working on the laptop for a few hours. look at here now
www.bidcash3.com