Bass PreAmp Tube Shoot Out
Generally I am deemed by other as long winded.
So here is the executive summary.
If it is not broken, don't fix it.
If you like your tone, do not change tube models or brands. Stay OEM.
If something is broken, you might find some surprises at really affordable prices.
Tubes in shoot out were by device as follows:
GenzBenz NeoX 400
Chinese 12AX7
Ruby 12AX7 (chinese, original tube in amp bought in 2005)
Digitech BP-8
Chinese 12AX7
Ruby 12AX7C7 -HG+ (Chinese)
Chinese 7025
Sovtek 7025/12AX7WA (original tubes from 1999)
Tube resources:
Comparison Chart:
https://www.tubesandmore.com/tech-corner/12ax7-comparison-current-made-tubes
Claim that Ruby 12AX7C7 -HG+ similar to Mullard (7025):
http://www.thetubestore.com/Tubes/12AX7-ECC83-Tube-Types/TAD-7025-S-12AX7
V1, V2, V3 Slot talk - While issues of Valve (tube) positions (V1,V2,V3) do not apply to the two devices tested, either due to signal path or more likely by device function or production, tubes not appreciated in the BP-8 performed well in the Genz Benz Pre Amp Circuit.
Shoot Out on GB Device-
I had a Chinese 12AX7 laying around, Having read that the Ruby Tubes are made in China, I switched it out in the GB NeoX400 and was not hearing any hiss or tonal alterations between the two. For half the price of a top of the line Ruby, one might really be happy with this purchase if it tests out in a comparison. I am not saying that there are quality issues on this product vs. Ruby, I do not have that experience, but Ruby is presenting options which show that they are providing very particular analysis of their products. Playing it safe and went with a purchase of 3 of the most recently developed Ruby 12AX7C7 -HG+ for the GB gear.
Shoot Out on BP-8 Device-
Concerned that the 18 year old Sovteks in the 3 BP-8s around here might be degrading, getting noisy, or just not performing as they should and I adjusted to a degrading signal, 3 Chinese 12AX7s were picked up as the Comparison Chart above showed them to be stronger than the Sovteks, and less expensive.
This did not work out as hoped. While they were a bit more Hot than the Sovteks, the noise floor of the tube was a higher frequency and more disturbing (I am sensitive about hiss). The tone also seemed accompanied by significantly more highs. So, the Chinese 12AX7 did not sound as nice in this first position of my signal path.
In keeping with the Sovtek 7025/12AX7WA (which means that it is a military grade model. might take some abuse) the Chinese 7025 at the same price was pretty dead on in every way when the two BP-8s were A/B'd, and even when mixed together.
Same for the Ruby 12AX7C7 -HG+ stated to be their quietest tube to date (and said by some to be a Mullard 7025 [a very revered design] copy), That attribute was not noticed, and that might be due to the noise floor of the BP-8 circuit alone. The fact that in this test the Ruby sounded same as the Chinese and Sovtek 7025 played out to that claim, yet original Mullards were testing as noisier per the above chart.
So now I have heard for myself, The Chinese 7025 or the Ruby will give same performance in the BP-8 as the Sovtek 7025...WA, one about double the price, the other the same. So, it makes no sense to move from the Sovteks for the BP-8, nothing is to be gained. What is fascinating is that they are 18 years old in their present devices, and that is a long time to be delivering.
As 'budget' as they are marketed, the Sovtek 7025's I have encountered so far are quiet and still tonally pleasing after 18 years. There is nothing to be ashamed of in that at all. For the purposes of driving these BP-8s, they are not adequate, they are well matched.
Your mileage may vary.
[Now to get the Ruby 12AX7C7 -HG+ in the NeoX400]
I've heard good things about the Telefunken tubes (their 12AX7 is supposed to be especially good), but no one sells them around here. Still, if I find myself in need of new 12AX7s for any purpose, I may splurge on a set via mail order.
I did not find Telefunken in the resources I had worked with as posted. If they are mentioned I was not really looking for them.
TF and Mullard are renown names in the Tube Arena, yet there has not been as much press for the TF as the Mullard of which so many copies have been made under many labels like TAD and copied out of China and Russia.
The TF I found was an ECC88 model -
https://tubedepot.com/products/telefunken-ecc83-12ax7-ribbed-plate?gclid=CjwKCAjw8IXMBRB8EiwAg9fgMK563dF3DYkHkeXUdpMEPzP6Ak05uvuLM5AAU2JtGChvkO5gYlDMmhoC0-wQAvD_BwE
JJ and Grove market ECC88's and there were attributes to it that steared me away from them at this time
t might have been gain or noise floor, or not as desirable of a tube in the V1 position.
For $44 against a Voltage Matched Ruby Mullard copy, it had better deliver a world of difference.
Do let us know what you discover.
I've had two preamps with Tubes (Valves UK) Trace Elliot and Ashdown. To be honest I find them more of a gimmick for Bass. In the UK 'Watford Valves' offer various types regerding them for guitar where they overdrive and Bass where they stay clean longer. I've shelved the idea of Tubes.
John,

the gimmick conclusion is completely understandable in the Power Section.

Arguable in the PreAmp section.

I was turned off by them and saw them as a liability since my work with a 65 Fender Bassman. The trips to the repair shop for biasing over and over was pointless.

My selection of the NeoX400 was more for the SS Pre/Baltic Birch Cab/12" driver. not the tube.
My selection of the BP-8 was for Multi effects and JamAlong, not the tube preamp.

Little did I know how the tubes in these devices would be indispensable in the tone from my evolving signal path. Thus my efforts to give some other tube models a listen in the BP-8 and NeoX.

Like you, when I gave up on tubes I went to SS in the Yamaha PB-1 which there are two around here, but the GBE600/NeoX400 beats them out for me, and my friend has shot out the PB-1 vs. a Neve Board Pre and the Yamaha won. So I must really have something here if I loved the PB-1, but not as I do the GenzBenz.

I have wondered when these tubes were going to crap out on me. 12 and 18 years later they are all still performing.

Final note, you knowing I am an Entwistle Fan, the Digitech 2120 that he last used (and I have one of) uses 2 dual 12AX7 PreAmp section. In light of that, and my more current experience, I would veer away from calling it a gimmick, but I would not disparage anyone who is happier without them.
If I had a roadie I'd go for an all tube amplifier, but having tried to lift a 200 watt Bass amp at the Hiwatt factory and an Orange 200 watt bass amp at our local store I realised that tubes/valves were no good for my ancient back.
When I had my Orange 120 in the 70s nobody knew or offered alternative tubes/valves, Orange didn't make a Bass amp back then therefore the amp distorted too much with the factory fitted valves, That was when I moved to Solid State .
For me, it's tge topology that's more important. A well designed Class A preamp and Class D power section is pretty much ideal for bass. Class A for the linear gain, at levels where the inefficiency isn't a problem, and Class D (which is NOT digital. Some may be digitally controlled, but that's not the same thing) for portability, efficiency, and generally more power to price ratio.

In terms of valves vs the various solid state components, as long as the preamp is well designed, it doesn't matter.
John I could not blame you.

The instability of Tubes put me off for good. Then I found that I was not missing anything to my ear by moving from them.

Some may swear by them. I have done a look back with some current products and settled on the Class A-B at the power section.

While I did not care about the Tube PRe in the GB NeoX400 when I bought it, I just cannot turn it off.
Solid-state preamps and power amps for bass have certainly come a long way, but the tubes are just so damned pretty!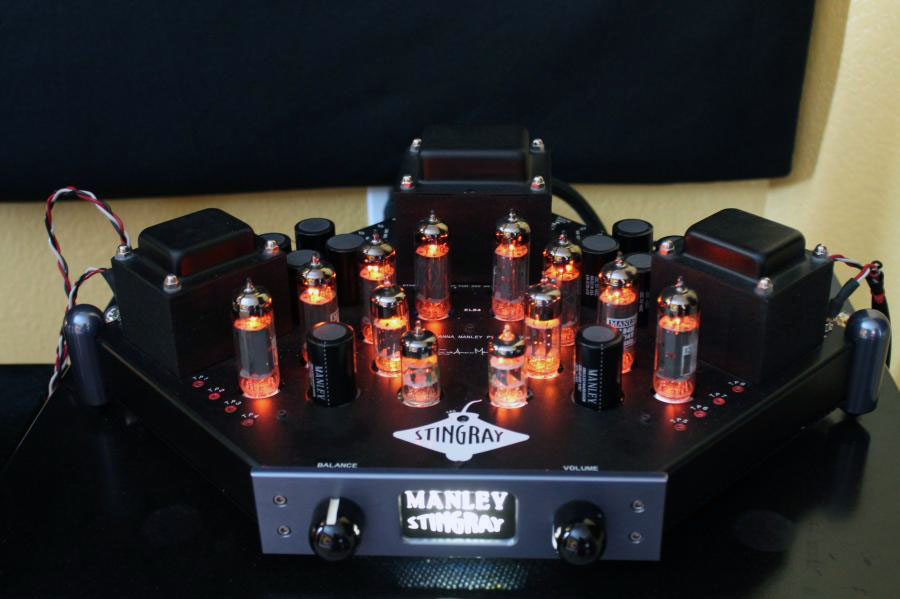 Hey. looks count! I don't care what anyone says!

Gorgeous Pics!

aAAAAAhHHHaaaaahHHaaaa! (Angelic Hosts Singing)

Still poor tube units do not hold out very long under transducer vibration and the road.

The TC Electronics ad on Gene Simmons calls out the issues with the SVT.

My old boss Andy Fuchs had every SVT on a Sting Tour hit his service benchs. I believe Tube Amps need to be far from bass cabinets, I extend that to any amp now.
Don't get me wrong, for Hi-Fi, I'm more than happy to use valves and Class A (although my favourite amps, from Cyrus and Hegel, are MOS and JFET combinations) - if I was still living in the UK. I'm in Taipei are the moment exhibiting our Muon speakers, each being fed by an Accuphase A250- 200w of pure, MOSFET based Class A. It's a bit good, but they run hot. As temperatures In HK rarely dip to single digits, that's a good thing to not have.
Last edited by Deliriumbassist at Aug 10, 2017,
Those are freaky-looking speakers.
Those are freaky-looking speakers.
Just a little shipping damage....
Those are freaky-looking speakers.
They're freaky heavy. 115kg each. Made of superformed aluminium, like how aluminium bodies cars are built.
They're freaky heavy. 115kg each. Made of superformed aluminium, like how aluminium bodies cars are built.
It could be worse. They could be loader with Gauss speakers (if they still made them). That would probably double the weight.
So if someone buys them, how on earth do you set them up in their home? What happens if you get one of those "Hmm...maybe over there. No! I liked them better where they were. Move them back. No, wait! How about over there?" people?
Two/three burly blokes! Someone actually has a pair on their yacht. I've seen the pictures of them being crane lifted over. Phenomenal sounding though. Until I heard it through these, I thought Johnny Cash's cover of Hurt only had one guitar.
Sliide90027
I Pplaced my Orange 120 on a piece of foam rubber on the top of my 2x15 in the 70s.