pickups or amp?

Join date: Feb 2006
210

IQ
i have a schecter c1 blackjack which has real duncans in them the stock JB and i think the 59, and a crate xt120r amp which can get a metal tone but the tone i get is trebly and not dark or heavy enough. How should I adjust mi amp or should I get new pickups> What do you recommend? Thx
adjust the pole pieces on the JB first.
u want to raise the bass side poles a bit, with a little screw driver.
and lower the treble side.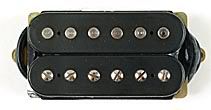 see how the bottom row are screws?
the bottom row are screws. u can slowly turn them to raise and lower them. dont go lower than flush to the pickup.

the closer the bass side poles are to the strings the more bass u will hear.
the farther the treble side poles are the Less treble u hear.

u need to do that, and adjust ur amp better to get ur sound.
this is just one thing.

Join date: Feb 2006
210

IQ
thanks for your help, i'll try that.