Chord Progressions..
Can you give me some

Just as simple as Am C D F C E

I would like one that includes B!

Thanks I just want thse to mess around with strumming patterns and such

Join date: May 2006
20

IQ
I should copy this post because I seem to make nearly everyday. The circle of fifths is your answer. here's how it works in a basic sense. You pick a key you want your song to be in, and the six surrounding chords make up the progression.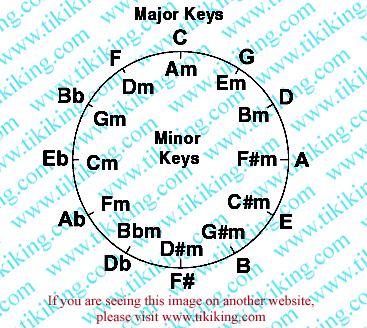 So using that in the key of C you have F, C, G, Dm, Am, and Em. Very simple.
Ok whats the difference between Gm and G#m and same goes for Fm and F#m and all those.

Feel free to post a good chord progression that you like. and maybe even strumming patterns.

Join date: Jul 2003
230

IQ
G#m is a half step (fret) higher than G. Similarly, F# is higher than F.
For example?
    G#m  Gm
e|----------
B|----------
G|--8----7--
D|--9----8--
A|--11---10-
E|----------
-SD