9's to 11's/Springs?
I just switched from 9s to 11s on my strat and it wont stay in tune so im assuming the springs need to be adjusted in the back so can someone please tell me what the proper adjustment would be for 11's?
screw the claw in more or add another spring untill the bridge will not rise unless you use the tremolo bar.
Ok well I dont use the bar so thats not an issue but add another spring. hmmm, if I had one that might be an option but 3s all I have. But screw the claw in more? I dont mean to sound stupid but the claw would be located where excatly? lol
there are two screws at the top. screw those in a little. and make sure the 3 springs are in a "V" shape.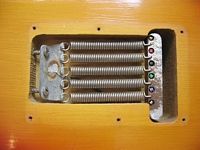 you can see them on the left.