question!?!?!

Join date: Feb 2006
81

IQ
what exactly is a slide I thought john used one in the scar tissue solo but what exactly is the point to them and where could i buy 1

Join date: Jun 2005
40

IQ
this is a slide...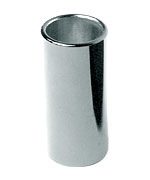 Join date: May 2006
10

IQ
buy one at any guitar store...they're not expensive and they actually sound pretty cool
It's a metal/crystal tube you put on your finger and use it precisely to do slides with mor than one string, i.e, sliding chords, for playing country music mainly, but it's also used with rock music. Check U2's "Kite"

Join date: Feb 2006
81

IQ
Thanks I have a guitar store not to far from here im go'in to pick one up tommorow
Guys, guys, there are METAL, PLASTIC, COPPER, and GLASS slides. They each produce different types of sounds (Not to MENTION some are used on Electric and some on Acoustic)

Join date: May 2006
80

IQ
just use a shot glass, it does the same thing and is free!

Join date: Apr 2006
90

IQ
or possibly a rail or tube of some sort
Join date: Jun 2005
121

IQ
The first song that comes to mind when you say "slide guitar" is "Freebird" by Lynyrd Skynyrd (and I know it's not really "true" slide because it's played in standard tuning, but the intro is damned good

).