fretting out/action trouble

Join date: Nov 2004
10

IQ
recently i had to take off all of me geetar's strings in order to scrape away the dead skin on the fretboard ( i know its bad fer the neck to take off all the strings at once, but i had to clean the damn thing), and consequently the bridge came off. Since then, my low E and A strings are fretting out pretty bad...the neck seems to be straight, so I'm guessing the action is waaay too low (i think i changed it by accident somehow).

It's the first time im gona try and change the action on the thing, so any major suggestiongs/precautions?

thanks in advance for any help.
Join date: Dec 2005
150

IQ
Floyd rose type/standard floating/vintage style tremolo system?

After you restrung your guitar, try letting it rest for a couple of hours, even better days, to let the neck comes back to its original bending position. And for adjusting the action, slowly and gradually, you dont want to scrape the knife edges/stud edges if you're using a floyd rose type trem.

Also check the neck relief to further let know whether the problem is your truss rod or your action.

Join date: Nov 2004
10

IQ
it's an epiphone Les Paul....can't believe I didn't specify.
hmmm.... waiting for jenny to post up her guide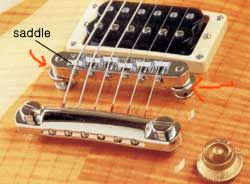 u loosen the top screw and then turn the thumbwheel. pointed to by red arrow.
that will raise and lower the bidge.
raise the buzzing side, try to keep the bridge pretty level.
azn

and logz pic.

Join date: Sep 2006
80

IQ
Do you reckon i could replace the top of my wooden bridge with a metal one like in the pic above?