fender strat remake pickups....
look man im having a heck of a time....i messed with my pickups on this little strat remake ive got and now i dont know where to set them....i have no idea how far to elevate them or if to drop them down, I DONT HAVE A CLUE. its a 3 single coil pickup with a raised bridge....any help on how close to the strings they should be would be veeeeerrrryyy appreciated.

Join date: May 2003
20

IQ
Well you know, it really is your personal preference. All pickup height does is affect the volume of the strings. More elevated pickups are louder, lower elevations are softer.
really...i didnt know that....but can a higher elevation give it a worse sound?or visa versa?
Yes so don't put them too close to the strings

they're magnets ya know...it'll effect the string's vibration
really...i didnt know that....but can a higher elevation give it a worse sound?or visa versa?
Some would say it's abit harsher, but it's all personal preference, fiddle around try different heights and decide what you like best.
yea well thanks alot guys i really appreciate it i didnt have a clue what to do thanks.
yeh just make sure that when u adjust them that you set the volume of the pickups constant cos u don't want to change pickup and have a big increase/decrease in volume. also try messing around with putting the higher strings side closer to the strings or the reverse and see what suits you best.
yep. like said...

too close and its muddy with less sustain.
too far and its lower volume.
close enough and u get extra bite.


raise the treble side and hear more treble.
raise the bass side and u hear more bass on that pup.

and what did u mean by a raised bridge? is it a trem bridge? if so u can level and thing out and stay in tune better.

repost if u u have questions.
yea its got a tremelo bridge with a whammy bar....its a pain in the u know what though cuz the whammy bar sometimes knocks it outta tune so i dont hardly use it....
well if the trem is lifted up from the body, thats a big part of ur problem.
turn the guitar over, remove the plastic plate and tighten the two screws in there until the bridge is more flush.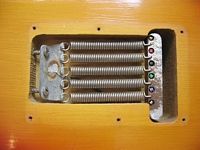 if u need more help u can add a spring or two also.
detune the guitar first, it makes it easier to turn the screws.
i guess i dont understand....i meant part of my bridge that elevates the string higher....
ok, ur saddles are high, i gotcha. i was asking if the entire bridge was actually lifted up from the guitar.
nah i just didnt know what to call it sry bout that
yeah, its cool. if ur still having tuning problems then, make sure ur wrapping the strings enough times around the tuners.
good luck