Action

Join date: Apr 2006
20

IQ
I'm going to a custom/repair shop tomorrow because they deal with FR's and I'm taking in my Epi Les Paul to get the action lowered because I love it low like my Stagemaster

Anyways, Is there anything I need to know about action and getting it changed. All I know is that action is how close the strings to the fretboard.
I'd also like to know how long this takes.
Any Info. is appreciated

Join date: May 2006
20

IQ
Chances are good that this is what they'll do:
http://users.powernet.co.uk/guitars/setuptut.htm
They may not do everything there, or they may do everything there. It depends on your guitar. If it was properly set-up in the first place, they may not need to do much.

Join date: Apr 2006
20

IQ
Ok
Do you have any Idea how long this will take if they do it all?
like a couple of days?
Hours?
A week?

Join date: Dec 2005
80

IQ
shouldnt take anymore than a good half hour, though with low action you giving up some sustain
you can just loosen the top screw and turn the thumbwheel urself. lower the bridge, and see if u like it, before u bring it in. will take about 15 mins.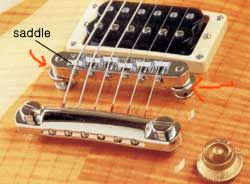 thumbwheel pointed to by red arrow.
go lower and if you get any fret buzz, pick it back up a bit.
phil's pic.