String Buzzing
I have been noticing that when I play guitar, the strings which I am not currently fretting (open strings) seem to be emitting an annoying buzz. I can easily stop the buzzing my placing my fingers lightly on the offending string, but obviously I can't keep muting the other strings with fingers I am using to play the notes! Could this be something on the guitar or strings? I am using a Ibanez SZ720FM with Dean Markley "Blue Steel" Regular strings. Thanks for your feedback....

Join date: Oct 2005
30

IQ
its possible your neck is twisted, or that your strings have been set too low. it could also be a dodgy nut or fret.
Twisted neck? The guitar is brand new -- what would have caused a twisted neck? How can I tell if it's twisted? Thanks...
I seem to notice that this seems to occur mostly with distortion.
nothing is twisted.
ur action is probably too low.
edit: TOM bridge. loosen the top screw, and turn the thumbwheels to lower.
pointed to by red arrow.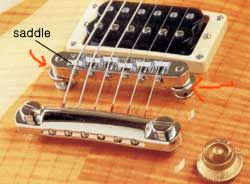 phil's pic
Last edited by jj1565 at Jun 6, 2006,
My action is not too low -- I'm sure about that. It's actually a bit high. The strings are about 6 weeks old.

Join date: Dec 2005
150

IQ
Get new strings but i dont think its the strings. Check the neck relief, and... are you sure you're plugged into the amp? coz an acoustic buzz here n there shouldnt be much of a problem.
Is it Fret Buzz or Buzzing coming from your amp?
if its not a fret buzz then, maybe its just technique. like said, its possible u need to work on ur muting.