Clatpton/Harrison Les Paul
I'm getting a Les Paul in the Summer and i was watching a beatles anthologya dn saw George harrison playing a les paul and had a red finish and cream bind and scratch plate. I did some research and found out that Clapton had given him it...

Anyone know what im on about? anyway i descided that, thats the finish that i want. Does anyone know if Gibson will do this finish or will i have to ring them up and get them to do it specially?
Last edited by Antroid at Jun 9, 2006,

Join date: Feb 2005
10

IQ
from what i've heard, I believe harrison was greatly influenced by clapton

Join date: Jul 2005
40

IQ
if u buy a 2005 gibson lespaul supreme the finish was a deep wine red with a cream binding, the hard ware was gold and there was no scratch plate. if u did want 1 it is an easy part to get an LP plate and attach it to the guitar (best leave the attaching part to a pro though)

hope this helps dude

RAVEN

Join date: May 2005
50

IQ
yeah ofcourse, clapton and george were best friends. but that's not what he asked. i think you'll still be able to find them, it won't be too hard. let me know what les paul you're getting, i'm curious.
err.... at first i was jsut gonna get a standard....but obviously theres loads lol.
And i want to make it clear it isnt a red wine finish....i think its heritige cherry? not sure.
Apreciate any crits on diferent les pauls to descide which one to get.
This is it: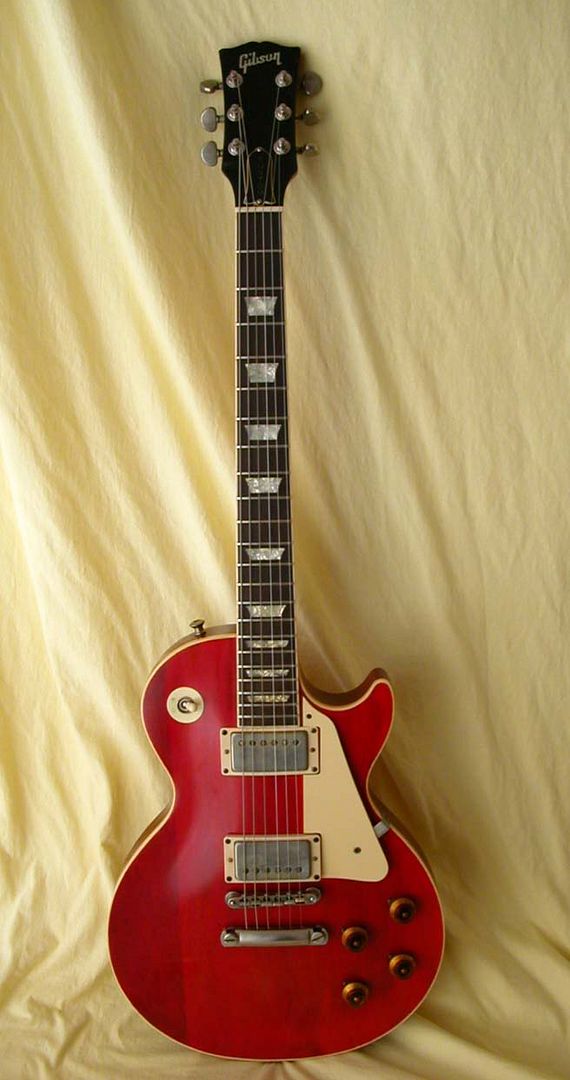 but more red rather than pinkish (Light)

Join date: Jul 2005
40

IQ
now i can see the whole pic it makes a bit more sense lol, gibson definatly use this colour on current models if not eppiphone probhably do.
or a gibson custom if u want the exact replica... thats a bit more pricey though but they do good work i have had 3 gibson custom guitars and never a single let down

Join date: May 2005
50

IQ
yeah that's a nice guitar, i found that pic too. it was given to harrison by clapton and later used on while my guitar gently weeps. very nice guitar, wish i had the money to buy one, but i think i'll just go for an epi like everyone else. why spending so much on a guitar just for the headstock and name, it just doesnt make sense

Join date: Apr 2006
50

IQ
George and Eric were best friends so Eric gave it to him.
Clapton did play the solo on While my guitar gently weeps(kinda on topic)

Join date: Sep 2003
10

IQ
another off topic note but not, Layla is written about George Harrison's wife If I heard correctly
yes, i knew all of this lmao. but thanks anyway.

Join date: Mar 2005
50

IQ
George helped Clapton write badge