Buzz
When playing, on certain frets, I get a buzzing noise. I looked, and the string is hitting the next fret. Im guessing I have to raise the strings. How do I do this?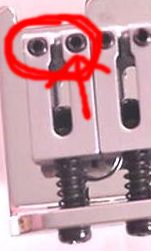 u need a tiny allen wrench. u lower these two screws to lift that string.
phil's pic.

Join date: Dec 2005
150

IQ
Ok, the GSA60 has SAT10 bridge (very similar to FAT10), which doesnt use individual string height adjustment screws, they have 2 studs similar to a floating floyd rose bridge. So you actually need to adjust the 2 studs on those to adjust the action. Same as normal screw principal, tightening it will decrease its action while loosening it will increase. See below, its labeled (A). U'll need a hex wrench.

Ibanez FAT10 Bridge (applicable to SAT10)
u ibanez boys and ur tricks.