Which of these guitars should I get?
View poll results: What guitar should I get?
| | | | |
| --- | --- | --- | --- |
| ESP LTD F-250 | | 1 | 6% |
| ESP Les Paul Kirk signature | | 13 | 81% |
| Jackson WRXT X Warrior | | 2 | 13% |

Join date: Jan 2006
30

IQ
I play metal, I need a guitar which is good for the metal distortions and soloes and I gotta choose one of these 3. They're all worth around the same price, tell me which is better and stuff.
I love Metallica's distortion and the distortion Kirk uses for his solos. Which guitar would fit better in metal?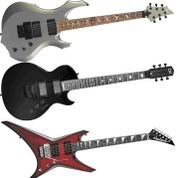 definitely the kirk sig one, love les paul shapes over the other two

EDIT: they're all metal guitars, but I would guess the Kirk would gove a better distorted sound 'cos of the (passive) EMG's. Active ones would gieve you a much better sound
Last edited by fwibble at Jun 12, 2006,
i'd say the kirk one aswell
save up some more and get a ESP LTD -400 series guitar. Much better!
id suggest the kirk one aswell, if it wasnt for teh head stock. that totalyl turns me off the guitar. so i say the jackson. the low en\d LTD F's suck
does it have to have a trem? cos i waould get an ESP LTD EC, or an Epi LP wih EMG's fitted
Join date: Feb 2006
220

IQ
Stay away from the F 250 it's made of agathis. The Warrior has duncan designed pickups and a licensed floyd rose, so the Kirk sig would be the best out of those 3.