action on strat
hey I was just wondering, I put some thicker strings on my strat, now how can I adjust the action on a standard strat style bridge/ where can I adjust it?

Join date: Dec 2005
150

IQ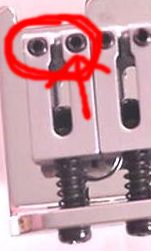 Jenny's Phil's Pic....dun mind me stealin ur pic jen

Adjust this, works just like basic screw principle. Both needs to be adjusted at the same amount of turns if you want to be more accurate on the level. Tightening it will increase the action as the screw will screw down the hole and pushes the saddle up. Loosening = vice versa.
thanks, I knew it wasn't complex, just a little confused, appriciate it