plugging my guitar into my pc

Join date: Jun 2006
10

IQ
i think i heard somewhere that you can plug your guitar into the line in port on a computer if you get a 1/4" to 1/8" converter to record. if so can u use your pc like an amp with a program or something? if im way off could you suggest how i could do it? i dont really want to spend alot of money on it but id be interested in knowing how to do it.
The adapter is $4 at RadioShack.
Get a program like n-Track and you can demo it for free, but past that you have to pay. I don't know of any free programs, and if there are any, I would like to know. =D

Join date: Jan 2005
30

IQ
line 6 has a program that does that for around $100.
I used a 1/8 cord and put a 1/4 end on it and plugged my guitar into my sound card... worked great. Fired up that "Guitar FX Box" program and it was actually pretty cool.

Join date: Jun 2006
10

IQ
ok so it works but what does it do? is it just for recording?
ok so it works but what does it do? is it just for recording?
Yeah. You record, then you can usually use the program to edit the sound. Add effects, loop parts, change pitches...anything.

Join date: Dec 2004
30

IQ
wavepad isnt that bad of a recording program. You can add effects like reverb and echo. free too. just google it.

Join date: Jun 2006
10

IQ
Have a search for a program called "GuitarFX", i used to use that through my PC and it was pretty good; mainly because it allowed you to record the guitar with any of the effects applied in realtime (as an mp3 file).
Although do note that is doesn't sound as good as an amp and the sound from it really depends alot upon your sound card and your speakers.
Hope this helps!
"audacity" also free, and records and has effects.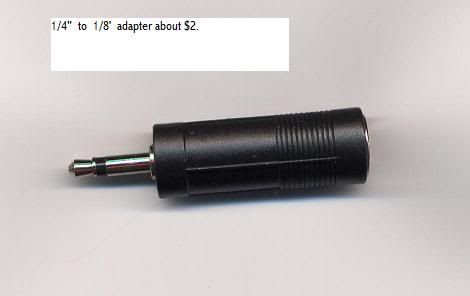 thats the adapter.
and it will go into ur line or mic in.
if u mic in, then be sure to unmute the mic.
ull also need some sort of soundcard in ur computer.

Join date: Apr 2005
100

IQ
Get Guitar Rig 2. Brilliant software. 500 $ brand new with a midi pedal and wah. 0 $ brand new without a midi pedal and wah through torrents.