A few questions
As you may know i'm re-vamping my squier strat (URL's in my sig) but i have a few questions.
1) whilst taking the pickguard off my strat between the 2 tone controls there is a green 'thing' what is it? here's a picture of it.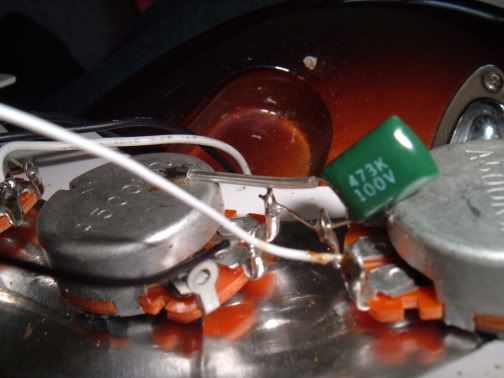 2) im painting my guitar matte black and red, this sounds like a stupid question and i think i'm gna regret asking this but i wana get it right 1st time, will the clear coat make the matte black gloss or not, 'cause me n my dad were talking about it n asked me if it would and it made me think.
all help would be greatly appreciated, and if any of you could check out my thread and let me know what you feel about it replying in it that would also be greatly appreciated.
Hairball

Join date: May 2005
520

IQ
1) It's a capacitor. It's used to filter out the higher frequencies when you use the tone knob.
thanks frenchyfungus

could someone please answer my other question?

Join date: Jun 2005
140

IQ
a clear coat will not turn the matte gloss. however, it will lose that matte look, and look like a very crap gloss, because you can't really clear coat a matte colour. im probably wrong though..
hmmmmm well does anyone know how i can combat this then?
it's a 0.047uF (47nF) capacitor btw.