An octave problem
Okay, the problem is that my open high e-snare doesn't sound the same as its octave (on the same e-snare). If I tune my e-snare (with a tuner) and I play an octave higher (same string) than its almost a half step less.

Does somebody know how to repair this??
I have a Stratocaster...
are u saying ur not in tune up and down the board?
thats taken care of by intonating the guitar at the bridge.
Yeah, your intonation is off.
(Snare = String, in English :cheers

Well the problem is that I can tune the open e-snare but if it's tuned, then fret 1, 2,... are all a half step lower... So the open string is in tune but the notes on the string not.

This problem is only for the high e string, the others are good.

Join date: Jun 2005
20

IQ
as said above, the intonation is off.
if you'd like to try to "fix" it yourself, do a search on google about guitar intonation.
if not, go to your local shop and ask them to look at your intonation (in dutch that is : intonatie)

EDIT : fret 1 and 2 are already half a step lower?! either your intonation is off a LOT, or you have a different problem...
mmmm I checked again and it's not immediatly but it slowly becomes more and more...
Well thank you everyone

from icepoint.com
SETTING INTONATION:
Most electric guitars provide individual string length adjustment for setting intonation. Fine tuning this length insures that your guitar plays in tune all the way up and down the neck.
Using an electronic tuner, tune your guitar to pitch.
One string at a time, play the harmonic at the 12th fret and then play the fretted 12th fret note.
If the fretted note is sharper than the harmonic, increase the string length slightly until both notes register the same on your tuner.
If the fretted note is flat compared to the harmonic shorten the string length slightly until both notes register the same on your tuner.
Repeat the procedure on all strings until the harmonic and the fretted notes are the same.
some other sites suggest u compare the open and fretted 12th but this way is better.
the screw ur turning to get the intonation to change is #2.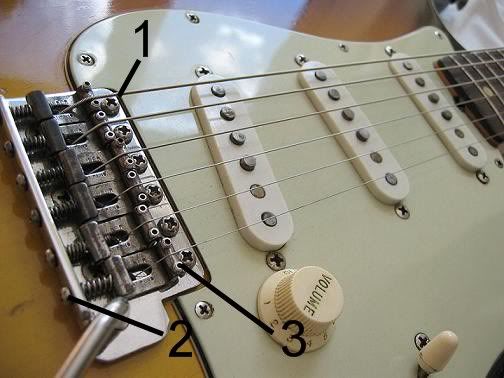 *danno i got a new word for my list!

LAf, i didnt know what his e-snare was.