Telmob's guitar modding journal
Alright, make fun of me or not but i also go on tropical fish forums since im a fish hobbiest and to show how your tank is doing through out your renovations/changes you post up picks as you go on and people give you advice and help.

well all in all i wanna do it since the summer has started and i have a GAX30 ibanez and some time on my hands to try my noob skills at modding.

Here are some pics of my guitar; its 11 and in my basement so excuse the fact that the pictures are dark but i think you can still make out what needs to be seen.
Alright what i wanna do is probably get a new paint job since blue jewel isnt working,the writing on the pickguard will probably go.

i was thinking of doing thw whole nail polish thing like hendrix but i wanna plan it out so no matter what it'll turn out good.

like what color to start with what to add,blah blah.

and lastly i really wanna put some LED's in the body so when turned on it looks like this:
Deffinatly need some new pickups.
if you wanted to put leds around the pickups or actually inside the cavity like a surround light it would require rounting. or you could actually get some fibre optics and place them around the pickups inside the cavity providing luminescence. not sure how easy this would be to do or how effective but...... have you prefrences on colour its your choice not ours we can discuss it and give our opinions but its your choice in the end.
Here's for some inspiration: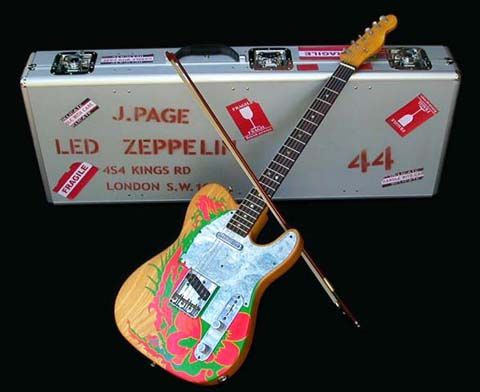 I'm actually in the process of painting that onto my guitar; I'm sanding at the moment.

Damn Fender and their bullet-proof polyurethane finish!
k, im like the ultimate noob when it comes to mods.

so im pretty sure before i start painting/wiring or doing anything i should probably take off the strings, take off the neck and so on?

i have no intention of switching the humbuckers, this mod is merely to make it look cool and to practise on.

but im sure ill have to take out the humbuckers anyway but i dont know how to do this.

anyone got some links?
Alright i'm slowly taking the guitar apart to be able to wire some stuff and to re-paint it.
but like i said before im a noob and im not 2 sure how i should go of unsrewing everything and in what order if there is one.
i already took of the neck since thats pretty straight forward.
But what about the other stuff?
i took some more pics and put little colored dots on where there are screws...can you tell me which ones to take off?

Won't someone help me? ive given all the info i could
lol, the bridge is all good to take off, just unscrew it..

the pots (knobs go on top of them) are just sitting on there with a nut, you can unscrew those and they should fall thru the body.

The back plate covers the electronics, you may take that off and then you will see your electronics (pots, switch)

Unscrew the two screws holding the switch on as well.

All you will have left is the Humbuckers, i would suggest desoldering them, cleaner job, but you may also cut them from the pots with wire cutters, just make sure you cut as close to the solder point as possible..

Those holes youe see in the back of your guitar body, they are for the string thru body design, there are Ferrules inside of them, Needlenose pliers will take em out....

There you go you have a blank body, post updates, when you need more help PM ME or just update your thread
Alright i sure hope your still here since i like your suggestions and your sig! LOl i took off the neck, took out the tremelo, pulled off the knobs but the metal part behind the actual see through know is still there, i unsrewed the humbuckers so the only thing keeping them from the guitar is the 1 piece of wire which comes out of each. And as for these 'Ferrules' if i get it right its the ring that i can see that slightly sticks out from the body? and if so when i pull them out with the needle nose pliers will they get damaged or will they just slip right back in to place when im done all this?

Thanks for your help guys!
What you do with the needlenose pliers is close them, stick the tip of them inside the "Ferrules" and then open the pliers (whiloe the nose is inside the middle of the Ferrule) then pull em out, most likely they wont be damaged, if they are you can get a new set of 6 for like $5.....

yea, you can take out the humbuckers the same way you took out the other electronics, well i geuss im following your mod as im like the only one to help...lol

Good Luck...

Oh yea, chec out my build thred (see sig) will be finished tonight!
Alright im gonna start sanding tomorrow morning and i'll take pics! But whwre to i cut on the humbuckers wires???? and also i looked at your thread nice mod and your other guitars are sweat two! id post but i don't have any tips since i dont know any!!! lol

P.S: how do i get the knobs out from the body?
close to the solder point, thanks for the input on my build, im really pissed off about it rite now, so...good luck with yours..

Join date: Nov 2005
10

IQ
Just pull them off. Pliers may be too small. Maybe a monkey wrench.
what in the hell are we talking about right now? I got the knobs off but its the part behind the knob that goes through the body, how do i get ridf of that? andf is the soldering part the closest to the humbucker or furthest?

Join date: Nov 2005
10

IQ
the part furthest from the pick-up.

And i misread your question. take off the back plate, reach into the cavity with one hand (your left most likely) and hold onto one of the pots. with your other hand, clamp pliers onto the hexagon shaped peice of metal and turn that. post back if you don't understand
k thx guys i got it all down now, ill post pics when im done sanding!!!
Hey man tele hope all ur build has been goin well, mine is now...its finnally done and in working order, i must say...its BEAUTIFUL!!! check it out when you get on, i also wanna see pics of your sanding job.
Algith its 12:30 and im exausted. It took me 3-4 hours to sand the motherf*ker but id did it. It's so beautiful that im not going to paint it and im just going to leave it like that. Except that i am going to put a clear coat of varnish on it so the humidity doesnt distroy it. I also sanded off the black from the headstcok and instead of 'Ibanez' i think i'll write 'pinky' (its barney's saviour/pink elephant from the simpsons) if you have a better name idea just tell me.

Now i also got all the LED's,wiring, power source, and wiring but i have no clue how to set it up? anyone got some schematics i can take a look at?

anywho ill take pics tmr morning. Bye bye now.


zzzzzzzzzzzzzzzzzzzzzzzzzzzzzzzzzzzzzzzzzz
Alright, i know i havent tooken any pictures of the guitar but what would you rather do? go look around for your camera or actually get the job done? well i wanted to finish.

so i got the LED's in there and they work great, i got everything working amazing. so ill take pics tmr for you shecter_6

put some ernieballs on it like an hour ago and just played with myself for a while.

I just have another modding project i might wanna try.

I have no wah bar and i kinda really want one. Can i buy one with a wah to replace the tremelo i have on it now or is it going to hurt my body?

Join date: Sep 2005
10

IQ
routing would be required to put a floyd rose or something like that on it, i say it will look best fixed bridge, any pics of the finished job yet?
yah illl take pics now, be right back.
Here it is, my new baby, dont know what im gonna name her yet but im in no rush.


Join date: Apr 2006
50

IQ


and just played with myself for a while.


O.o?
Wow, the wood under the paint looks totally awesome!