12th fret string height
So, I changed my 11's on my gibson les paul to the same type of string (ghs boomers) and the same gauge, being 11.

The strings now seem a lot higher than they were, I kept an eye on the height of the bridge and saddle, and everything stayed in place.. So why is it that the strings are suddenly much higher?

Now I'm wondering if the height is going to offer poor speed, as I haven't been able to fully test it. I'd like to know what the height of your low E string is at the 12th fret, mines about a centimeter.
ah not a centimeter thats for sure

Join date: Feb 2006
61

IQ
a centimeter is way too much. how did it happen??? it's like 3 milimeters on my acoustic and around 2 mm on my electric...
does your neck look bowed? that can happen if you change string gauge or change the tuning drastically...
Last edited by 666_Belial at Jun 20, 2006,
the neck may have shifted a little.
u can try out the new feel, if u hate it, then lower ur action at the bridge first.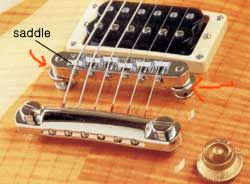 u loosen the top screw. and theat will let u turn that thumbwheel, pointed to by red arrow.
phil's pic.

Join date: Apr 2006
282

IQ
The neck might have bent over too much..
So I can change the action pretty will using the bridge, and the strings are much lower, but I'm getting just a tiny bit of fret buzz, I wouldn't want to wear down the frets just because I want really low action.

I'm wondering, wont the intonation be all messed up now that I fooled with the bridge?
u can check the intonation easy enough.

fret at the 12th and check with the tuner. compare that reading to the 12th fret harmonic reading.

if u need more instruction on it, repost.

and if the buzz doesnt transmit thru the amp, ur fine.
Yeah I know about checking intonation, I'm just not the master at setting it. I'll check in a while, I'm off to that venue that I posted about in the pit.