Ippon?s Fender Strat Mod (finally!)
So it?s school break and after surfing, Judo, BJJ, Muay Thai, and goofing off, I?ll have lots of time to finally do something about the guitar mod envy that was inspired by the following talented UGers: Props to Mathamology, Steph Betts, Teleprompters, Tedrick, slashnmash, lespaulmarshall, CorduroyEW, ClaptonRules, Dookie_1988, pacman-man, mutated_riff, Calum_Barrow, twelvestringtex, CorduroyEW, Schecter-06, ormsby_guitars, etc. I know I missed some other UGers but I will edit this entry to acknowledge them

The plan is to totally change the look and tone of an old and blah-looking Black Stratocaster. I?ve started sanding the body, by hand, and I plan to sand to bare wood. If the grain looks outstanding, I plan to do it in Transparent White:

If the grain is blah, It?s going to be Vintage White, black PG, and an older 70s-style maple/rosewood that I'll ebonize:

So, the project will be:
· Fender Strat from the 80s
· Upgrade pick-ups to Fender Lace Sensors (new old stock since they?re no longer available from Fender)
· Change the pickguard to Black or White Pearloid or Gray Pearloid
· Change the neck from vintage maple/rosewood to a new maple/maple from Musikraft
· Clearcoat the maple fretboard and use 100% Tung Oil for the back of the neck
· Upgrade to Kluson® tuners
· New, simple paint job OR do some graphics (assuming I get brave enough to go for it)

The guitar is an old MIJ Fender from the 80s, based on the serial number. It has the old, vintage PUs that sound pretty outstanding. The neck is in very good condition but I?m thinking of changing it. My camera is the suck, so here?s the current headstock:
The front and back: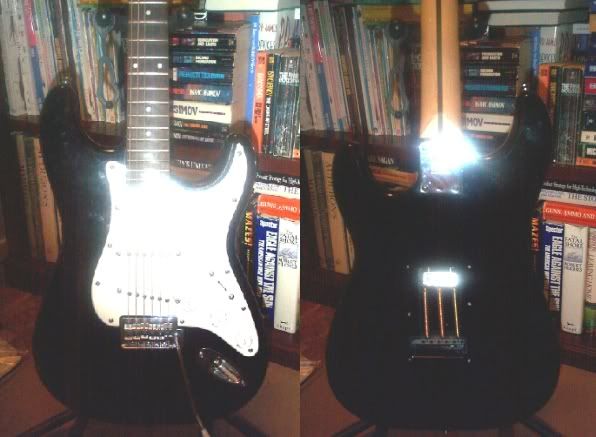 Here?s the wiring diagram, the strap, and the Schaller strap locks: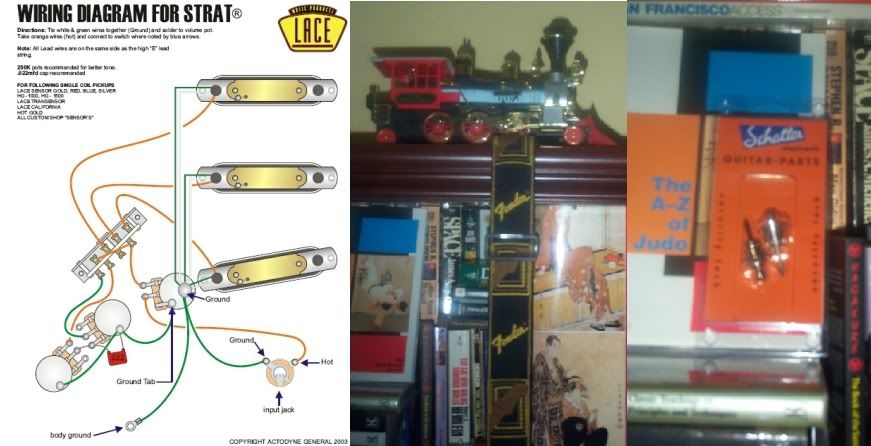 Another shot of the strap (with Bunny) and the Fender Lace Sensors that will go with this guitar. The Lace Sensors are Fender-branded so this makes them old stock:

Here are the pickguards I?m considering and the second bowl of tuna (protein and minimal carbohydrate for me this summer):
That's all I've got so far. This is a huge step from just swapping out PUs and necks. Tell me what you think. Comments, suggestions, and criticisims from respected modders/builders are always welcome.

Last edited by Ippon at Jul 14, 2006,