Fat strat

Join date: Apr 2006
50

IQ
Hey I just found out that fat strats have floyd roses. I want to get one but do they have any HSH configurations? I have only seen HSS.


Any help is appreciated.

Join date: May 2005
80

IQ
I posted this in Tubey's Mystery Fender thread ... my MIJ Fender Strat has the FR and it's routed for HSH. Right now, mine's set up with DM bucker and singles: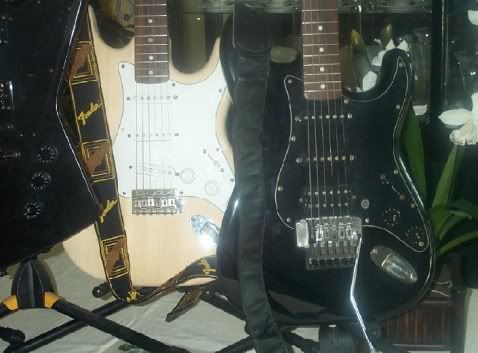 I've seen them called Fender FR Fat Strat, Fender Hotrod Strat, and Fender FR Super Strat ... not sure of the official name. I've seen pictures with maple/maple or rosewood/maple necks, clear or painted headstocks matching the body color, Kahler or Fender-stamped or OFR tremolos.

Join date: Dec 2005
80

IQ
you can always get a fat strat then route out the neck pocket to fit a humbucke and just get a new pickguard